Hotel Marinedda Thalasso & SPA*****, Isola Rossa - Sardinia
Marinedda is a spectacular luxurious hotel at Isola Rossa with an excellent kitchen, stunning sea view and wellness centre. Child-friendliness, hospitality and romance are of the utmost importance here!
5-star Hotel Marinedda has a spacious reception with an adjacent bar and various seating arrangements, from where you can overlook the park, the pools and the sea with the dark red cliffs of Isola Rossa. The outdoor terrace is the perfect place to enjoy the sunset.
La Marinedda's hotel rooms are set up like bungalows throughout the park and are housed on the ground or first floor. Several rooms overlook the surroundings or the sea. All rooms are decorated in a Sardinian style and have their own private balcony or terrace. Each room features air-conditioning, a phone, TV, safe, minibar, beach towels, bathrobes for the adults and a bathroom with shower and hairdryer. Depending on the type,a room can accommodate 2 to 4 guests.
One of the most important elements according to Hotel Marinedda Thalasso & Spa are the dishes served in the restaurants. The first, "Petra Ruja", is opened all year round and is located in a room next to the reception. Every night an extensive and varied buffet is served here. The movable walls will be shifted in order to create a large roofed terrace if the weather allows. If you'd like to dine in an a la carte restaurant, you can book a table at "Punta Canneddi". At "Il Tramonto", i.e. "The Sunset", you can dine for a small surcharge. Travellers staying on full board base can enjoy the lunch buffet at "Petra Ruja". Hotel Marinedda's "brunch around arrangement" allows you to lunch in one of the other hotels of the Delphina chain during an excursion in north Sardinia. Hotel La Marinedda has 2 bars as well.
Hotel La Marinedda has 2 outdoor pools surrounded by lounge chairs. A small path leads from the hotel to the sandy public beach of Isola Rossa at ca. 250 metres, where you can rent a lounge chair and parasol. There's an (external) restaurant and bar at the beach during the high season. In the summer months a small electric train transports hotel guests to the beach free of charge. While the kids enjoy themselves in the Mini club, you can enjoy the various facilities Welness Centre Thalasso & Spa Elicrisio has to offer. This Thalasso & Spa located in an area of ca. 2500 square metres is one of the most modern wellness centres in the Mediterranean. Here you'll find various hot, cold and salt baths, a sauna and steam bath. You can book various beauty treatments and relaxing or energetic massages as well. Furthermore, there's a relaxation room and cardio fitness area.
Hotel La Marinedda has a tennis court and soccer field. The Mini club, opened 6 days a week during the high season, organises various activities for kids (3-12 yr.).
A perfect stay for those...
Hotel La Marinedda is perfectly suited for couples and families wanting to spend their holiday in a luxurious 5-star hotel with various wellness facilities near the sea. La Marinedda is a perfect accommodation for a honeymoon as well!
Accommodation & facilities:
• Parking space
• Reception 24/7
• Wi-Fi a...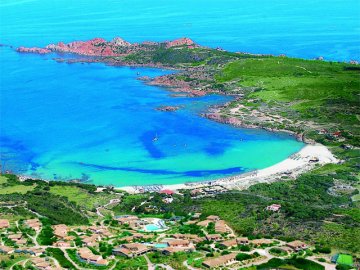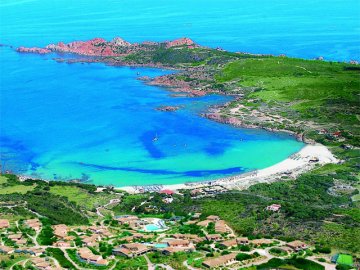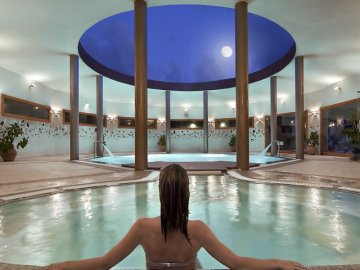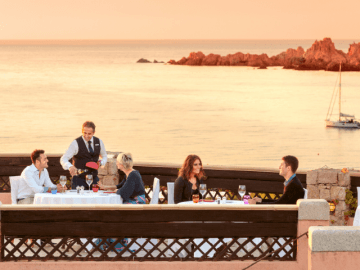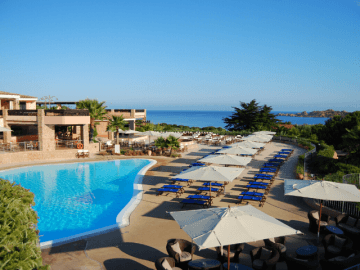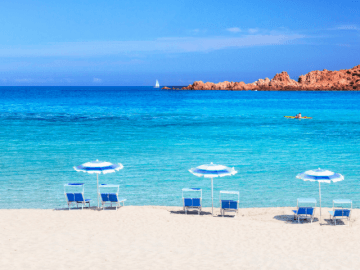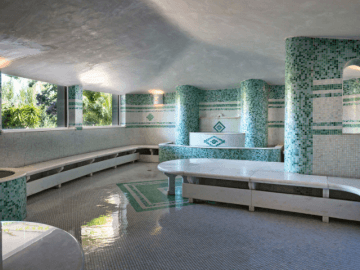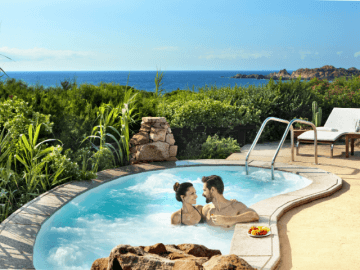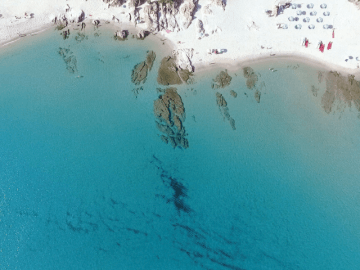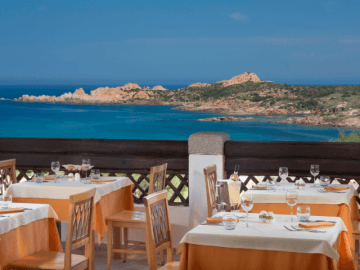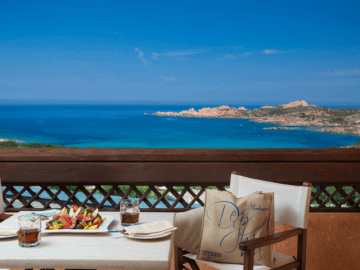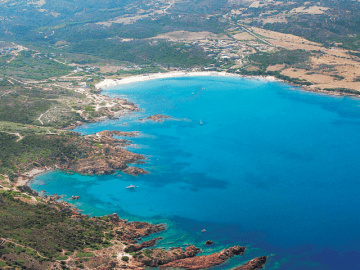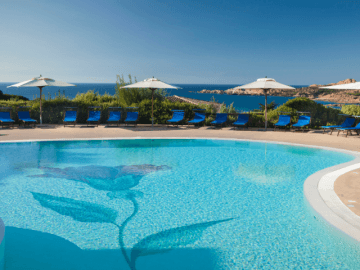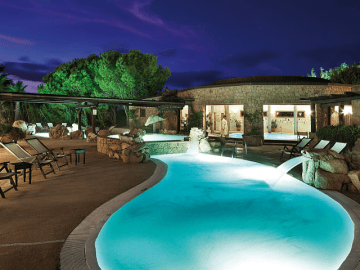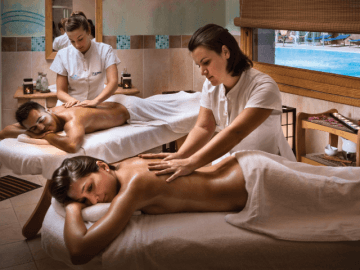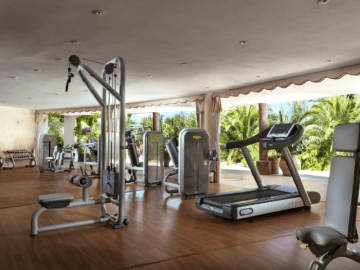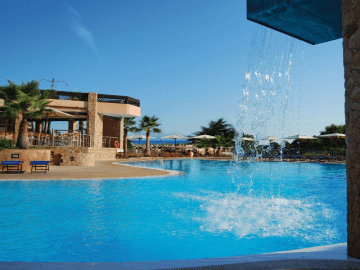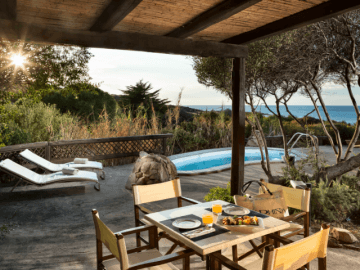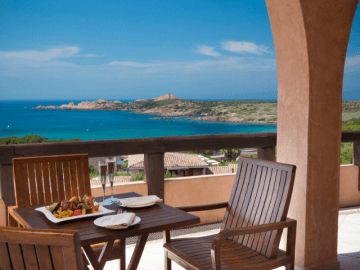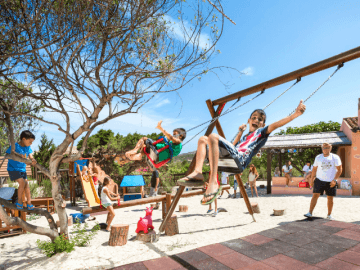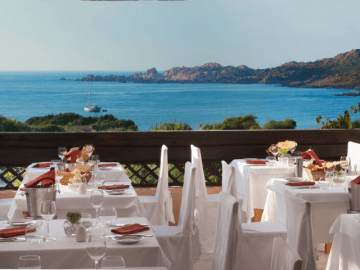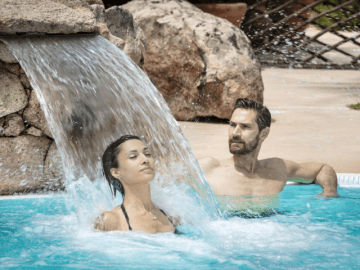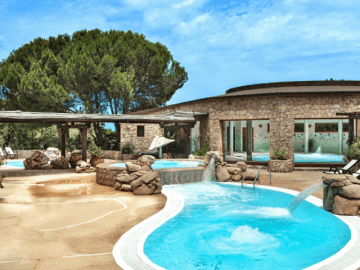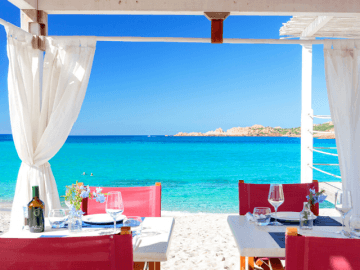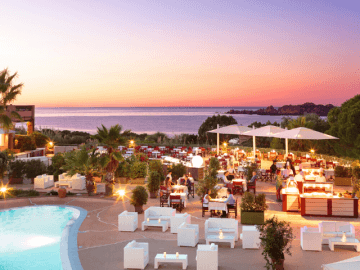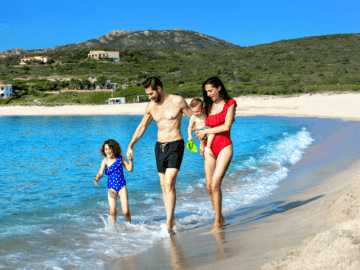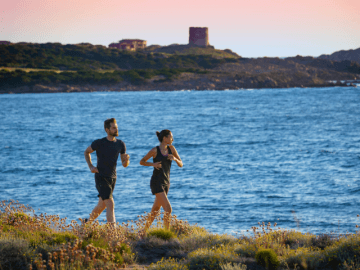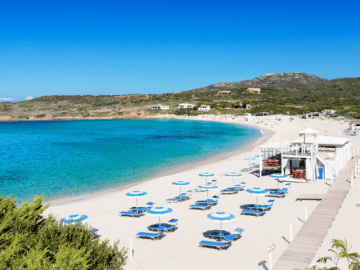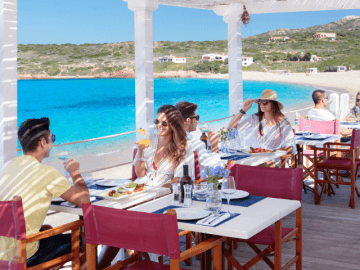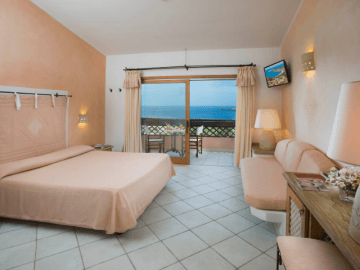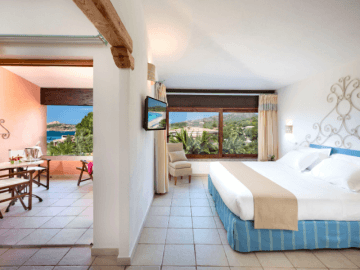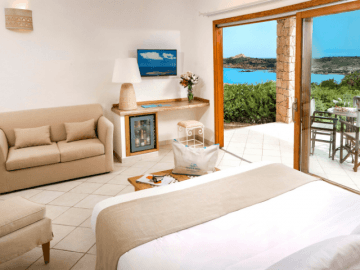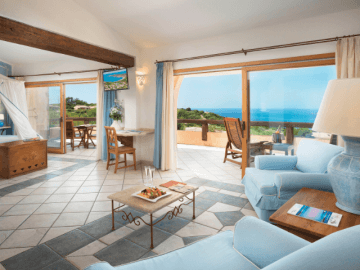 Hotel Marinedda Thalasso & Spa
Isola Rossa
On a peninsula in front of the red rocky islands of Isola Rossa, a watchtower was built by the Spaniards in 1595, where some fishermen settled in the 19th century. It is wonderfully picturesque, rugged and wild here when winter storms in the north whip up the shores of
Sardinia
. Friendly and cozy in the summer - because in 1970 the tourist area was recognized and several hotels, holiday homes, shops and markets were built. Decades later, a modern marina was added. Today there are holiday homes, restaurants and shops around the old Saracen tower. It is particularly beautiful on the coastal promenade at sunset, when the red profit slopes shine even more red than during the day.
If you are on holiday in this quiet area, you will find the beautiful, wonderfully white
beach
of La Marinedda and the small beach section Spiaggia Longa - Rinagghiu near by the marina, so there is a sheltered spot by the sea in every direction. A few kilometers further, on the endlessly long dune beach of
Badesi
, which stretches to
Valledoria
is a lonely beach paradise where you can find a place all to yourself even in high season.
For those looking for more action, the Aquafantasy water park is located high above Isola Rossa and invites young and old to play, swim, sunbathe and relax.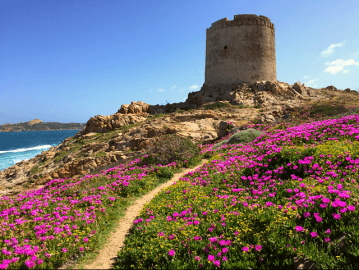 Discover the province of Olbia-Tempio in north Sardinia
Olbia-Tempio is one of the most popular holiday destinations in Sardinia. It's the perfect province for a relaxing beach holiday because of the countless bays and broad sandy beaches here. Its landscape is furthermore characterized by a lush Mediterranean vegetation and impressive rocks. The province is an international crossroads for numerous visitors, thanks to the international Olbia-Costa Smeralda Airport and Olbia's marina, where ferries from Genoa, Livorno, Piombino and Civitavecchia arrive daily.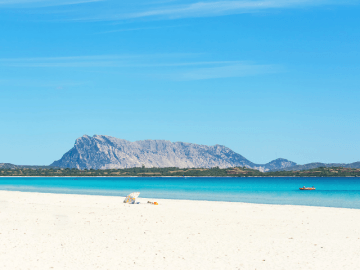 Lees meer
Prices
Rates are per person per night on a half board basis
Arrival: daily
Minimum stay: 7 nights (shorter stays on request)
Supplements:
• Cot: free on request
• Sea view: € 20 per person per night, except high season € 35
• 2 lounge chairs and 1 parasol on the beach: starting at € 15 per day
• Full board: € 30 per person, 2-13 years 50% discount, children 0-1 years free.
Discounts for children
When travelling with children please don't hesistate to
ask us for a quotation.
We will send you a personalized travel proposal.
Are you going on honeymoon?
Ask us about
wedding packages at Hotel Hotel La Marinedda!
Hotel Marinedda Thalasso & Spa
Prachtig uitzicht en locatie, eten matig
8,0
Chris & Ineke de Graaf
Hotel Marinedda I really recommend. One of my most beautiful holidays.
10,0
Anonymous
Super luxury and beautiful accommodation
10.0
Mw. Baake-Wermers (NL)