Cala di Lepre Park Hotel, Palau - Sardinia
This panoramic 4-star hotel by the sea near Palau offers a half board stay in bungalow-like rooms. The Costa Smeralda, La Maddalena and other various sights are within easy reach!
Cala di Lepre, a 4-star hotel part of the Delphina group, is located at a mere 3 kilometres from Palau. This area in north Sardinia is known for the countless bays, granite formations and the "Bear Rock". Cala di Lepre has a swimming pool with a children's pool. The hotel offers parasols and lounge chairs for rent at the nearby beach as well.
Hotel Cala di Lepre has 160 well cared for guests rooms on the ground floor, divided into 2 types; "Parco" and "Golfo". The Parco rooms are set in a tranquil area in the park at 400-600m from the sea. The Golfo rooms are situated closer to the central part of Cala di Lepre at 200-400m from the sea. Cala di Lepre offers standard double rooms, suites and spacious 6-person senior suites. All rooms feature air-conditioning, a bathroom with shower and hairdryer, satellite tv, minibar, safe and furnished porch.
Hotel Cala di Lepre offers numerous facilities to improve your stay even more. There are 2 restaurants; "Le Terrazze", where breakfast is served each morning for the Parco-guests, and "L'Arcipelago", where the Golfo-guests are welcome to enjoy the buffet. Guests can enjoy lunch at a Mediterranean buffet at "Le Terrazze" or order a sandwich or salad at the pool bar. For an additional charge is possible to book a table for dinner at "Le Terrazze" at night.
When enjoying an excursion in north Sardinia near one of the other Delphina hotels, you can book a "brunch around" on site.

There's never a dull moment at Cala di Lepre. Get in shape during a workout in the fitness room, take an aqua gym class or challenge your fellow travellers to a game at the beach volleyball field, tennis court or soccer field or to an archery tournament. An enthusiastic team of employees is ready to entertain the younger guests as well.
Furthermore, Cala di Lepre is a beautiful accommodation for riders. Inexperienced riders can book a lesson at the riding school, while experienced riders can enjoy unique tours along the beach.
The wellness centre "Ea Marina Spa" is the perfect location to relax and enjoy a thalasso parkour in the hot and cold sea water baths, a Turkish bath, sauna, massage or various beauty treatments.

A perfect stay for those...
Cala di Lepre Park Hotel & Spa is a very nice accommodation for travellers in search of a hotel near the sea with various facilities to offer.
Accommodation & facilities:
• Parking space
• Reception
• 2 Restaurant...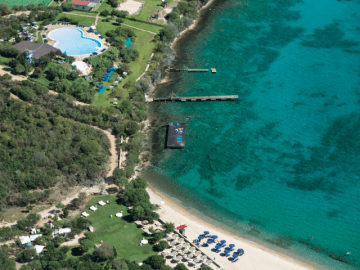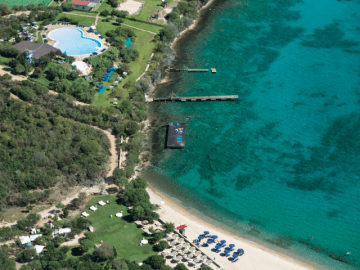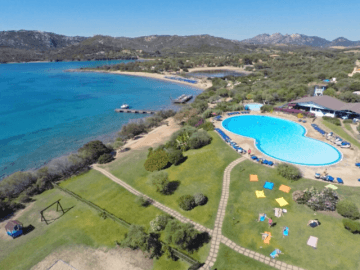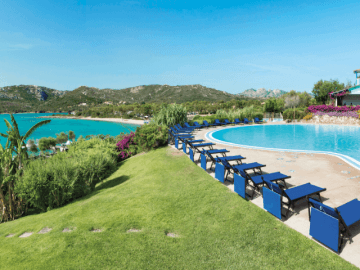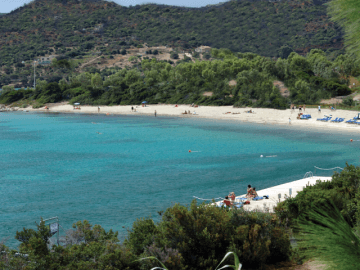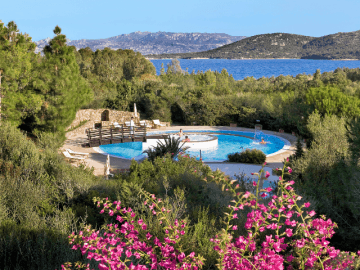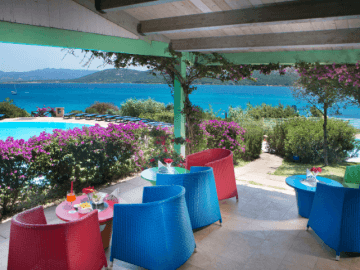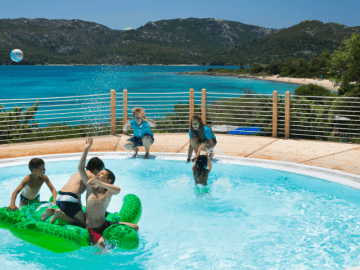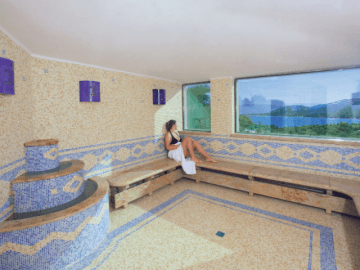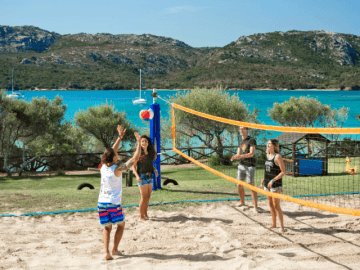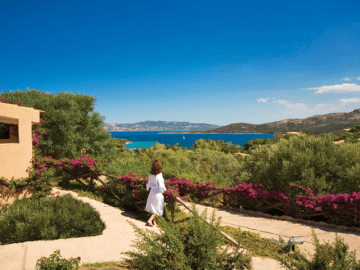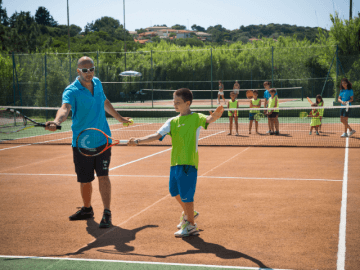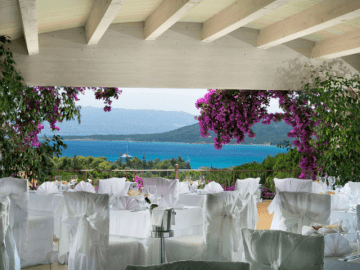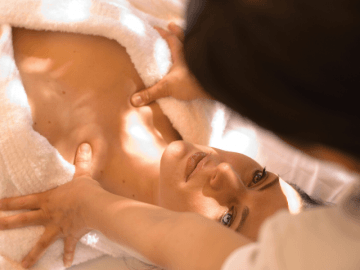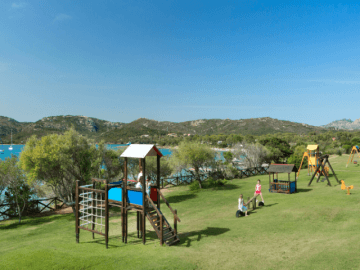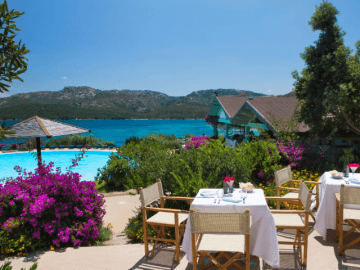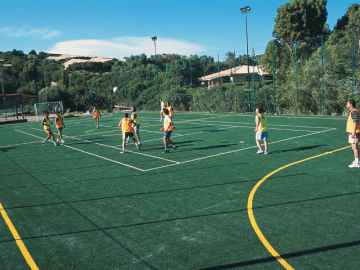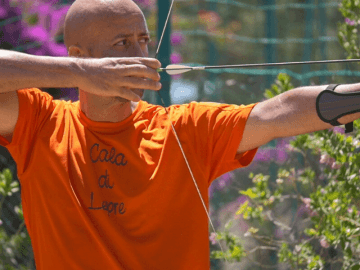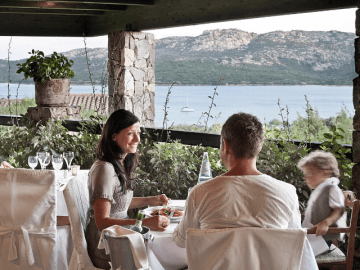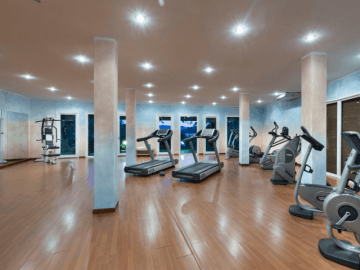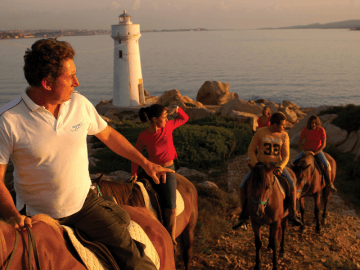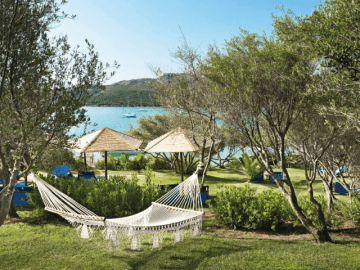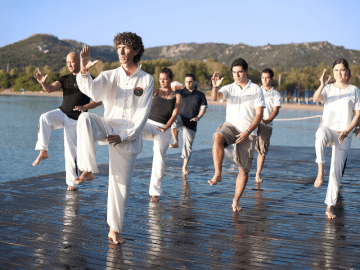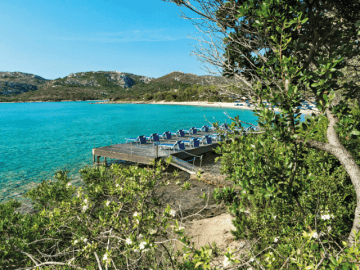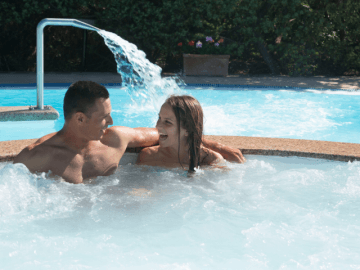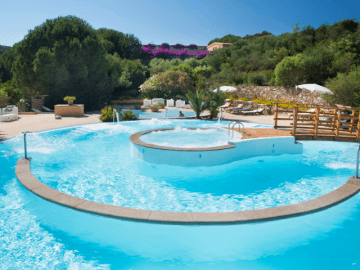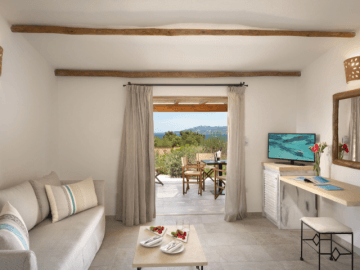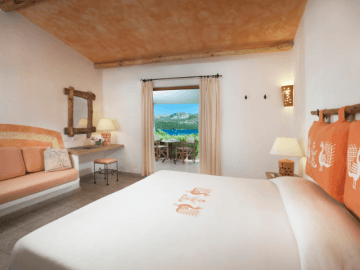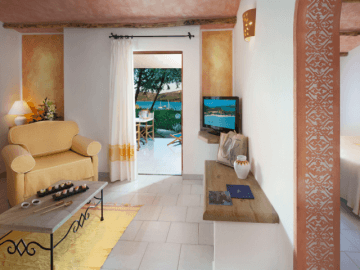 Cala di Lepre Park Hotel & Spa
Palau
In the north of Sardinia, opposite the archipelago of La Maddalena, the harbor town of Palau is located. The name sounds like you are in Micronesia, but the place is in Sardinia - with beautiful, sometimes wonderfully sheltered beaches and bays. The cape of Palau and the entire Maddalena Archipelago were already considered a safe travel destination for the Greeks, who even mentioned the Greek geographer Ptolemaeus in his "Geographia". He saw the landmark of Palau - the famous bear cape, a granite stone that had grown through all kinds of weather, the size of an apartment building - and with a little imagination you can see the shape of a bear in the "Roccia dell'Orso". Palau was founded in the mid 1870's and there are several daily boat connections to the island of La Maddalena with its beautiful beaches. Also countless
boat trips to the Maddalena Archipelago
between Sardinia and Corsica can be organized here. In the 1970s when Palau was not wellknown an famous guest was also present: in 1976 in Palau harbor, James Bond received an award for his spy film "The Spy Who Loved Me". But what would Palau be without its beaches! Palau's small city beach is called Palau Vecchio and is well worth a short walk along the coast! The mini bays at the old lighthouse, called Porto del Faro, are wonderfully romantic. The beaches of Cala di Trana, Porto Pollo and Isola dei Gabbiani are also well worth a visit. Porto Pollo is best known as the surf hotspot in Sardinia.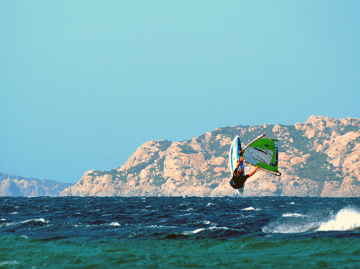 Discover the province of Olbia-Tempio in north Sardinia
Olbia-Tempio is one of the most popular holiday destinations in Sardinia. It's the perfect province for a relaxing beach holiday because of the countless bays and broad sandy beaches here. Its landscape is furthermore characterized by a lush Mediterranean vegetation and impressive rocks. The province is an international crossroads for numerous visitors, thanks to the international Olbia-Costa Smeralda Airport and Olbia's marina, where ferries from Genoa, Livorno, Piombino and Civitavecchia arrive daily.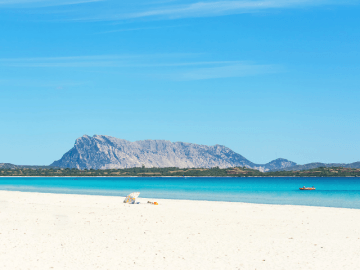 Lees meer
Prices
Rates are per person per night on a half board basis
Arrival: daily
Minimum stay: 7 nights
Book your holiday now and get a discount!
• Within 28.02.2020 Receive a 10% discount on the accommodation price
• Long stay: book a stay of at least 14 nights and get an extra 5% discount
• Honeymoon package: 2 free entrances per person to the Wellness Centre with use of pools, Turkish bath, sauna and cardio fitness + a Delphina gift for the couple + Sardinian silver wedding ring for the Bride (may be combined with early bird offers)
Family Special: supplement of € 66 per day per room (Senior Suite € 99)
This offer includes:
• Drinks included with your meals (mineral water and a selection of Sardinian wines) for the whole family
• Brunch Mediterraneo for the whole family
• Child assistance "non stop" from 09.30 am to 11.00 pm (free meals included) for children (3 - 14 y/o)
• Free snacks (such as fruits, fruit juices, milk, yoghurt, biscuits, soups with pasta and vegetable soups), available in the equipped nursery, 24/7
Discount for children:
If you are travelling with children feel free to
ask us for a quotation
. We're happy to send you personalized travel proposal.
Supplements:
• Sea view (excl. Senior Suites): from € 12 till € 16 p.p.p.n.
• Cot: free of charge
• Pushchair: € 20 per stay
• 1 parasol and 2 sunbeds: from € 10 per day
• Brunch Mediterraneo: € 26 (see also the Family Special offer when travelling with children)
• Wellness Discovery with 3 half day entrances to the Wellness Centre, 1 relaxing massage (25 min.), 1 hydrotherapy treatment: € 110 p.p.
Cala di Lepre Park Hotel & Spa
Luxury accommodation. Very clean and tidy. Big rooms. Very good service! Both breakfast and evening buffet very good and very large selection. Also for vegetarians. In itself location quite remote, however, resort has everything pool, beach, kids club, restaurants, spa
9,0
Aoniem
Luxe, hele goede service. Resort heeft verder alles; zwembad, strand, kidsclub, restaurants, Spa.
9,0
Aoniem