Round trip Sardinia: a journey of discovery
Discover Sardinia with this 12-day tour of Sardinia4all! This carefully planned trip will show you the spectaculair northern and rugged western coast of the island. The chosen accommodations near the sea combined with a few nights in the enchanting inland make for a beautiful contrast.
This 12-day tour by (rental) car includes 11 nights bed & breakfast in 3 charming accommodations.

Your itinerary:
• 4 nights in Hotel Villa Margherita in Golfo Aranci (north-east Sardinia)
• 3 nights in Hotel Sa Pischedda in Bosa (west Sardinia)
• 4 nights in Hotel Mediterraneo in Santa Maria Navarrese (east Sardinia)


This tour is intended to provide an illustrative example of a possible itinerary. The round trip can be customized on request, taking into account your flight details and travel period.

Distances:
• Olbia –Golfo Aranci: 15 km.
• Golfo Aranci – Bosa: 191 km.
• Bosa – Santa Maria Navarrese: 165 km.
• Santa Maria Navarrese – Olbia: 182 km.

A perfect tour for those...
The 12-day round trip Discover Sardinia is perfectly suited for all travellers looking for a combination of stunning beaches, turquoise waters and rugged mountains alternated with various authentic villages and Sardinian highlights.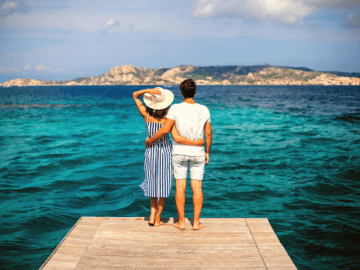 The tour starts in north-east Sardinia in the province of Olbia-Tempio, a popular holiday destination because of the countless white sandy beaches. We've booked you 3 nights's bed & breakfast in Hotel Valdiola in Porto Cervo, a nice accommodation with pool for a relaxing start of your tour. Created by Prince Karim Aga Khan IV in the 60s and 70s, this Sardinian seaside resort is the main centre of Costa Smeralda. Porto Cervo is popular among the international and Italian jet set. In the small marina you can find a parade of luxurious yachts. The elite resides in one of the luxurious resorts, villas or hotels or visits the boutiques near the central square "La Piazzetta".

North Sardinia is filled with impressive granite formations, such as the Bear Rock ("Roccia dell'Orso") in Palau. This massive block of granite is located on top of a 120 metre-high hill. The wind has sculpted the granite in such a way it resembles a bear. For a small surcharge you can climb the Bear Rock. During the walk upwards you can enjoy the spectacular view across a former marine area and the sea. Once you've reached the top, you have a magnificent view across the archipelago of La Maddalena. If the weather's good, you can even see the neighbouring French island Corsica.

Once of the must sees in Olbia-Tempio is the archipelago of La Maddalena, which consists of more than 60 islands, of which La Maddalena, Caprera, Santo Stefano, Spargi, Budelli, Santa Maria and Razzoli are the biggest. From these islands only the main island La Maddalena is inhabited. The archipelago was designated a National Park, the Parco Nazionale Arcipelago di La Maddalena, in 1994. Many tourists visit the archipelago by boat to enjoy the beautiful rock formations, nature, sea, bays and beaches. A ferry can bring you from Palau to La Maddalena in a mere 20 minutes. After the beaches, the principal tourist sight in the islands is the Casa Garibaldi on the island of Caprera, where the Italian hero Giuseppe Garibaldi spent the last 25 years of his life until he died in 1882. Caprera is connected to La Maddalena by a long causeway and bridge.
Should you like to visit more islands than just La Maddalena and Caprera, moor in the smallest bays and swim in crystal-clear waters, we recommend booking our excursion with the Lady Luna, which will bring you to the most beautiful spots of this paradise-like archipelago, also known as the European Caribbean. With a bit of luck you can spot dolphins on the way!


The tour continues to Sardinia's rugged inland. En route to Bitti the VIPs and exclusive cars will be replaced with tractors and shepherds leading their herds across the fields. The undulating hilly landscape transforms into a pristine green and rugged mountainous area, where the people often speak Sardinian instead of Italian.

The next 3 nights you'll be staying in the heart of Sardinia, in the Barbagia, in the charming Hotel Su Lithu. The ancient local traditions and culture are still clearly visible in this area. Restaurants serve a great variety of local products, such as the savoury pecorino cheeses, the salsiccia sausages and home made wines. A holiday in this rugged province immediately shows why Sardinia is one of the world's five Blue Zones; places in the world where people live longer and healthier than anywhere else on earth.

The area is perfectly suited for exhilarating hikes. The Nature Park Crastazza Littos Tepilora offers many hiking trails for all skill levels. We recommend visiting the waterfall S'Illiorai and Tepilora's natural pools. You can spot various animals, such as the Sardinian deer. Don't forget to bring some bites for a lovely picnic!

Along the way to Mamone, near Bitti, you'll find Su Romanzesu. This village, surrounded by a cork oak forest and positioned on a granite plateau, is considered one of the most important nuraghic villages in Sardinia. The complex, dating back to the 16th century BC, consists of a housing complex of about one hundred huts and several buildings for cultural purposes.

Not far from Su Lithu you'll find Nuoro, the capital of the eponymous province. We recommend combining a visit to Nuoro with a trip to Orgosolo. The city centre of this small and traditional village is decorated with stunning "murales" (murals).
Oliena is worth a visit as well. This mountain village has a beautiful historic centre and is known for the Su Gologone well, the most important spring in Sardinia. You can listen to the ceaseless crashing of the impressive quantity of pure mineral water - an average of 300 litres per second - gushing out of a crack in the rock. The stunning scenery of the spring is completed by a forest of eucalyptus, where you can enjoy a picnic in the shade.
Another must see is the nuraghic village of Tiscali, located at a 30-minute drive south-east of Oliena.

If you want to spend a day at the beach, you can easily drive to Orosei (40 minutes) or the lively Cala Gonone, where boats depart daily to the Bue Marino caves and to the unique bay of Cala Luna, only accessible by boat or by foot. This spectacular beach is definitely worth a visit!

Santa Maria Navarrese - Arbatax - Baunei
After breakfast you leave for Alghero in north-west Sardinia, the final destination of this 12-day tour. We recommend taking the scenic coastal route!
The lively Catalan town is also known als "Barceloneta", or small Barcelona. Nowadays the bilingual Aragonese still speak a Catalan dialect. In this province there are numerous beautiful beaches, such as Maria Pia, Le Bombarde and Spiaggia del Lazzaretto. Do you prefer an active trip? Discover the nature reserve of Porto Conte.
We have booked you a room in the intimate Residenza di Campagna Vessus, just outside of Alghero.

The old town of Alghero consists of a maze of narrow cobbled alleys. The palazzos, city walls and defense towers are built in a Spanish style. In the city centre you can enjoy a stroll along the various piazzas or relax on the shaded terraces cooled by a fresh sea breeze. Since Alghero is located on the "Riviera del Corallo", the Coral Coast, most boutiques have various coral ornaments for sale. At night, as the sun sets behind cape Capo Caccia, the city is bathed in a beautiful orange light. At this time of night we recommend taking a walk along the boulevard and the harbour to one of Alghero's restaurants to enjoy the delicious seafood dishes. Don't forget to try the local specialty, "Aragosta alla Catalana" (lobster)!

One of Sardinia's highlights near Alghero is Neptune's Grotto ("Grotte di Nettuno"), a stalactite cave on the tip of the peninsula of Capo Caccia whose entrance lies only around a metre above the sea level. The 204-metre-high cliffs and caves are therefore accessible via a boat trip of approximately 45 minutes from the port of Alghero. Alternatively, after a scenic route by car, you can descend the 654-step stairway cut into the cliff called "escala del cabirol" (goat's steps) to visit the grotto.

Another symbol of Sardinia are the nuraghe, ancient megalithic edifices developed by the Nuragic civilisation which inhabited the island from about 1500 BC onwards. Their villages were built around round tower-fortresses which date back to the Bronze Age. The sturdy structures consisting of layers of basalt blocks stand only by virtue of the weight of their stones. We recommend visiting the Nuraghe di Palmavera near Alghero, founded around the 14th century BC and renovated in 1963.

Would you like to explore the versatile west coast by (sailing) boat? Book an excursion with the Andrea Jensen!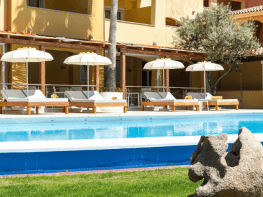 Hotel Villa Margherita ****, Golfo Aranci - Sardinia
Villa Margherita is a lovely 4-star hotel in the lively town of Golfo Aranci. You can relax by the pool, have a massage in the wellness area, enjoy the sea view from several rooms and have a dinner in the restaurant. From the accommodation you can also walk to he beach and the center and by car you can reach several sights, dream beaches and other nice places in Northern Sardinia in a short time.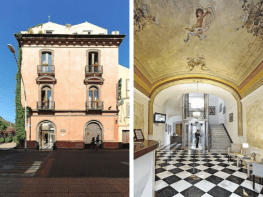 Hotel Palazzo Sa Pischedda, Bosa - Sardinia
This charming hotel is housed in an old 19th-century mansion in Bosa. In the town, situated on the only navigable river in Sardinia and known for its tanneries, Signor Muroni founded one of the first hotels in Sardinia in 1896. In hotel Sa Pischedda, centrally located in the town, from the Superior rooms with panoramic terrace you can enjoy the beautiful view over the colorful, medieval old houses of Bosa.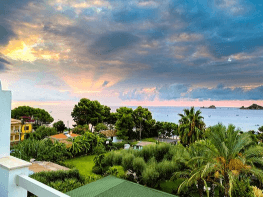 Hotel Mediterraneo, Santa Maria Navarrese - Sardinia
Het charmante driesterrenhotel Mediterraneo is onze speciale aanbeveling als je op zoek bent naar een klein hotel direct aan zee, aan de prachtige oostkust van Sardinië. Op een uitstekende locatie, aan het prachtige zandstrand Tancau, kun je hier genieten van een ongedwongen strandvakantie op het eiland. De vriendelijke hoteleigenaren zorgen samen met het team voor een uitstekende service. In de omgeving kun je natuurlijk ook talloze excursies maken of trek er op uit om de mooiste stranden te bezoeken, te genieten van een aperitiefje in het levendige havenstadje Santa Maria Navarrese op loopafstand van het hotel of maak schitterende wandelingen in de bergen van de Ogliastra en de Golfo di Orosei.
Prices
Rates are per person per night
Arrival: daily
Starting point: Olbia or Alghero

The tour includes:
• Stay: 11 nights
• Type of room: Standard room
• Board: bed & breakfast

Touring with an all-inclusive rental car
We're happy to book you a rental car. The Sunny Car's all-in formula includes all insurances and an unlimited mileage. During the online booking process you can easily add a GPS package as well. The shown prices are an indication of the rental price for the entire tour. Should the current price differ, we will inform you before confirming the booking of your rental car.
We offer various car categories:
• Small: 3-door Fiat Panda or similar, manual transmission with air-conditioning
• Comfort: 5-door VW Polo or similar, manual transmission with air-conditioning
• Station: 5-door Opel Astra STW or similar, manual transmission with air-conditioning

We're happy to tailor the tour to your preferences!
• You can easily extend or change the tour's itinerary
• Do you prefer a more luxurious stay? It's possible to upgrade to a superior room
• Do you prefer half board in all accommodations? Please ask us about the possibilities
• We're happy to help you find the best flights and ferry crossings
• Travelling with kids? We're happy to send you a travel plan adjusted to your specific travel party
• Tip: extend your round trip with one of our unique excursions!
12-day tour Discover Sardinia
Beautiful: nature, landscape, people, atmosphere, food
9.0
Cees
We have seen many beautiful things on this beautiful island
8.0
Dhr. Zwartbol (NL)
During this tour we found in Alghero the authentic Italy
9.0
Mevrouw Dassen (NL)
The perfect way to discover the variety of Sardinia!
10.0
Mevrouw Teunissen (NL)
Sardinia is a wonderful destination and we definitely recommend this tour!
8.0
Anoniem (NL)
Hotels fine, villages less
7.0
Anoniem (NL)
Very nice and varied self-drive tour perfectly arranged by Sardinia4all
8.0
I. Kleinendorst (NL)
Fantastic way to discover Sardinia
9.0
Frans & Mady (BE)
Organization was perfect, an extremly nice roundtrip!
8.0
Mw. Sweeck (BE)
Good combination of different destinations
8.0
Dhr. Baks (NL)