Round trip Sardinia: Sardinia's different facets
A beautiful and diverse tour through Sardinia by (rental) car to explore Sardinia's various features in a short amount of time. The itinerary of this 8-day trip from north to south highlights Sardinia's pristine nature, ancient culture and its beautiful clear blue sea.
This 8-day tour by (rental) car includes seven nights' bed & breakfast in 3 accommodations with pool.

Your itinerary:
• 2 nights in Hotel Angedras in Alghero (north-west Sardinia)
• 2 nights in Villa Fanny in Cagliari (south Sardinia)
• 3 nights in Hotel San Teodoro in San Teodoro (north Sardinia)

This tour is intended to provide an illustrative example of a possible itinerary. The round trip can be customized on request, taking into account your flight details and travel period.

A tip for travellers wishing to spend more time on the island: conclude this tour with a week in one of our accommodations near the sea!

Distances:
• Alghero - Cagliari: 228 km
• Cagliari - San Teodoro: 251 km
• San Teodoro - Alghero: 160 km

A perfect tour for those...
This year round available 8-day tour is perfectly suited for travellers wanting to explore the island by car in a short amount of time.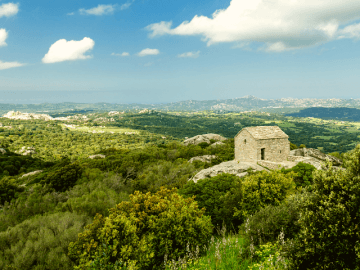 Wandering around Alghero, Castelsardo and Bosa
The tour starts in the lively Catalan village of Alghero, the perfect base for a first encounter with Sardinia's charming north-western province. The old town consists of a maze of narrow cobbled alleys, decorated with laundry hanging out to dry on drying racks and makeshift clothes lines tied from balcony to balcony. In the city centre you can enjoy a stroll along the various piazzas with restaurants, bars, cafes and ice cream parlours or relax on the shaded terraces cooled by a fresh sea breeze. At night, as the sun sets behind cape Capo Caccia, the city is bathed in a beautiful orange light. At this time of night we recommend taking a walk along the boulevard and the harbour to one of Alghero's restaurants to enjoy the delicious seafood dishes.
The impressive Grotte di Nettuno (Neptunes' caves) and the beautiful sandy beach of Le Bombarde are definitely worth a visit. You'll be staying at the hotel Angedras in Alghero.
Cagliari, a perfect combination of city & beach
The tour continues to the island's capital; Cagliari. En route we recommend visiting Bosa, Oristano, Tharros and/or Barumini, where you can visit the renowned nuraghe Su Nuraxi. In Cagliari you can stroll through the narrow alleys and historic quarters, enjoy a lovely lunch or dinner in one of the restaurants and visit the numerous sights. Because of the strategic location of your accommodation, Hotel Villa Fanny, a hotel in the heart of Cagliari, you can really enjoy your journey of discovery in south Sardinia!
In search of old traditions at a short distance from the Costa Smeralda
From Cagliari you travel to the northeastern town of San Teodoro, where you spend the night in Hotel San Teodoro with swimming pool. This area, rich in beautiful beaches and an azure blue sea, has even more in store for you! A visit to the mountain village of Tempio Pausania is certainly worthwhile. You can also opt for a challenging hike on Monte Limbara. From San Teodoro, an excursion to the well-known Costa Smeralda is of course also possible, including a visit to the fashionable resort of Porto Cervo. An impressive crossing to the archipelago of La Maddalena is also an absolute must. In short, all the ingredients are there for a fantastic end to your holiday in Sardinia!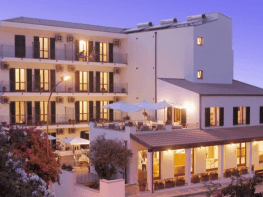 Hotel Angedras ***, Alghero - Sardinia
From Hotel Angedras, discover the pleasant city of Alghero in the northwest of Sardinia! This small-scale hotel offers neat rooms including breakfast and is located in a quiet suburb of Alghero, within walking distance of the historic city center.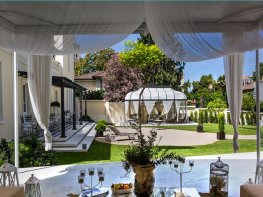 Hotel Villa Fanny
A splendid villa with garden houses boutique hotel Villa Fanny, a small accommodation near the National Archaeological Museum of Cagliari. A unique hotel in Sardinia's capital with 18 beautifully furnished rooms.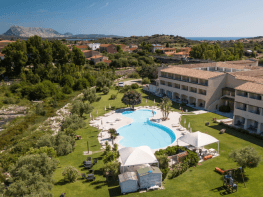 Hotel San Teodoro
Wil jij je vakantie op Sardinië in een mooi modern hotel doorbrengen? Dan ben je in Hotel San Teodoro in het noordoosten van het eiland aan het juiste adres. Dit minimalistisch ingerichte hotel met zwembad is slechts 2,5 kilometer verwijderd van het gezellige plaatsje San Teodoro en ligt vlak bij het prachtige strand van La Cinta.
Prices
Rates are per person per night
Arrival: daily
Starting point: Olbia, Cagliari or Alghero

The tour includes:
• Stay: 7 nights
• Type of room: Standard room
• Board: bed & breakfast

Touring with an all-inclusive rental car
We're happy to book you a rental car. The Sunny Car's all-in formula includes all insurances and an unlimited mileage. During the online booking process you can easily add a GPS package as well. The shown prices are an indication of the rental price for the entire tour. Should the current price differ, we will inform you before confirming the booking of your rental car.
We offer various car categories:
• Small: 3-door Fiat Panda or similar, manual transmission with air-conditioning
• Comfort: 5-door VW Polo or similar, manual transmission with air-conditioning
• Station: 5-door Opel Astra STW or similar, manual transmission with air-conditioning

We're happy to tailor the tour to your preferences!
• You can easily extend or change the tour's itinerary
• Do you prefer a more luxurious stay? It's possible to upgrade to a superior room
• Do you prefer half board in all accommodations? Please ask us about the possibilities
• We're happy to help you find the best flights and ferry crossings
• Travelling with kids? We're happy to send you a travel plan adjusted to your specific travel party
• Tip: extend your round trip with one of our unique excursions!
8-day tour Explore Sardinia
Erg mooi, een aanrader. Niets op aan te merken.
9,0
Fam. Kouwenhoven
Dank jullie wel, wij kijken terug op een prachtige reis!
9.0
Elsa en Joris
Nice introduction to Sardinia
9.0
Mw. Cazemier (NL)
Beautiful variation between different locations, thanks!
8.0
Mw. Stoop (NL)
I would visit a part of Sardinia
8.0
Mw. Markink (NL)
Fantastic
9.0
Patricia, Amsterdam (NL)
Colourful island
8.0
Mw. Vanhex (BE)
Very nice concept
8.0
Mw. Averhals (BE)
Discover Sardinia!
8.0
Wiel Ties, Swalmen (NL)