Traditional dishes of Sardinia
In Sardinia, in addition to
fine wines
, you can also fully enjoy delicious food. From
salumi e formaggi
to delicious pasta, meat dishes and sweet
dolci
. Most traditional dishes consist of a combination of simple ingredients, where the cuisine is inspired by the life of the shepherds. Be sure to taste these most traditional dishes from Sardinia during your holiday.
Buon appetito!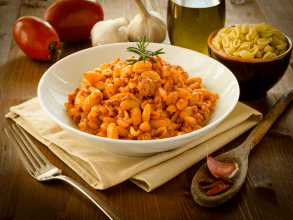 Malloreddus con Salsiccia
Malloreddus, also called "gnocchetti sardi", is a small pasta type. You can get these as ready-to-eat pasta in the supermarket, but if you make them yourself they are of course even better! In Sardinia, the Malloreddus are served in a tomato sauce with traditional salsiccia (sausage). Make sure to order this dish during your holiday!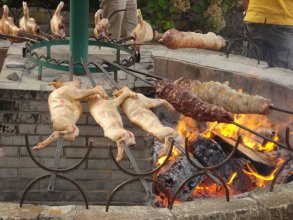 Porcheddu
A dish that is on every kitchen table during the holidays and special occasions is "porcheddu arrosto", or suckling pig on a spit. The pigs are roasted over the fire for hours. The men keep a close eye on the process - of course while enjoying a glass of wine and lots of fun. As soon as the meat is cooked, the porcheddu is 'cut' into pieces with the help of a hedge trimmer and served on a bed of sprigs of mirto. The outside is nice and crispy, but at the same time the meat ("la polpa") remains deliciously juicy. Definitely worth a try!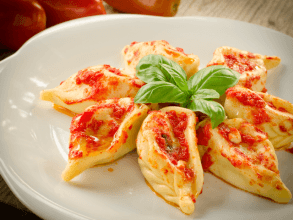 Culurgiones
You can actually compare this dish with the well-known ravioli. It is a filled pasta that is served in a delicious tomato sauce. The Culurgiones are originally typical of the eastern Ogliastra region. Here they fill the pasta with potatoes, garlic, a young pecorino cheese and mint (unlike the other regions where they only fill the Culurgiones with potato). The finishing touch to this traditional dish: a generous amount of pecorino cheese.
Pani Frattau
The Sardinian shepherd tradition is evident in this dish, which is typical of the Barbagia area. The dish consists mainly of layers of traditional Carasau bread. This light, crunchy and wafer-thin bread used to be taken up the mountains by the shepherds when they stayed there for weeks. To prepare this dish, the pane carasau is soaked in a warm sheep stock. Then each layer is alternated with tomato sauce and a spicy pecorino cheese, and then a delicious egg on top. Pani Frattau is actually a very simple meal, but filling and very tasty.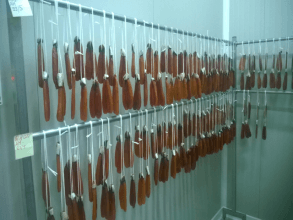 Bottarga
Honestly, bottarga is not directly a dish, but a typical Sardinian ingredient that is grated in various pasta dishes. Bottarga are the eggs of the mullet ( bottarga di muggine ). These are salted and pressed between wooden planks and then dried in a cool place. You can buy the roe whole or grated. Be sure to visit a trattoria or ittiturismo during your stay and order a plate of spaghetti alla bottarga !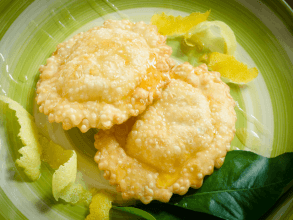 Seadas
After the antipasti, primi and secondi, do you have any space left for a dolce ? Then be sure to try the seadas! This dessert consists of dough filled with pecorino cheese, which is then fried. The dish is drizzled with honey. A delicious combination of sweet and salty!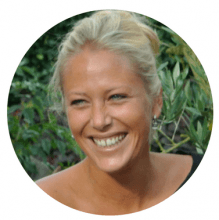 As a resident of the island, I know what Sardinia has to offer. Do you want to discover unique culinary spots during your holiday?
Tell me about your holiday wishes
; I'll be happy to give you personal advice.
Marieke
Sardinia4all