Agriturismo L'Orto, San Vero Milis - Sardinia
L'Orto is a special agriturismo in Sardinia, where you will immediately feel at home. In the west of the island, far away from the masses, the hospitable couple Francesca and Giorgio opened in
2001 the doors of their organic farm in San Vero Milis. They know how to pamper their guests and would like to introduce you to all the beauty and goodies that this rolling region
offers.
Situated in the country side near the village of San Vero Milis in west Sardinia the sustainable agriturismo L'Orto is a lovely place to wind down. The farm of L'Orto, which means "orchard", still functions fully. On the estate, surrounded by a huge orchard and flagrant citrus trees, Giorgo and Francesca grow various biological products. While the sheep wander around freely, the farm produces hearty cheeses and tasty olive oils (among many other things). Francesca's cooking skills are definitely worth mentioning. In the morning or at night you can sit down to enjoy her specialties, cooked with fresh and home made products. The pool is the perfect place to cool down on a hot summer's day or to relax on one of the lounge chairs to soak up the radiant Sardinian sun.
Agriturismo L'Orto has 10 double rooms. It's possibile to place 1 or 2 extra beds on request when travelling with kids. Each spacious room features a private bathroom, air-conditioning, central heating and Wi-Fi. The rooms overlook the garden. In short, a lovely place to dream away!
Should you like to learn how to cook as well as Francesca, please don't hesitate to ask us about the possibilities. We'd love to book a cooking class for you, so you can learn the insider secrets to the Sardinian cuisine. While staying at L'Orto you can also take a look behind the scenes of the farm and give a helping hand to the milking of the sheep.
The agriturismo is located near the western coast and the salt lake of Oristano, which is populated by flocks of pink flamingos. The coastal line of Is Arutas, made of quartz instead of sand, and the archaeological site of Tharros are definitely worth a visit. Other highlights in the area are the medieval village of Santu Lussurgiu and Sardinia's most famous nuraghe Su Nuraxi in Barumini. After a day of exploring, you can relax by the pool or enjoy a meal in L'Orto's restaurant.

A perfect stay for those...
This agriturismo is perfectly suited for couples and families looking for a lovely holiday in the quiet countryside, wanting to enjoy the tasty Sardinian cuisine as well. L'Orto's strategic location enables you to discover the still fairly unknown western part of Sardinia.
Accommodation & facilities:
• Parking space
• Restaurant
• Swimming po...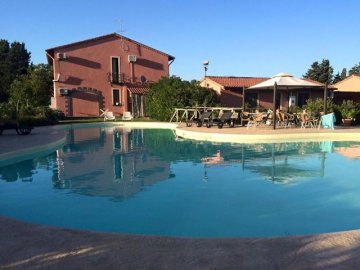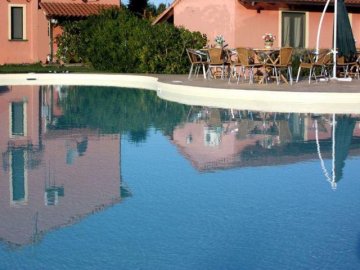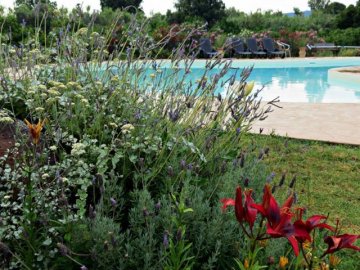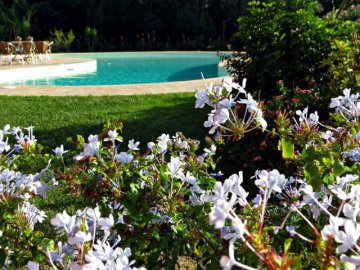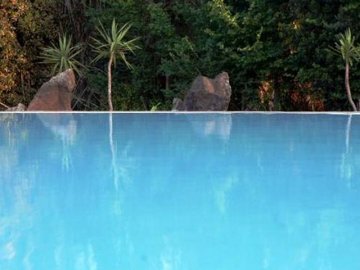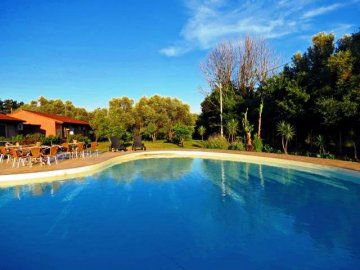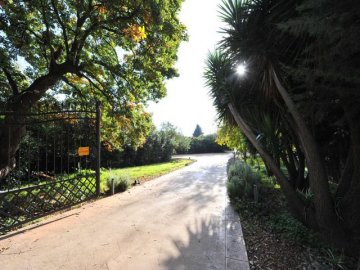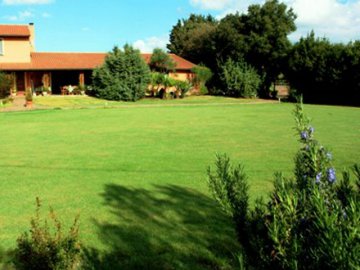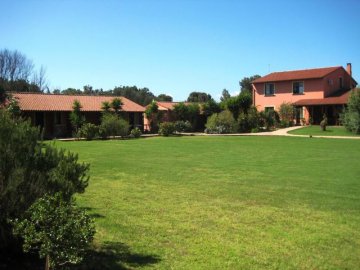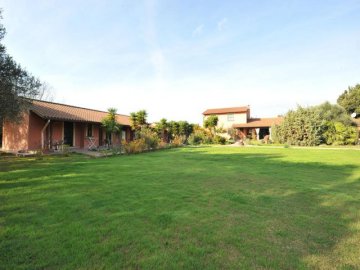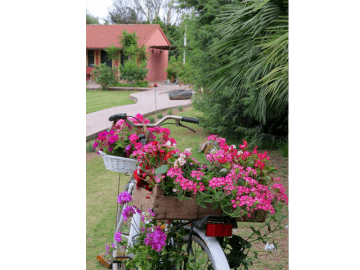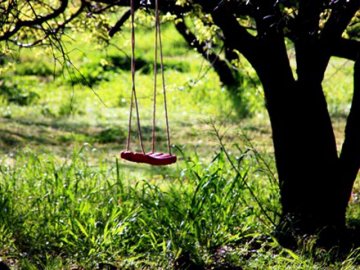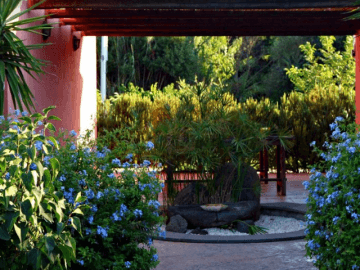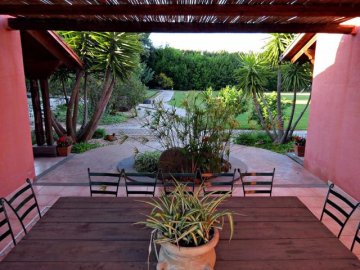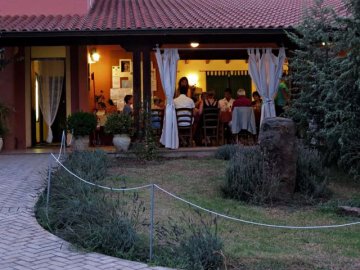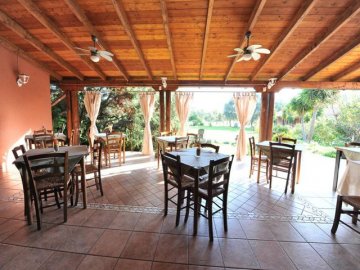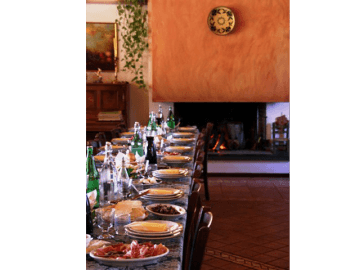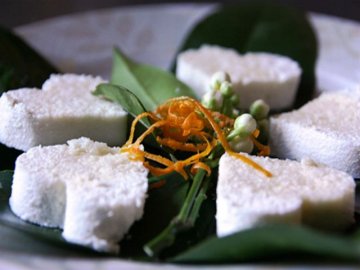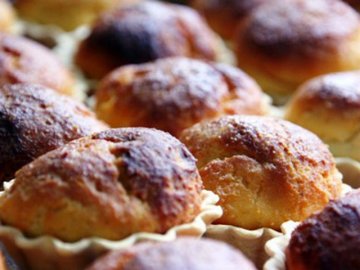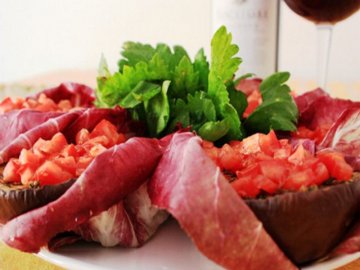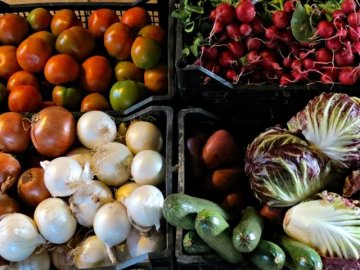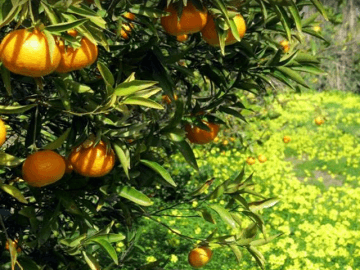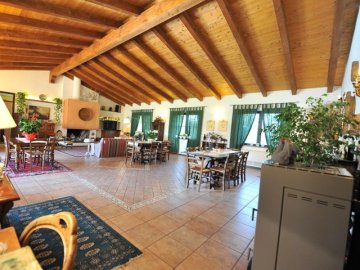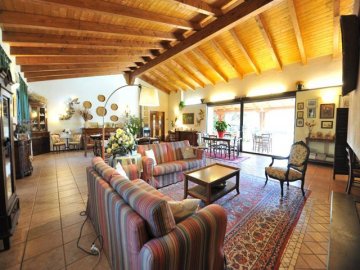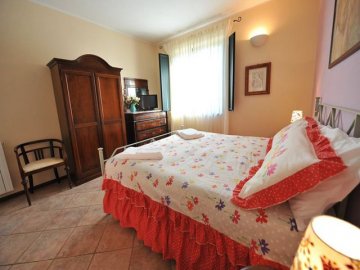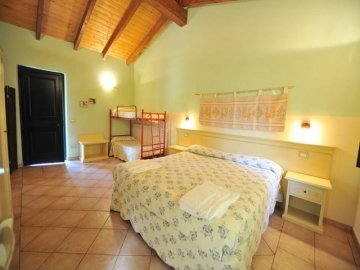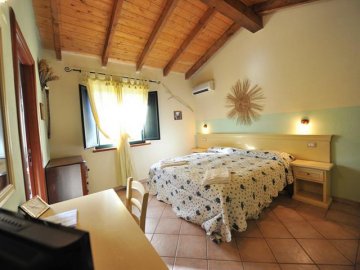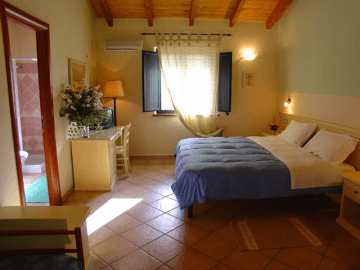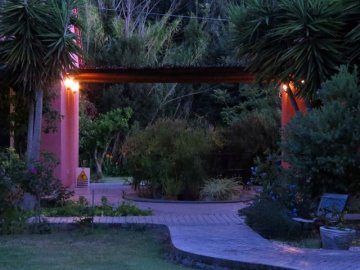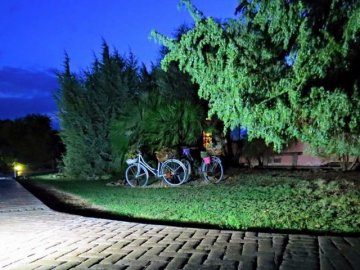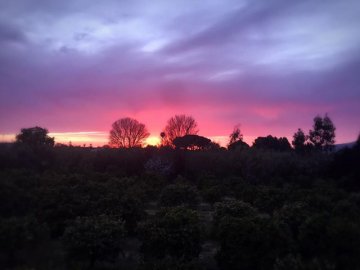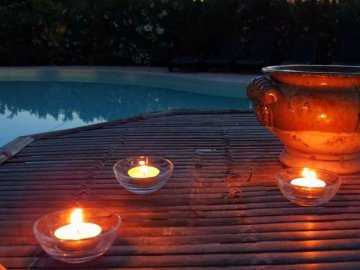 Agriturismo L'Orto
San Vero Milis
San Vero Milis is a small village in the province of Oristano. Most of its inhabitants are employed in the agricultural sector or are responsible for the production of the renowned Vernaccia wine. Even though this western part of Sardinia is fairly unknown, it's definitely worth a visit. Highlights are the extraordinary beaches, the archaeological site of Tharros and the flocks of pink flamingos in the salt lakes. The village of Cabras, near San Vero Milis, is known for its bottarga. Golf aficionados can visit the beautiful 18-hole golf course of Is Arenas at ca. 13 km.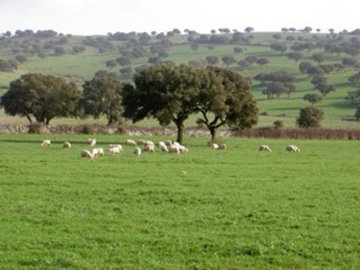 Discover the province of Oristano in west Sardinia
The province of Oristano and its eponymous capital are located in the western part of Sardinia. The fairly levelled area is relatively unknown to tourists. Nevertheless, the authentic town of Bosa and the other historic villages and archaeological sites with ancient roots in this region are definitely worth a visit. Oristano has extensive vineyards where the Vernaccia grape is grown. Don't forget to try a glass!
The coastal area of the Sinis peninsula is a protected marine reserve. The lake of Santa Giusta is inhabited by pink flamingos and other migratory birds. The fishing village of Cabras is renowned for the production of "bottarga" (roe), which is used in many Sardinian dishes. At the equestrian tournament "Sa Sartiglia", held in Oristano for the past 500 years on Carnival Sunday and Mardi Gras, masked horsemen galloping on steeds at breath-taking speed aim their swords at a tin star.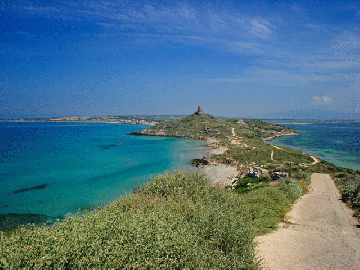 Lees meer
Prices
Rates are per person per night, breakfast included
Arrival: daily
Minimum stay: 2 nights

Supplements:
• Half board: € 15 - € 18 per person
• Cooking classes: on request

Discounts for children:
When staying in a triple or quadruple room we will apply the following discounts after having received your request:
• Children 0 - 2 years old: € 8 per night
• Children 3 - 4 years: 50% discount
• Children 5 - 7 years: 30% discount
Erg klein, geen uitzicht. Wel een heerlijk diner gehad en de enige waar we ''s avonds nog terecht konden voor een kopje koffie
7.0
Anoniem
Tolles Abendessen im Agritourismo
9.0
Anonym
Fantastisch! Heel vriendelijk ontvangen en iedere avond meegegeten. Top!
10.0
Ellis
Keurige, sfeervolle agriturismo met hartelijk ontvangst van gastvrouw.
9.0
Anoniem
Meest authentieke locatie van onze rondreis. Zeer hartelijke ontvangst en fijn zwembad
9,0
Bert van B.
Uitstekende accommodatie!
9,0
Anoniem
Maar dat eten ???????? Zoooo lekker!
9,0
Marike
Groot verschil met vorige accommodatie, omgeving prachtig en anders
8,0
Will en Rik
Leuk om met veel nationaliteiten aan een grote tafel te eten.
8.0
Will en Rik
Van hieruit zijn uitstekend de stranden op het schiereiland Sinis Montiferru te bezoeken alsook diverse van de vele archeologische locaties op Sardinië
9,0
Dirk van Greuningen
More of a resort than an agriturismo.
9,0
Anoniem
Kamers basic, lekker gegeten met anderen aan tafel
8,0
Klerk
Bevindingen van een senior echtpaar dat een rondreis maakte door Sardinië
7,6
Jan
Fantastic!!
10,0
Thomas Nele
Excellent location on a beautiful island
9.0
Marco
Zimmer und Essen fantastisch - wir waren total begeistert
10.0
Sabine
Het beste verblijf in onze vakantie op Sardinie!
10,0
Jan en Lies de Jager
Een onvergetelijk verblijf!
10.0
Jaap en Trees Sijtsma
Je voelde je thuis daar
8.0
Dick en Marianne
Precies wat je hoopt van een echte Italiaanse agriturismo!
9.0
Merel
Geweldig om 's avonds mee te eten!
-,-
Louise
Zeer mooie huisjes en prachtig verzorgde tuin met zwembad
9.0
Anoniem
Wij zouden hier zeker nooit meer terug naartoe gaan
4,0
Penny en Jan
Agriturismo L'Orto was great!
10.0
Wim
Excellent, good food, very welcoming
9.0
Anoniem (NL)