Agriturismo Villa Gaia, Cabras - Sardinia
You will feel right at home at this holiday farm with swimming pool, located in the west of the island. The farm has 34 hectares of land and mainly artichokes, asparagus, other vegetables, grapes, olives and cereals are grown. The friendly couple at the Villa Gaia holiday farm will be happy to tell you about what the area has to offer. The famous quartz beaches of the Sinis peninsula are a 10-minute drive from this agriturismo.
This hospitable agriturismo is located in the countryside of the Sinis peninsula, near the village of Cabras and the city of Oristano. The lands of this farm, where various vegetables are grown, are located around Villa Gaia. After an extensive breakfast, you can set out to explore the area or enjoy a lovely day at the beach. In the evening you can enjoy the cooking skills of Antonella. During dinner you can meet the other guests and exchange holiday experiences. Antonella uses products from their own country as much as possible. Another option is to dine in one of the restaurants in Cabras. A big plus of this wonderful holiday farm is the swimming pool in the garden.
In Agriturismo Villa Gaia you spend the night in one of the 12 rooms that are situated around a courtyard. Are you traveling with children? There are a number of 3- and 4-person rooms available and some rooms also have a small kitchen. All rooms have a communal terrace with furniture, a view of the inner garden, fridge with freezer, bathroom, air conditioning, Wi-Fi and laundry rack.
During your stay you can take a look behind the scenes. For example, the farm grows the grain from which pasta is made. The durum wheat grows well here under the Sardinian sun. From agriturismo Villa Gaia you can also easily reach the coast by car. Before you know it, you will be face to face with the graceful pink flamingos in the salt lake of Oristano or you will find yourself on a paradise beach. This coastal strip of Sardinia has countless special beaches that are not overcrowded even in the middle of summer. Is Arutas beach, with its grains of quartz instead of sand, is very special. Another famous attraction is Tharros. Here, right next to the church of San Giovanni del Sinis, you can visit the Roman ruins. Also nice is a boat trip to the island of Mal di Ventre. This island, located off the coast of the Sinis peninsula, belongs to a protected nature reserve. With a bit of luck you will see dolphins! After a day trip you can relax by the pool.
A perfect stay for those...
A holiday at this agriturismo is very suitable for couples and families who love the combination of peace and good food and who also want to stay a short distance from the beautiful beaches of the still relatively unknown west.
Accommodation & facilities:
• Parking
• Restaurant (closed on Sundays) ...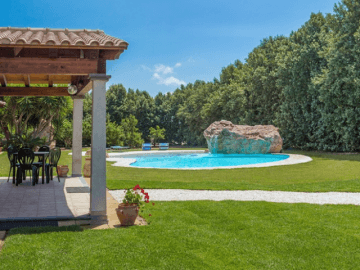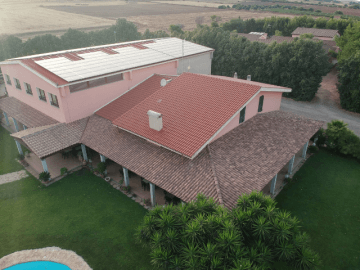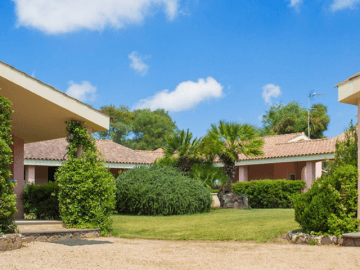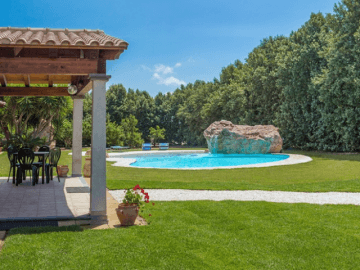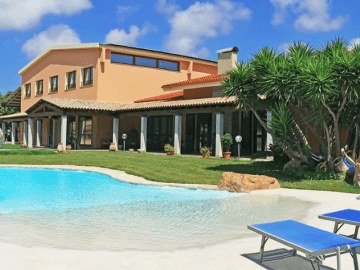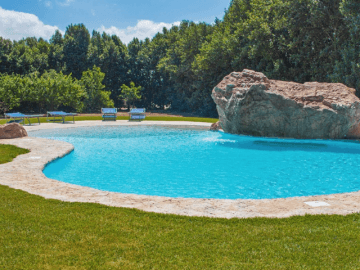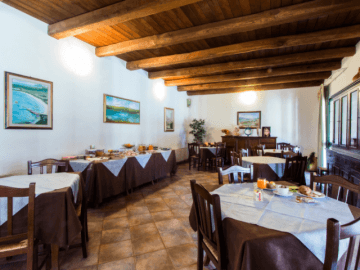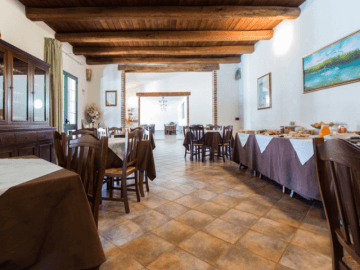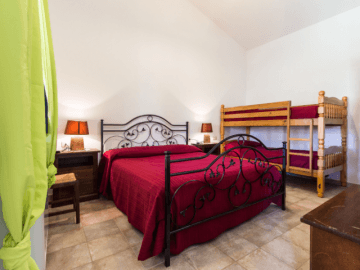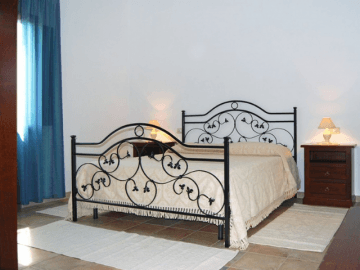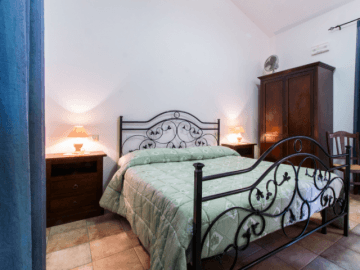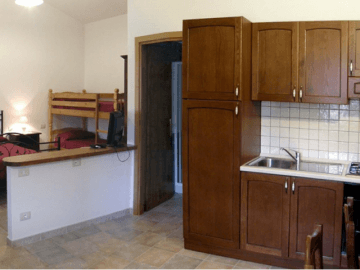 Agriturismo Villa Gaia
Cabras
Located north of Oristano, Cabras is one of the most important fishing villages, renowned for the production of the Sardinian specialty "bottarga"; pressed and salted mullet roe, served in slices on bread or grated over pastas together with olive oil and garlic. The fish swim back every year to the lagoon, the "stagno" of Cabras, to reproduce. Cabras and Santa Giusta, south of Oristano, are both known because of the crafted wicker boats, called "is fassonis". Many birds fly to Cabras each year because of the presence of both salt and fresh water, turning the area into a paradise for birdwatchers as well. The fresh water area, swamp included, stretches over 2000+ hectares.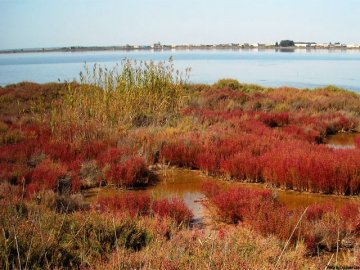 Discover the province of Oristano in west Sardinia
In the west of Sardinia is the province of Oristano with the capital of the same name. This region is quite flat and has relatively little tourism, the reason for this special region is dominated by olive cultivation, fishing, agriculture and livestock farming! In this region you will find extensive vineyards with the typical Oristan Vernaccia grapes.The extensive tasting of this delicious wine is a must! Taste this
wine
here! Discover for example the small authentic town
Bosa
, but also one of the numerous archaeological remains dating back to before our era are certainly worth a visit. Also visit the Sinis peninsula, of which the entire coastal area is a protected area. Capo San Marco is the northern tip of the Gulf of Oristano and is a wonderful place for a small excursion by bike or hike. Take a refreshing dip from one of the beautiful beaches of San Giovanni di Sinis. At the lake of Santa Giusta you can see pink flamingos and other birds that live here in a paradise of their own! Around the fishing village of
Cabras
is produced the delicious bottarga (roe), which is used in many Sardinian dishes. In the town of Oristano, an equestrian tournament is still held every year during Carnival: "Sa Sartiglia", masked horsemen galloping on steeds at breath-taking speed aim their swords at a tin star.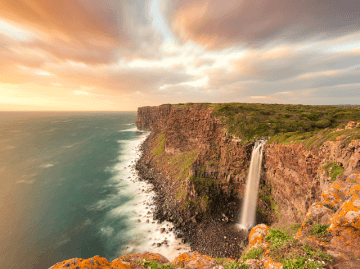 Lees meer
Tarieven
The prices are per person per night including breakfast
Arrival: daily
Minimum stay: 2 nights
Children's discounts
Are you traveling with children? Ask Sardinia4all for a
tailor-made quote
!
• Children up to and including 7 years: 30% discount
• Children up to and including 12 years: 20% discount
Mooi resort op een boerderij. Aardige mensen. Je kan er heerlijk eten
9,0
Gertie Remkes
Vriendelijke ontvangst door de eigenaren (lieve mensen) verder viel de accommodatie erg tegen
5,0
Tanja Reijnders
Rommelige boerderij
3,0
Emilie de Haas
Heel goed avondeten, vriendelijke eigenaren, sfeer en ogeving was wel de minste van de 4
7,0
Philip en Henriët
Heel goed avondeten, vriendelijke eigenaren, sfeer en ogeving was wel de minste van de 4
8,0
Patricia
This we found a lesser location.
5,0
Anonymous
Voor vriendelijkheid en behulpzaamheid zeker een ruime 8, kamer erg basis en veel wespen bij het zwembad
8,0
Anoniem
Mooie, schone en rustig gelegen accommodatie
9,0
Janneke
Dit vonden wij de minst fijne plek van de 5 waar we geweest zijn. Ms omdat het ook heel warm was
6,0
Eva
Villa Gaia ist sehr gepflegt und das Essen war hervorragend
10,0
Reinhard