B&B Rita e Renzo, Riola Sardo - Sardinia
In the old village of Riola Sardo, in between the beautiful beaches of the Sinis peninsula, you'll find B&B Rita e Enzo, a perfect accommodation for travellers wanting to explore the fairly unknown western part of Sardinia while enjoying utter relaxation and freedom!
After a day at the beach or in the hills in the varied landscape of this Sardinian region, B&B Rita e Renzo is a wonderful place to come home to. This recently built accommodation is located at some distance from the owners' home to ensure your privacy. On the ground floor there are a spacious room provided with both a reading and a dining table and a small kitchen, where host Rita prepares a tasty Italian breakfast consisting of local products each morning.
B&B Rita e Renzo has 5 colour coded rooms; "Verde" (green), "Gialla" (yellow), "Blu" (blue), "Smeraldo" (emerald) and "Arancione" (orange). Four of them are housed on the first floor, accessible by an outside staircase. The "Smeraldo" room on the ground floor is also suited for guests with walking difficulties.
All rooms feature a television, refrigerator, safe, Wi-Fi, air-conditioning and have their own bathroom with shower.  

A perfect stay for those...
Rita e Renzo is the perfect B&B for travellers wanting to explore the western part of Sardinia in all freedom. We recommend this accommodation to travellers looking for a stopover during a round trip as well.
Accommodation & facilities:
• Air-conditioning / Central heating
• Saf...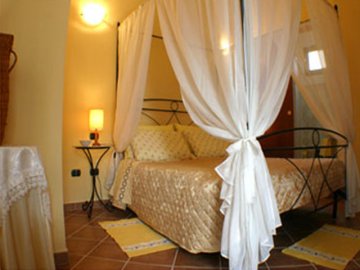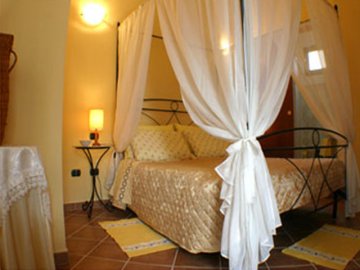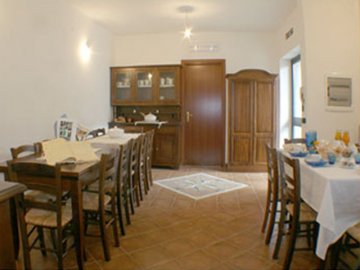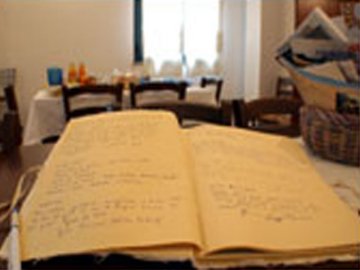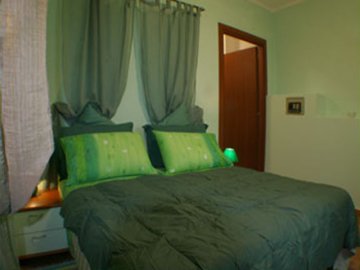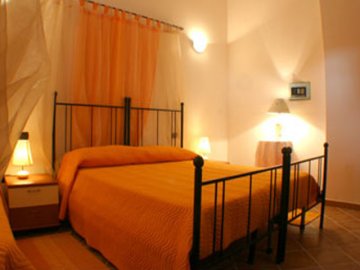 B&B Rita e Renzo
Riola Sardo
Riola Sardo is an intimate farming village in the country side. In the charming parish church San Martino you can admire the 16th-century crucifix and wooden choir. If you're in the area on the 26th of July, we recommend visiting the village fair in honour of Sant'Anna and San Gioacchino, where you can enjoy the religious rituals, dancing, singing and traditional music. The area is renowned for its numerous old ruins, the most famous of which are the nuraghes of Oresimbula, Priogu, Biancu and Zuaddas.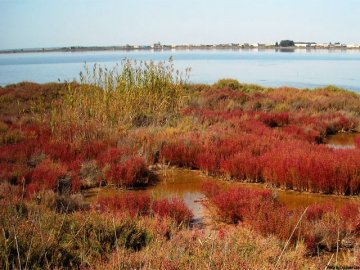 Discover the province of Oristano in west Sardinia
The province of Oristano and its eponymous capital are located in the western part of Sardinia. The fairly levelled area is relatively unknown to tourists. Nevertheless, the authentic town of Bosa and the other historic villages and archaeological sites with ancient roots in this region are definitely worth a visit. Oristano has extensive vineyards where the Vernaccia grape is grown. Don't forget to try a glass!
The coastal area of the Sinis peninsula is a protected marine reserve. The lake of Santa Giusta is inhabited by pink flamingos and other migratory birds. The fishing village of Cabras is renowned for the production of "bottarga" (roe), which is used in many Sardinian dishes. At the equestrian tournament "Sa Sartiglia", held in Oristano for the past 500 years on Carnival Sunday and Mardi Gras, masked horsemen galloping on steeds at breath-taking speed aim their swords at a tin star.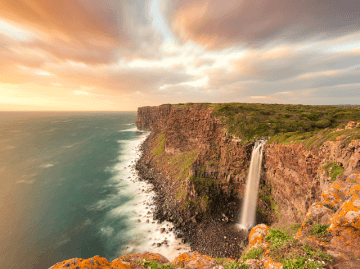 Lees meer
Rita heel erg aardig, locatie zelf wat minder
8,0
Sander
Leuke plek midden in een klein dorpje aan de westkust ook erg vriendelijk dame
7,0
Nicole Peters
Rita is super friendly. Great tips and very helpful. Very clean.
9.0
Gonda (NL)
Sardinia was great!
8.0
Family Zirkzee
Don't forget to go and see the flamingos in the lagoons near the coast!
8.0
Dhr. van Dijk
Rita's a very friendly host
8.0
Mevr. Berk
Wij vielen met onze neus in de boter
9.0
Mw. Duijf
Goede uitvalsbasis en een alleraardigste gastvrouw
10.0
Dhr. v/d Wijdeven
BB zonder Parkeerplaats
6.0
Dhr. Mensing
Charming B&B
10.0
Guillaume
Je moet er echt rondtrekken want dan zie je geweldig mooie dingen!
9.0
Boukje G.