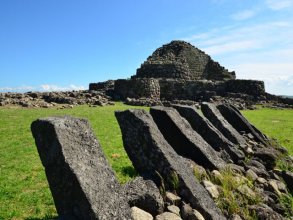 Nuraghe Su Nuraxi, Barumini (Medio Campidano) - Sardinia
When traveling through Sardinia, the landscape is dominated by the towers of the past, the so-called "nuraghe". Today there are about 7,000 copies left on the island. Most have now partly or completely decayed, but their powerful appearance still reminds of the splendor of days gone by. Su Nuraxi in Barumini, which dates back to the late Bronze Age (1330 to 1250 BC), is the best known, best preserved and largest nuragic complex in Sardinia.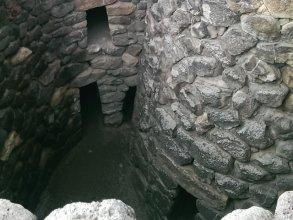 Immerse yourself in the ancient culture
If you leave the road to
Barumini
west towards Tuili, you will already see quickly appear the nuragic complex on a hill of the Marmilla. On site, you can join a very interesting guided tour to explore the inside of the complex. The guide will take you to the imposing central tower of no less than 14 meters high, which is surrounded by a thick wall with four towers. In the center there is a courtyard with a well 20 meters deep. The inner complex is surrounded by a second wall, originally there were nine other towers. The complex has been rebuilt several times in the past, reinforcing the walls as well. If you look closely you can see these different construction phases.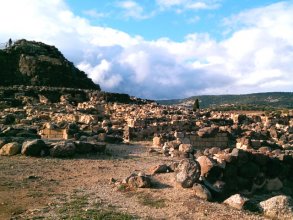 The nuragic village
Besides visiting and seeing the nuraghe, you can also walk through the former village, which consists of 200 round huts around the nuraghe. The oldest traces in the village date from around 1250 BC. Despite the devastation by neighboring tribes, the village was constantly rebuilt - until it was finally completely destroyed by the Punicians around 600 BC. The houses consisted of a circular space of various sizes. Each house is equipped with a bench and alcoves. Some huts also had a function for the community and served as a meeting room, for example. When you walk through it, you feel like you are living in the Bronze Age for a while. Still, it's nice that you can return to your hotel in the evening to enjoy the comfort and luxury of today.
Other interesting nuraghe on the island of Sardinia:
• Palmavera (near Alghero, Sassari) (complex)
• Santu Antine (Valle dei Nuraghi, near Torralba, Sassari) (complex)
• La Prisgiona (near Arzachena, Sassari)
• Losa (near Abbasanta, Oristano) (complex)
• Ardasai (near Seui, Nuoro)
• Is Paras (near Isili, Nuoro)
• Madrone (at Silanus, Nuoro)
• Orolo (near Bortigali, Nuoro)
• Antigori (near Sarroch, Cagliari)
• Arrubiu (near Orroli, Cagliari) (complex)
• Asoru (near San Priamo, Cagliari)
• Su Mulinu (near Villanovafranca, Cagliari)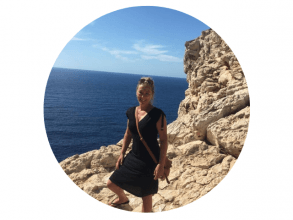 Would you also like to get to know the local archeology during your holiday in Sardinia?
Tell me about your holiday wishes
; I'll be happy to give you personal advice.
Sanne Segaar
Sardinia4all