Capo Falcone Apartments, Stintino - Sardinia
Capo Falcone Apartments is a new complex on the outskirts of Stintino and close to one of the most beautiful beaches in Sardinia; La Pelosa. You spend the night in a cozy and modern furnished apartment. You can decide yourself how much space you want to have as there are apartments for two people, but also a number of semi-detached apartments that can accommodate eight travelers. New is the swimming pool that will be ready on 01.05.2022.

White sandy beaches and floating boats
The Capo Falcone apartments are located 3.5 kilometers north of the small village of Stintino. A residence built in 2020 and consisting of 56 apartments divided into five groups with neat gardens all around. The holiday complex does not offer a swimming pool, but you can walk to the beautiful beach of La Pelosa to spread your towel on the snow-white sandy beach and take a dip in the crystal clear sea. Do not forget to book a visit to this beach in advance, as it has a maximum number of visitors per day. Besides La Pelosa, this area also offers several other beautiful beaches as La Pelosetta and Spiaggia del Gabbiano. A day excursion to Alghero and Castelsardo are also possible and a
boat trip
or
catamaran excursion
to the islands of Isola Piana and the uninhabited donkey island of Asinara are also a must. These islands, together with the marine area around them, are part of a protected National Park since 1997. As soon as the sun disappears behind the islands in the evening, you can relax in your own apartment, have something to eat in one of the nearby restaurants or move to a cozy eatery in Stintino, with a view over the floating boats in the harbour.
Modern apartments with air conditioning and wi-fi
Whether you book a bilo premium, bilo premium plus or trilo premium plus apartment, all apartments are modernly furnished and fully equipped! The houses are on the ground floor with a furnished patio or on the first floor with a furnished terrace. Air conditioning as well as wi-fi and television is available. As an extra, the apartments of the "plus" type offer a larger induction hob and a dishwasher. The bilo houses are suitable for a maximum of four people. The trilo apartment with sea view for up to eight people consists of two bilo premium plus apartments that are connected by a sliding wall. In Capo Falcone Apartments you can also use a shared barbecue area, washing machines and dryers in the laundry room, the playground and bicycles are available for free.
A perfect stay for those...
A holiday in Capo Falcone Apartments is reserved for couples and families with children looking for a beautifully furnished apartment in Sardinia, close to white dream beaches.
Accommodation & facilities:
• Reception (Opening hours: 09:00 - 13:00 an...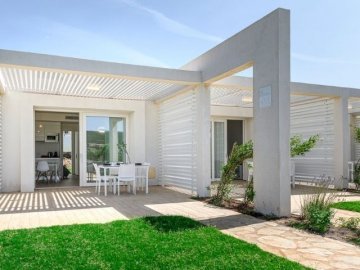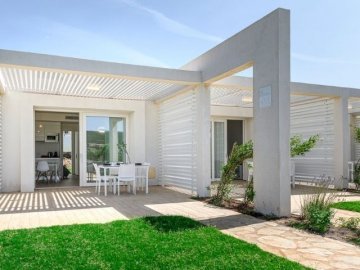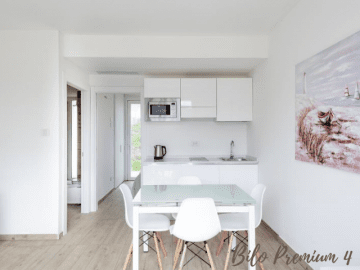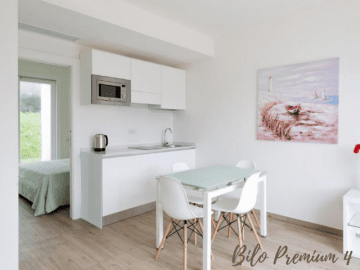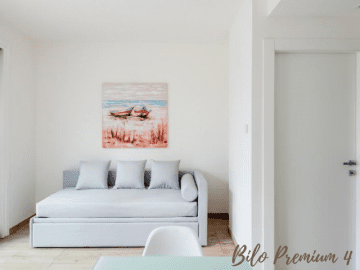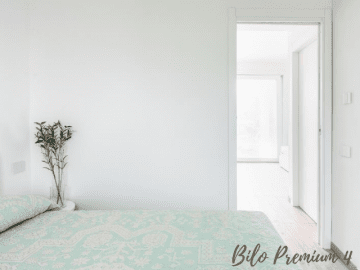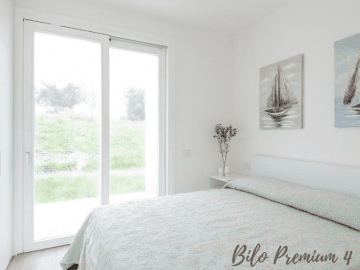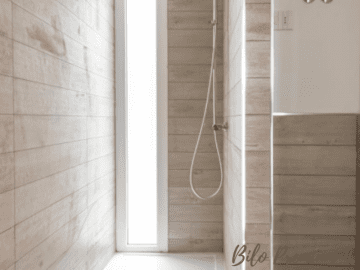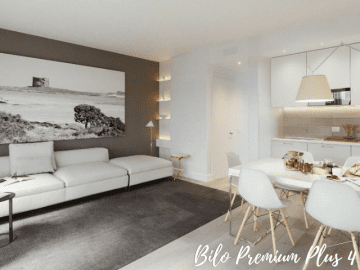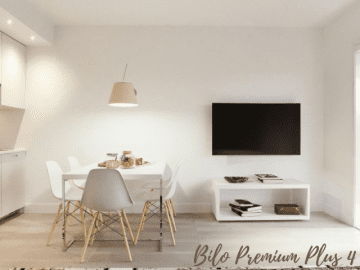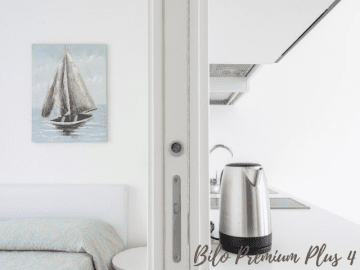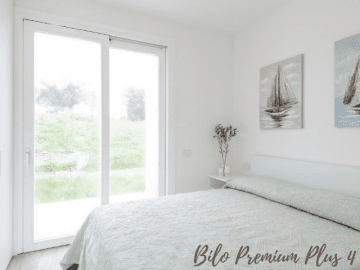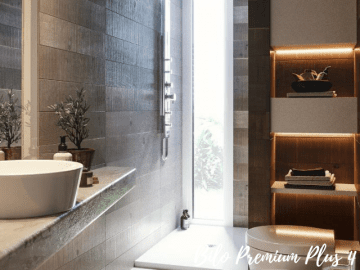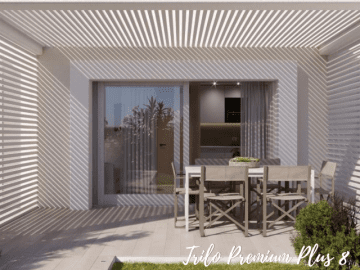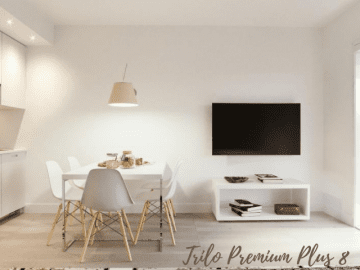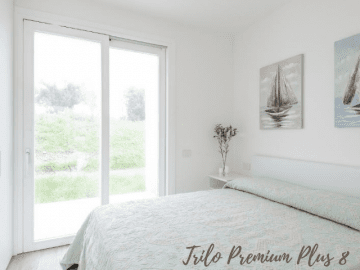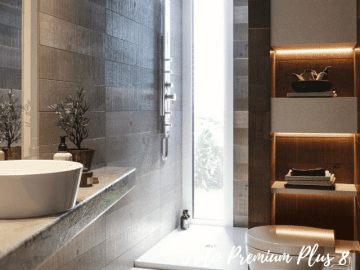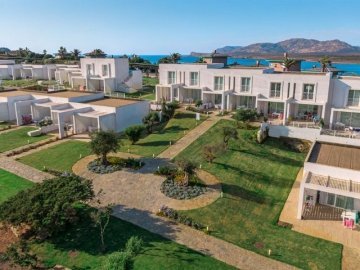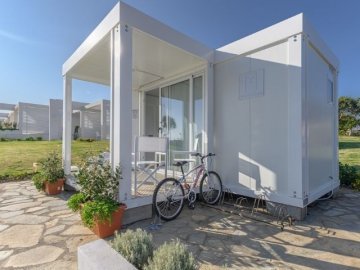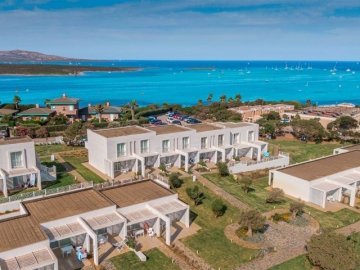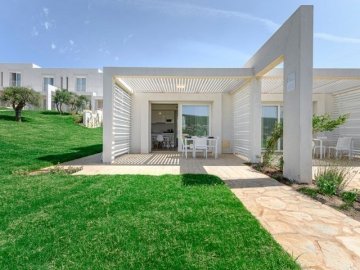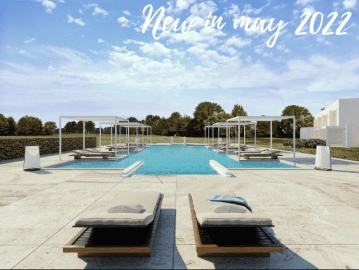 Capo Falcone Charming Apartments
Stintino
At the most northwestern point of Sardinia, the old fishing village of Stintino lies between two bays on a promontory in the Gulf of
Asinara
. The romantic natural harbor, the fishermen's houses, boats and fish restaurants give a pretty picture - but Stintino is best known for one thing: the beautiful beach of La Pelosa - is the most beautiful beach in the Mediterranean!
The dream beach attracts with fine sandy beaches, broken by slate rocks and macchia bushes. They are protected from wind and waves by the offshore island and the small, flat Isola Piana and therefore ideal not only for a beach holiday with children. Because of its breathtaking water colors, this dream beach was often used as a backdrop for advertising. Even out of season there is always a lot of crowd - but the beach is so beautiful you just have to see it! It is not without reason that it is one of the main sights of the island. In high season, this natural paradise is limited to preserve the delicate ecosystem of the water and beach landscape.
The Stintino peninsula was largely uninhabited until 150 years ago. Today's very popular resort was established for the fishermen and farmers on Asinara Island. The 45 families had to leave the island paradise when it was transformed into a prison island in 1885. In 1997 the last convict was removed and since 1999 visitors have been able to
visit the newly established national park with tour boats from Stintino
or visit
Porto Torres
.
It is only a short walk from the holiday resorts at La Pelosa to the end of the peninsula, the Capo del Falcone. The slate cliffs, plunging steeply into the sea, offer an impressive spectacle of waves and foamy mist on Sardinia's northwestern tip when the sea is rough.
Hardly any travel guide mentions another beach paradise on the Stintino peninsula: Spiaggia Le Saline, located south of the former Stintino tuna factories. The beach with its azure blue water consists of fine pebbles instead of sand and is therefore a great beach destination even when there is a lot of wind.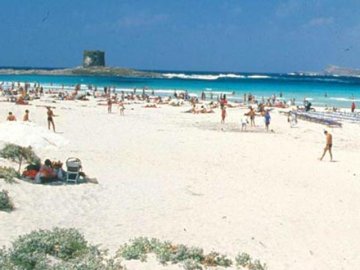 Discover the north-western province of Sassari
The province of Sassari is a fairly well-known province, due to the presence of the Fertilia Airport near Alghero which draws in many a tourist. Its eponymous capital, whose city centre consists of numerous narrow alleys, has a rich history. Villages such as Alghero, Stintino and the picturesque seaside town Castelsardo are the main highlights in the area, although the capital Sassari, which has been extensively renovated over the past years, is definitely worth a visit too.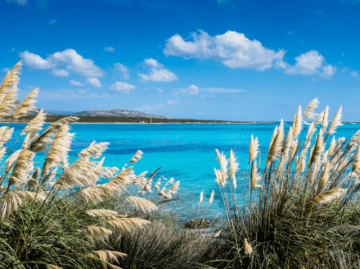 Lees meer
Prices
Rates are per apartment per week
Arrival: Daily
Minimum stay: 5 nights - 3 nights on request during low season

Book your holiday for 2022 with a discount now!
• Book now a 2-room apartment (bilo) for the period 06.04 - 04.06 with a 10% discount
• Until 31.05.2022: 15% discount on a stay in the period 17.09 - 29.10.2022

Mandatory additional costs (to be paid on arrival):
• Use of gas, water, electricity, 1 x bed and bath linen, air-conditioning: € 10 per adult per night (children 3 - 11 yr. € 5 per night)*
• Final cleaning (kitchen excl.): Bilo: € 70, Trilo: € 90
• Deposit: € 200 per apartment
*This supplement will not be applied on stays with travel period before 03.06 or after 10.09

Supplements (optional):
• Extra change of bath towels: € 10 per person
• Extra change of bed linen: € 10 per person
• Beach towels: € 5
• Stroller: € 14 per week
• Small pets (max. 20 kg.): € 30 per stay
Capo Falcone Charming Apartments