Camping Village Torre del Porticciolo, Alghero - Sardinia
Located in the beautiful nature reserve of Porto Conte at a mere 150 m. from the beach, Torre del Porticciolo offers comfortable mobile homes and lodges tents.
At the private beach of Cala di Porticciolo, at a mere 150 metres from the camping village, you can rent parasols and lounge chairs. Alternatively, while the kids splash away in the swimming pool, you can relax on one of the lounge chairs in the pool area. During the high season various activities, such as aerobics and acqua-fitness are organised here regularly. At night you can book a table in Torre del Porticciolo's restaurant/pizzeria. The bar serves a delicious cocktail. The camping village also features a supermarket.
Located along the bay of Alghero, the MH Torre Deluxe are provided with a private bathroom with shower, air-conditioning (surcharge), a double and a twin bedroom, a living room with kitchenette and a private veranda. The Torre Deluxe can accommodate 4-5 guests.
Also accommodating 4-5 guests, the MH Riviera consists of an open-plan kitchen, bathroom with shower, a double and a twin bedroom, a living room with sofa bed and TV and a private veranda, provided with 2 lounge chairs and a parasol. Air-conditioning is available for a surcharge.
The spacious and modern MH Torre Corrallo features a double and a twin bedroom, both with a private bathroom, a living room with TV and double sofa bed, a kitchenette and a veranda provided with tables and chairs. This type can accommodate 4-6 guests. Air-conditioning is available for a surcharge.
Glamping in Sardinia? Torre del Porticciolo offers 3 different types of luxurious lodge tents of ca. 38-40 m², all provided with 2 bedrooms, a fully-equipped open-plan kitchen, living room, bathroom with shower and veranda .
During the high season a young and enthusiastic animation team organises various activities. Children can join the Mini Club, where they can draw, sculpt, play, join a scavenger hunt or the mini dance at night. For the slightly older children karaoke nights and sports tournaments are organised at the spacious square in front of the sea, which is provided with a special stage for the music and dance shows.
A perfect stay for those...
Camping Village Torre del Porticciolo is perfectly suited for families looking for a comfortable glamping with numerous facilities within walking distance of the beach, close to Alghero and many sights.
Accommodation & facilities:
• Parking space
• Restaurant / Pizzeria (...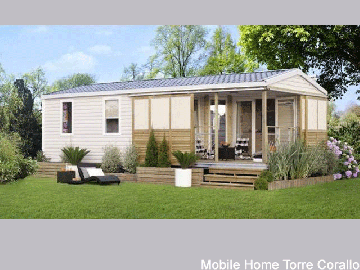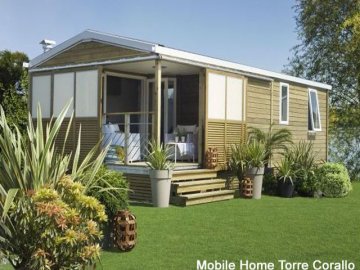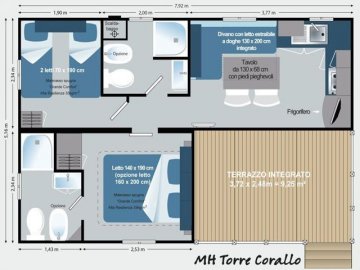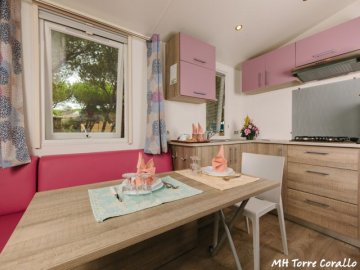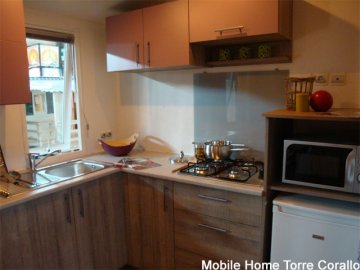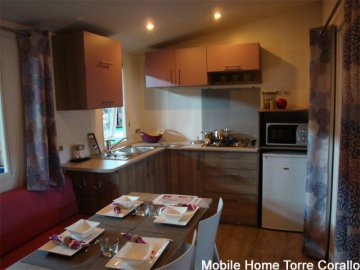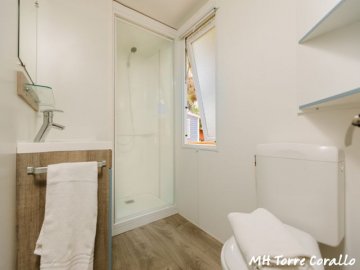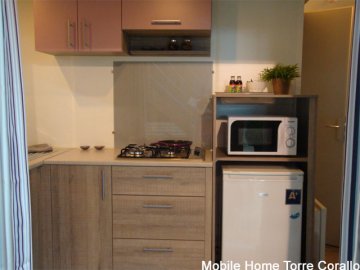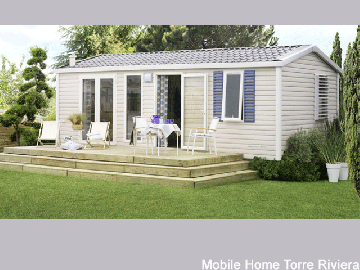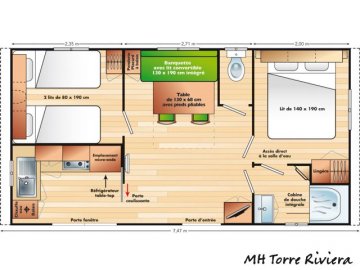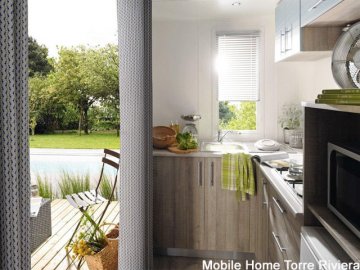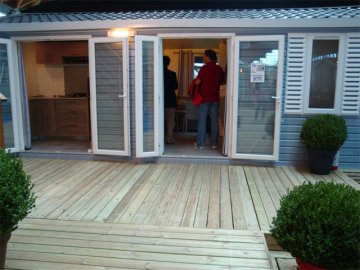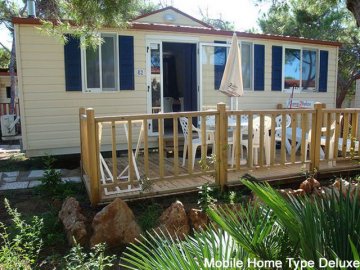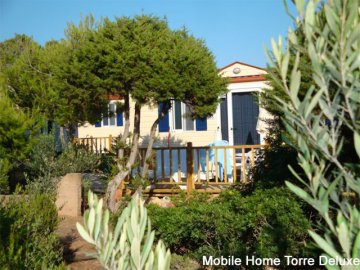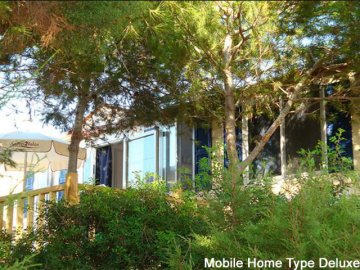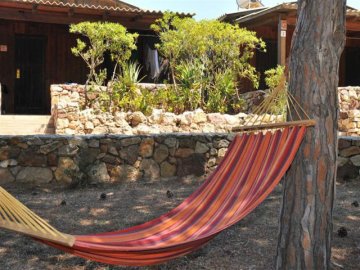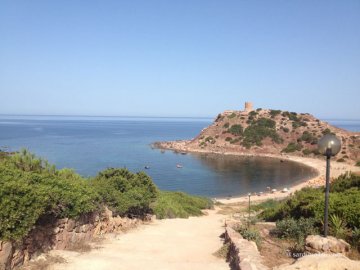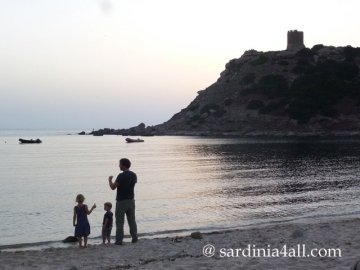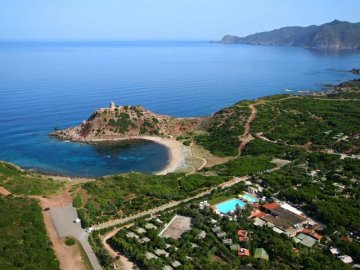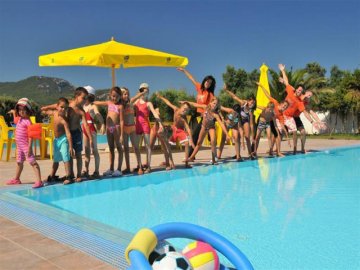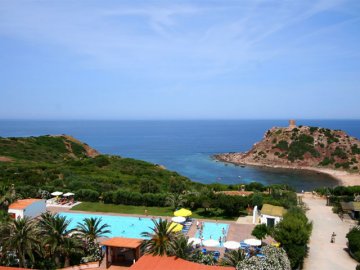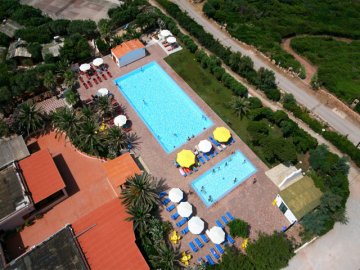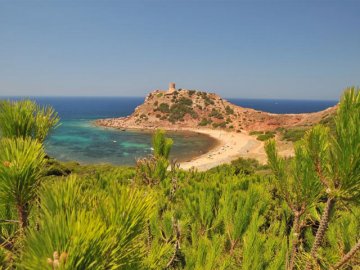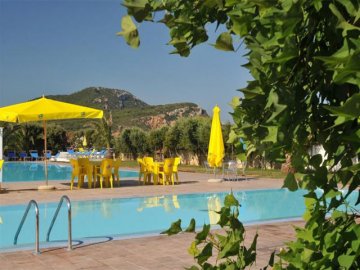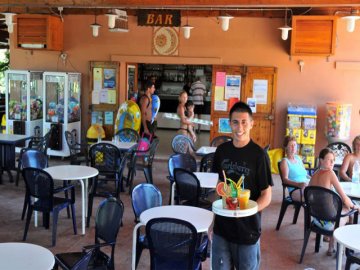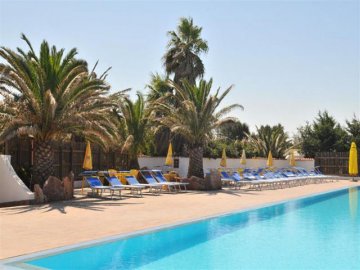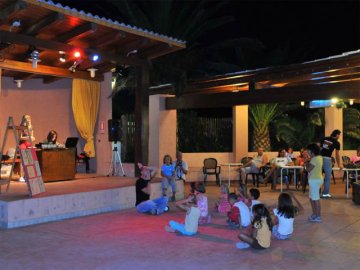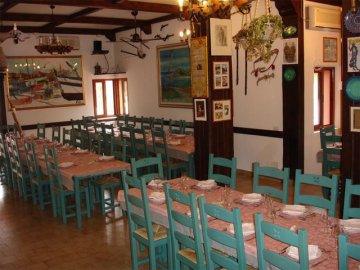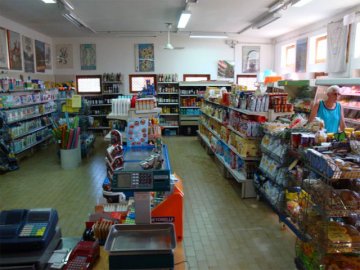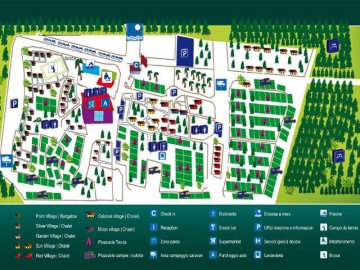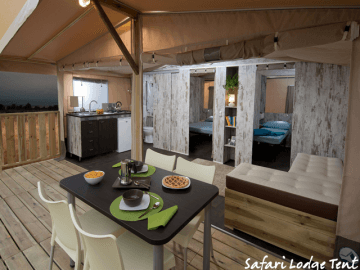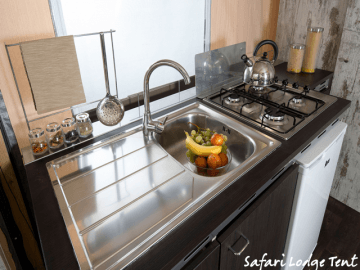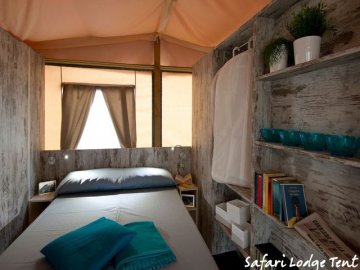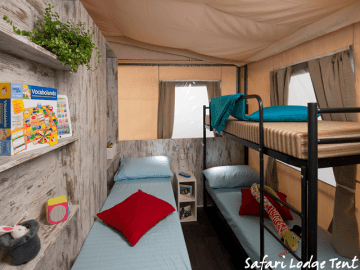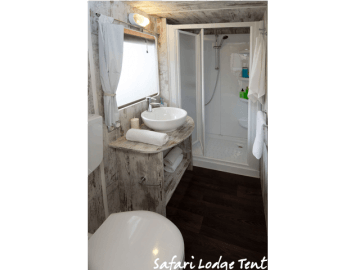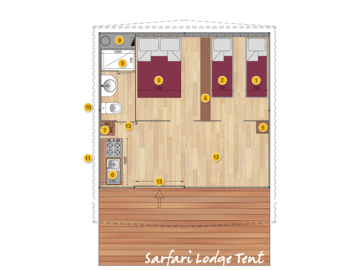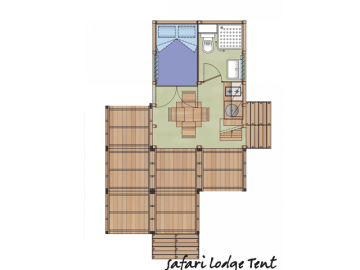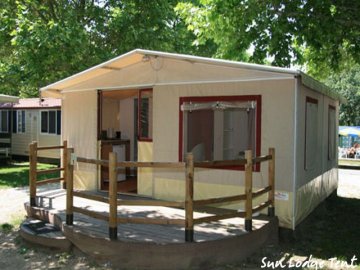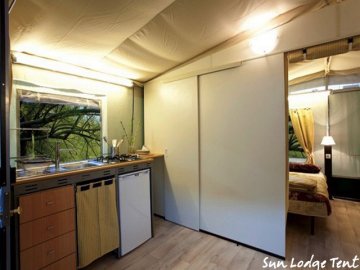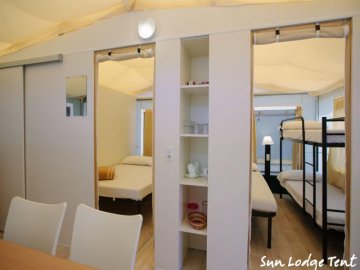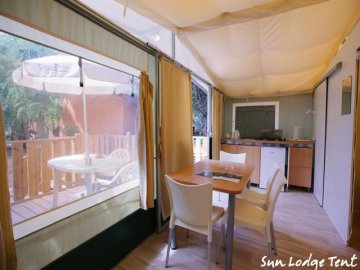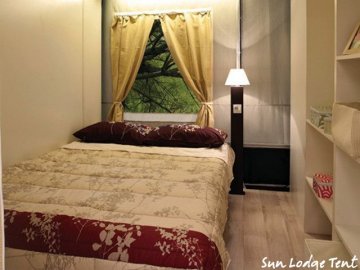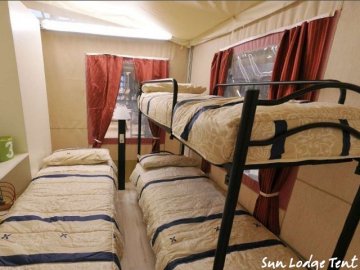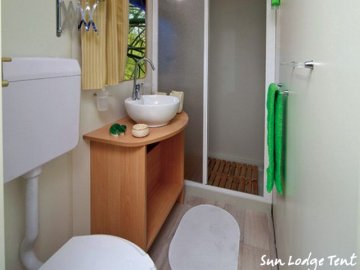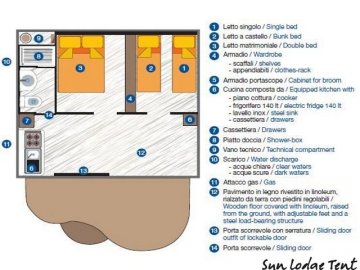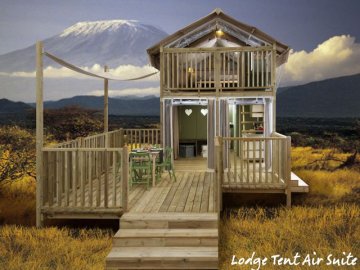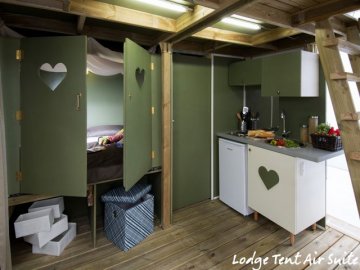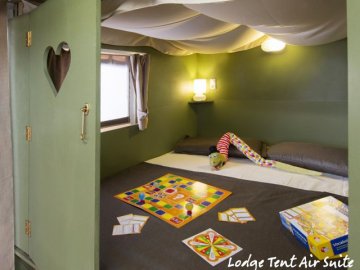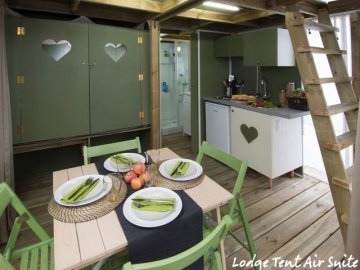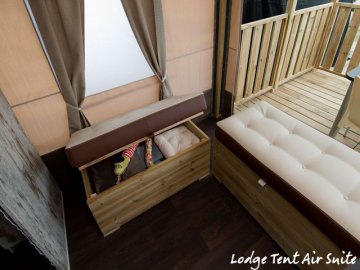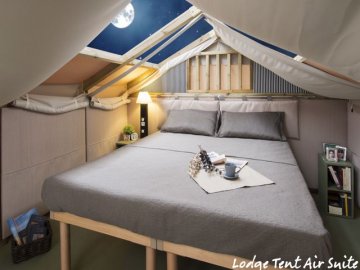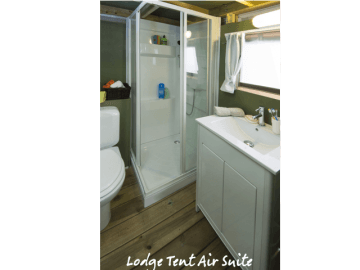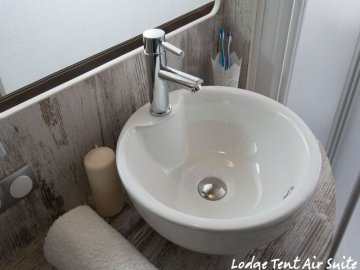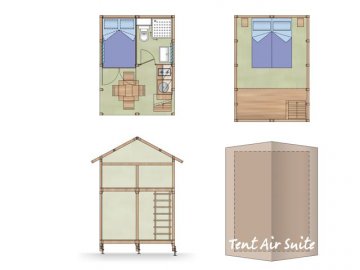 Camping Village Torre del Porticciolo
Alghero
The medieval Sardinian-Catalan coastal town Alghero, located in the north-west of Sardinia, dates back to 1102, when the nobel Doria family built a castle there. In the same period, this family also built a castle in
Castelsardo
. In the year 1353 the Spaniards seized power in Alghero, leaving many traces behind which are still visible today. The palazzos, city walls and defence towers are built in a Spanish style. The bilingual street names in both Catalan and Italian still reflect the proud heritage after more than 300 years of domination.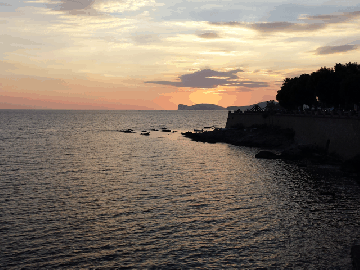 A cosy town on the northwest coast of Sardinia
The city is popular among tourists all year round. Its ideal location near the sea and within a 15-minute drive from Fertilia, Alghero's airport, makes for a perfect holiday destination. The old town consists of a maze of narrow cobbled alleys, decorated with laundry hanging out to dry on drying racks and makeshift clothes lines tied from balcony to balcony. In the city centre you can enjoy a stroll along the various piazzas with restaurants, bars, cafes and ice cream parlours or relax on the shaded terraces cooled by a fresh sea breeze. Don't forget to visit the well-known Neptune caves during your holiday in Alghero!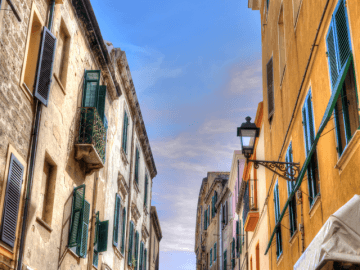 Capo Caccia, Grotte di Nettuno and Aragosta
Since Alghero is located on the "Riviera del Corallo", the "Coral Coast", most boutiques have various coral ornaments for sale. At night, as the sun sets behind cape Capo Caccia, the city is bathed in a beautiful orange light. At this time of night we recommend taking a walk along the boulevard and the harbour to one of Alghero's restaurants to enjoy the delicious seafood dishes. Don't forget to try the local specialty, "Aragosta alla Catalana" (lobster). Don't even forget to visit the well-known Neptune caves during your holiday in Alghero!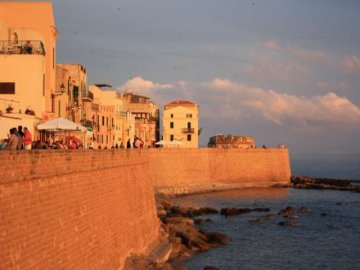 Discover the north-western province of Sassari
The province of Sassari is a fairly well-known province, due to the presence of the Fertilia Airport near Alghero which draws in many a tourist. Its eponymous capital, whose city centre consists of numerous narrow alleys, has a rich history. Villages such as Alghero, Stintino and the picturesque seaside town Castelsardo are the main highlights in the area, although the capital Sassari, which has been extensively renovated over the past years, is definitely worth a visit too.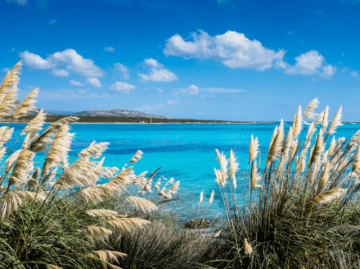 Lees meer
Prices
Rates are per mobile home per night
Arrival: daily
Minimum stay: 7 nights

Book your holiday for 2021 with discount!
• 20% discount: bookings made before 30.04,2021
• 15% discount: bookings made before 31.05.2021

The rental rate includes:
• 1 x Bed linen and towels per stay
• Use of water, electricity and gas
• 1 parking space
• Use of swimming pool (after 01.06), playground, tennis and table tennis

Mandatory additional costs (to be paid on arrival):
• Final cleaning: € 70 (€ 100 if travelling with a dog)
• Security deposit: € 300

Extra options:
• Cot 0-2 years (obligatory): €10 per night (period 26.06-31.08)
• Half Board € 33 per person per night - Children 3 up to 8 yr. € 28
• Full board € 45 per person per night - Children 3 up to 8 yrs. €40
• 2 Sunbeds + 1 parasol on the beach (July-September): € 12 to max. €20 per day
• Air Conditioning: € 30 for 24 hours use
• Extra bed linen: € 10 per person
• Extra Towels: € 10 per person

Other:
• The kitchen must be left clean on departure, otherwise a fee of € 40 will be charged
Camping Village Torre del Porticciolo
Een mooi park met een nog mooier uitzicht
9,0
Nelleke
Mooie locatie, prima voorzieningen, goed zwembad
7,0
Harro Pouw
Een prachtige ruime opgezette safaritent met heerlijke douche
8,0
Suzan
Voelde vanaf het begin meteen goed, splinternieuwe mobil home!
8.0
Mevr. Blat (NL)
Mooie camping, alles dik in orde
8.0
Dhr. Congedo (BE)
Erg mooie chalets
8.0
Mw. Graauw (NL)
In Torre del Porticciolo komen wij nog een keer terug!
8.0
Frank (NL)