Hotel Bue Marino***, Cala Gonone - Sardinia
The small Sea view Hotel Bue Marino is located near the beach of Cala Gonone in Eastern Sardinia. The Marina of Cala Gonone, where boat excursions depart to the famous Bue Marino caves and to the fantastic beaches in the bay or Orosei, is right in front of the hotel.
Hotel Bue Marino is located strategically in Cala Gonone, at 15 metres from the beach and right in front of the port. The elevator will bring you to the terrace with panoramic view of Bue Marino's restaurant, where regional and Italian dishes are served. The cocktail bar serves you a nice drink to go with the stunning view across the bay. At the rooftop terrace there is a solarium with Jacuzzi as well!
The centrally located 3-star hotel Bue Marino has 31 rooms, divided into double rooms with or without sea view, spacious Junior Suites and a 4-persons Family Room consisting of 2 separate rooms. All rooms are comfortably decorated and have an private bathroom, air-conditioning and Wi-Fi. Some of the rooms have their own balcony as well.
The clear blue sea in front of Bue Marino deepens gradually and is therefore child friendly. We recommend the use of water shoes in order to prevent stepping on peddles with your bare feet. There are several restaurants and bars at the beach of Cala Gonone. In front of the hotel you'll find the port. Every day various excursions by boat are organised to the Bue Marino caves or to the many bays of Orosei. Most bays are only accessible by boat of by foot. A trip to Cala Goloritzé, Cala Sisine, Cala Luna and Cala Mariolu should definitely be on your itinerary if you want to discover the most beautiful Sardinian bays!
If you prefer a more active trip, the area around Cala Gonone is perfect for long hikes and the longest canyon in Europe, "Gola di Gorropu", is worth a visit too! With the nuraghe village Tiscali and Sea Aquarium nearby, we promise you won't be bored here!

A perfect stay for those...
Bue Marino is perfectly suited for travellers looking for a hotel in a lively city centre in an area filled with beautiful bays and sights in order to enjoy a diverting holiday. A stay at Cala Gonone should be included in every round trip across Sardinia as well!
Accommodation & facilities:
• Reception 24/7
• Sky cocktail bar
• Rest...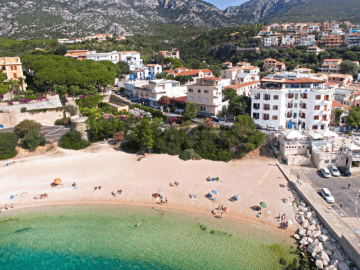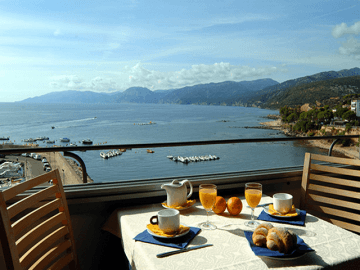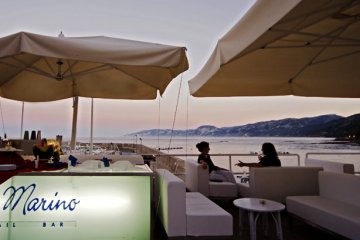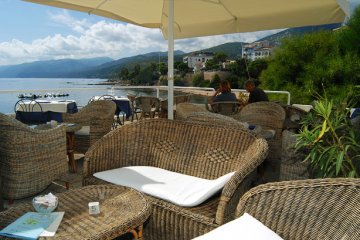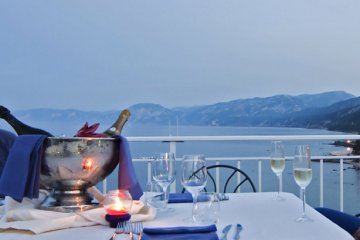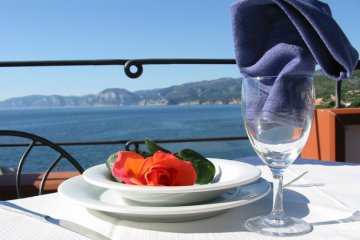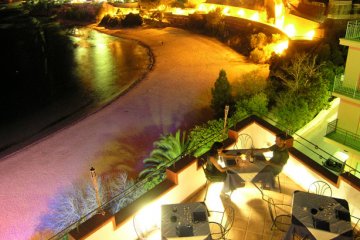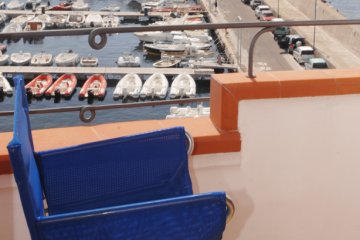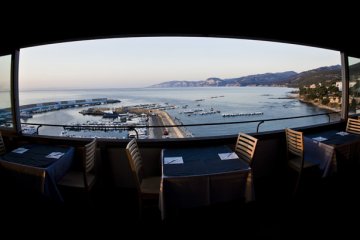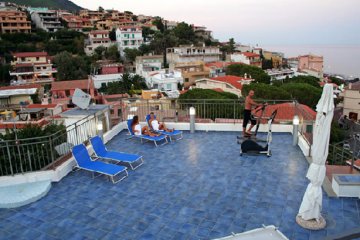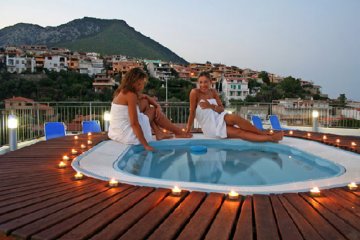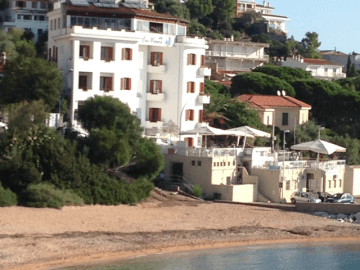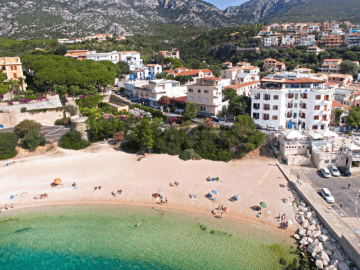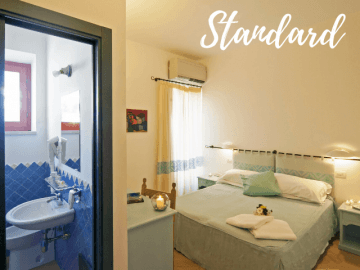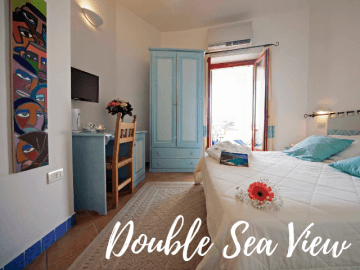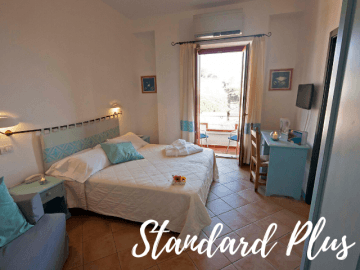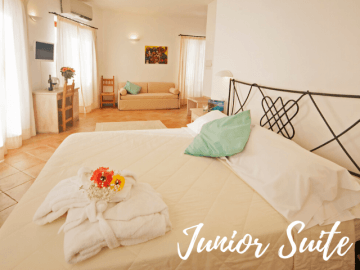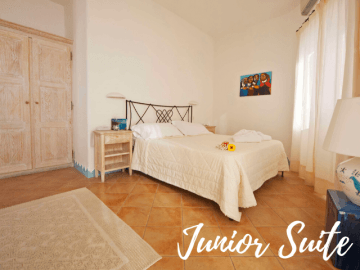 Hotel Bue Marino
Cala Gonone
The lively seaside resort Cala Gonone is located on the east coast of Sardinia in the stunning bay of Orosei. The coastline is renowned for its numerous intimate, idyllic beaches with white pebbles and crystal clear water.
Ferries depart daily from the marina of Cala Gonone to the caves of Bue Marino, where monk seals have been spotted, and to the many stunning bays of Orosei, most of which are only accessible by boat or on foot. We highly recommend visiting some of Sardinia's most beautiful bays, such as Cala Goloritzé, Cala Sisine, Cala Luna and Cala Mariolu.
There are numerous spectacular hiking trails near Cala Gonone as well. One of Europe's largest gorges, Gola di Goroppu, with walls up to 400 metres, and the nuragic village Tiscali are definitely worth a visit. Cala Gonone's Sea Aquarium can show you all about the life in the Mediterranean sea.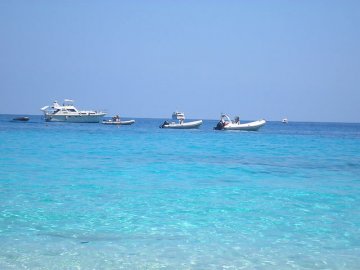 Discover the province of Nuoro in east Sardinia
It's like time has stood still in the versatile province of Nuoro, known for its unique coastline and pristine nature. Nuoro is the least densely populated region of the island. Through the years neither the Romans, Carthaginians nor any other foreign conquerors have succeeded in invading the area, because of which it's been able to develop its own culture. Nowadays Nuoro's unique folklore and traditions are still visible during the local festivities.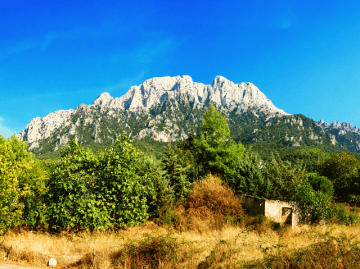 Lees meer
Prices
Rates are per person per night, breakfast included

Supplements:
• Half board: € 25 per person per night
• Baby bed: € 10 per night
• Pets are welcome in a room with balcony without extra charge
Mooi bij de haven, aan het strand, goed restaurant
9,0
Anoniem
Ein Stadthotel, jedoch finden wir das Beste am Ort
7,0
Frau Göltl
Gewoon een goed hotel
8,0
René Stift
Mooi hotel op een perfecte locatie.
9,0
Kristien
Verouderd hotel
7.0
Nelleke
Mooie lokatie. Fijne kamers met mooi uitzicht. Vriendelijk en behulpzaam personeel.
8,0
Tom vd Berg
Schitterende locatie met prachtig uitzicht. Mooi om hier een boottocht langs de kust te maken.
8,0
Ingeborg
Beste Lage für Ausflüge Wanderungen, Klettern, Gorrupu-Schlucht, Baden
8,0
Anonym
Op het terras voor het hotel een show-bartender die goochelde met cocktail-shakers.Leuk!
8,0
Hans van den Bergh
Hotel was goed en waren zeer gastvriendelijk.
8,0
Kees en Anita Goedegebuure
Friendly staff, nice view in the restaurant.
8.0
Anoniem
Prachtige centrale ligging en prachtig uitzicht vanuit de ontbijtzaal/dinerzaal
7,0
Karin
De weg door binnen land is prachtig. Door af te wijken van hoofdroute kom je door leuke plaatjes en drink je cappuccino voor 1 euro
Anoniem
Prachtige view en dichtbij zee
9,0
Will en Rik
Restaurant op dak, geweldig!!!!
9.0
Will en Rik
Prachtig eiland. Vriendelijke mensen. Voor herhaling vatbaar
8,0
Anoniem
Proper hotel in een bruisend stadje
9,0
Anoniem
Hotel is prima, uitkijk op zee, ontbijt is ook goed
8,0
Karin V.
Tegemoetkoming voor het kamerongemak
8,0
Jan en Lies de Jager
Alles perfect, desondanks dat het een ouder hotel is. Toch hip !
9.0
Hox Valérie
Beautiful hotel in a beautiful location by the sea.
8.0
Gonda (NL)
Goed. We hebben ervan genoten.
8.0
Anoniem
Goed hotel op een top locatie
8.0
Gino D'Ippolito
Super mooi en geen spijt van kamer met zeezicht
10.0
Jan en Elly
Ligging is prima maar kleine kamer zonder balkon
8,0
Eric Hulman
Geweldige vakantie gehad!
9.0
Xavier Ghesquiere
Everything was possible, communication went well and smoothly. I recommend you to friends and family!
8.0
Irene
Wij hebben een heerlijke vakantie gehad. Wij vonden het een mooi eiland met zeer vriendelijke mensen.
8.0
Rik en Ellen (NL)
Hotel Bue Marino was prima
9.0
Dhr. Leeuwenburgh (NL)
Prima locatie en hotel ook goed
8.0
Mw. Herremans (NL)
Super leuk hotel. Heel leuk gelegen, inderdaad op het strand. Alles verzorgd en netjes.
9.0
Simone (NL)
Leuke rondreis
9.0
Dhr. Peer (NL)