Hotel La Baja****, Santa Caterina di Pittinuri - Sardinia
On top of a cliff in Santa Caterina di Pittinuri on the west coast in between Bosa and Oristano the elegant Hotel La Baja is located in a pristine area near to the beach. A lovely accommodation for a tranquil holiday.
In a quiet location with stunning view Hotel La Baja is a lovely base for a journey of discovery through west Sardinia. On the ground floor you'll find the reception, lounge and television room and the restaurant with outdoor terrace. It's great to dine here a la carte on warm summer nights while enjoying the sunset. The pool is surrounded by several lounge chairs and parasols and the bar serves delicious drinks.
Hotel La Baja has 29 double rooms, most of which have their own balcony with sea view. Every room has a private bathroom with shower, air-conditioning, telephone, television and minibar. A 3rd or 4th bed can be installed on request when travelling with kids.
Apart from a relaxing day by the pool or on the beach, hotel La Baja organises various excursions for the more active traveller. Ask the hotel about renting a mountain bike, surfing board or canoe. Golf aficionados can visit the Is Arenas 18-holes course at just 15 minutes from the accommodation by car. The colourful town of Bosa near the Temo river and Oristano are within easy reach, as well as the natural bridge S'Archittu in Santa Caterina di Pittinuri.
A perfect stay for those...
La Baja is perfectly suited for travellers wanting to spend their holiday at an intimate hotel in west Sardinia with a stunning view across the sea. This hotel can easily be integrated as a stopover during a round trip across the island.
Accommodation & facilities:
• Parking space
• Elevator
• Air-condition...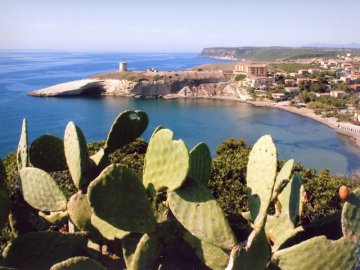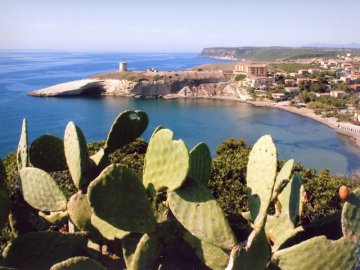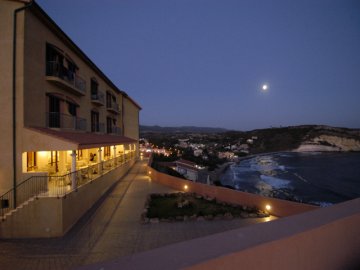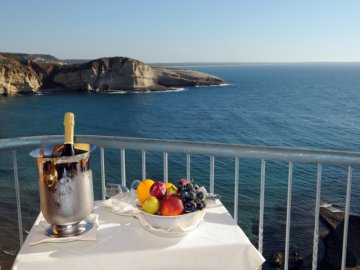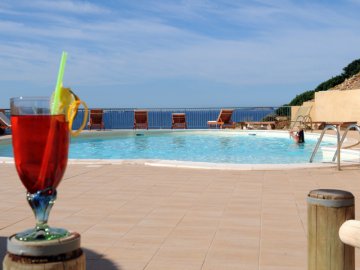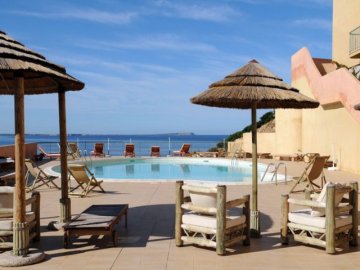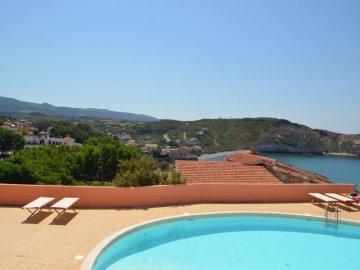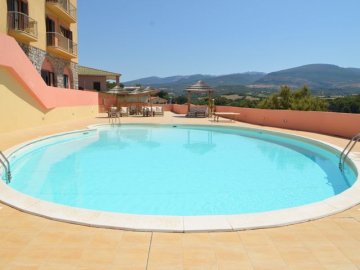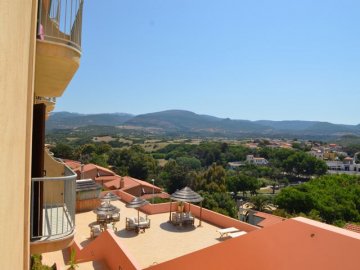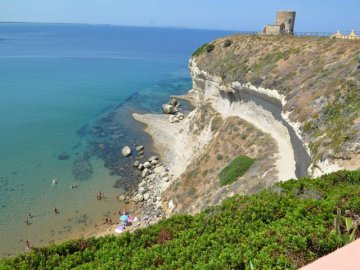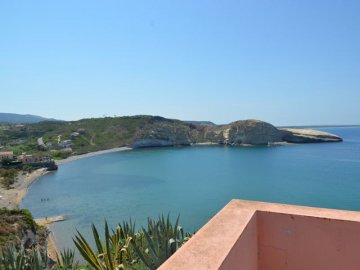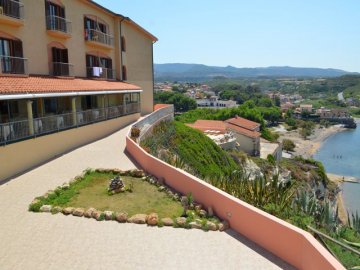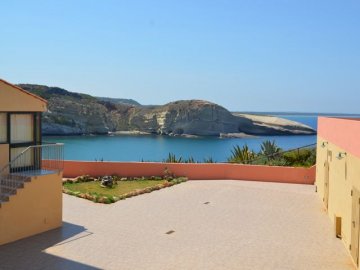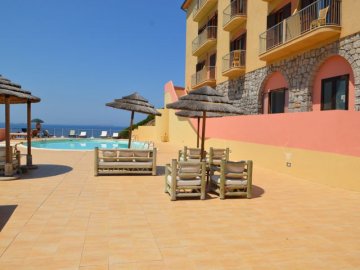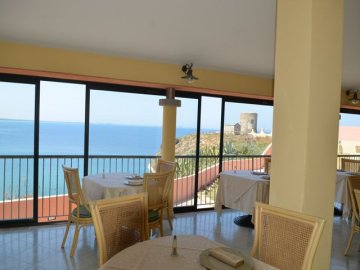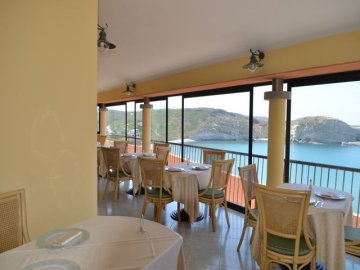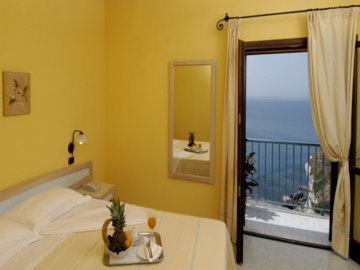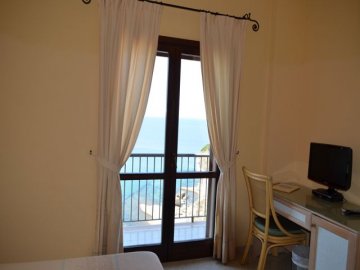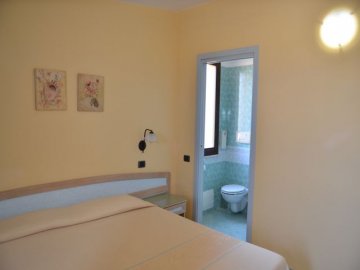 Hotel La Baja
Santa Caterina di Pittinuri
Santa Caterina di Pittinuri is a small fishing village on the west coast of Sardinia, set in an area filled with picturesque villages, valleys and numerous sandy and shingle beaches. One of the main sights of the village is S'Achittu, a large natural bridge formed by marine erosion. A sand road, one of the side roads of the 292 in between Santa Caterina di Pittinuri and S'Archittu, leads to the ruins of the Nuragic city of Cornus, where the battle between the Romans, Nuragic people and Carthaginians headed by Amsicora took place (215 B.C.).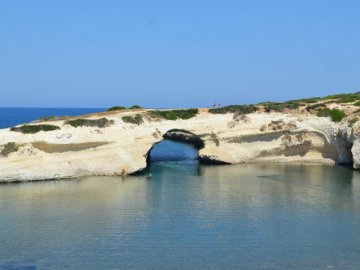 Discover the province of Oristano in west Sardinia
In the west of Sardinia is the province of Oristano with the capital of the same name. This region is quite flat and has relatively little tourism, the reason for this special region is dominated by olive cultivation, fishing, agriculture and livestock farming! In this region you will find extensive vineyards with the typical Oristan Vernaccia grapes.The extensive tasting of this delicious wine is a must! Taste this
wine
here! Discover for example the small authentic town
Bosa
, but also one of the numerous archaeological remains dating back to before our era are certainly worth a visit. Also visit the Sinis peninsula, of which the entire coastal area is a protected area. Capo San Marco is the northern tip of the Gulf of Oristano and is a wonderful place for a small excursion by bike or hike. Take a refreshing dip from one of the beautiful beaches of San Giovanni di Sinis. At the lake of Santa Giusta you can see pink flamingos and other birds that live here in a paradise of their own! Around the fishing village of
Cabras
is produced the delicious bottarga (roe), which is used in many Sardinian dishes. In the town of Oristano, an equestrian tournament is still held every year during Carnival: "Sa Sartiglia", masked horsemen galloping on steeds at breath-taking speed aim their swords at a tin star.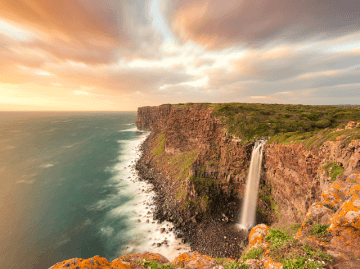 Lees meer
Prices
Rates are per person per night, breakfast included
Arrival: daily
Minimum stay: 2 nights

Supplements:
• Half board: € 30 per adult; € 15 per child 0 - 8 years
• Cot 0 - 2 years: € 15 per night
Atemberaubender Ausblick vom Zimmer und Restaurant. Sehr freundliches Personal
10,0
Frau Göltl
Prachtige ligging, fijn zwembad. Lekker ontbijt met ruime keuze. Helaas geen plek om na 20.00 uur bij hotel buiten nog een drankje te doen.
9,0
Karin
Prima hotel met prachtig uitzicht!
8.0
E. Jansen
Wat een uitzicht!
8.0
A & H te Delft
Een 10 vanwege de ligging!
10,0
An