Hotel Valkarana****, S. Antonio di Gallura - Sardinia
Hotel Valkarana is located on the shores of the Liscia lake. Here, surrounded by cork oaks and olive trees, you can enjoy the peace and quiet in a traditional Galluran country house.
In the green and hilly landscape around the Liscia lake you'll find Hotel Valkarana. The main building houses the reception, bar with cosy porch and the restaurant. Some of the guest rooms are housed here, while others can be found in one of the secondary buildings.
Hotel Valkarana has 19 rooms decorated with wooden furniture and Sardinian fabrics. Each room features air-conditioning, a satellite TV, minibar, phone and private bathroom with shower and hairdryer as well as a private terrace or veranda, most of which overlook the Liscia lake. The Junior Suite has a spacious seating arrangement inside as well.
Hotel Valkarana has a beautiful garden and a spacious pool with paddle pool surrounded by lounge chairs and parasols where you can relax and enjoy the spectacular view. Valkarana's restaurant consists of 2 dining rooms where both traditional Sardinian and international dishes are served at night.
A perfect stay for those...
The intimate Hotel Valkarana is perfectly suited for travellers wanting to spend their Sardinian holiday in a tranquil, natural area with many traditional villages nearby. This accommodation can easily be integrated as a stopover during a roundtrip by car or motor bike as well.
Accommodation & facilities:
• Parking space
• Garden
• Swimming pool
...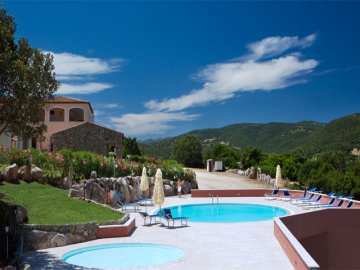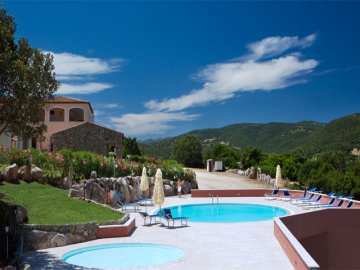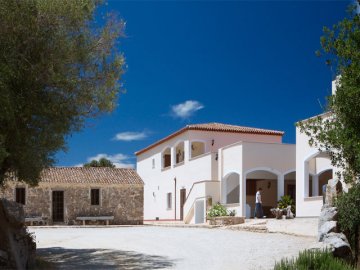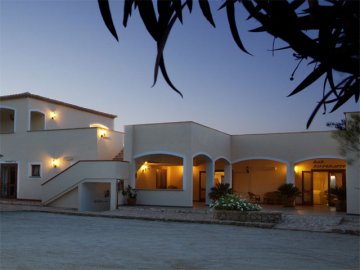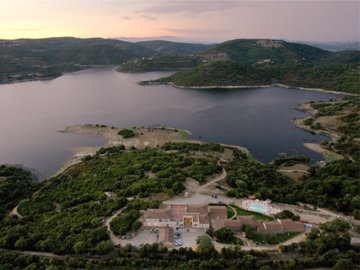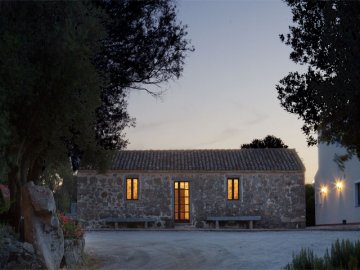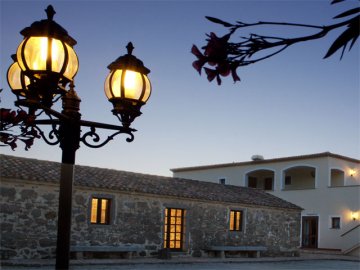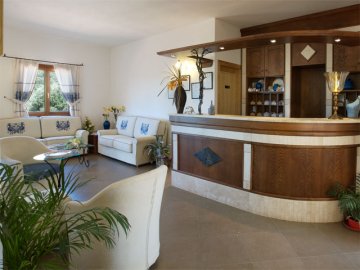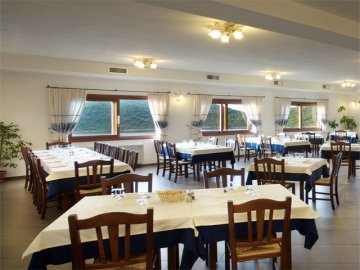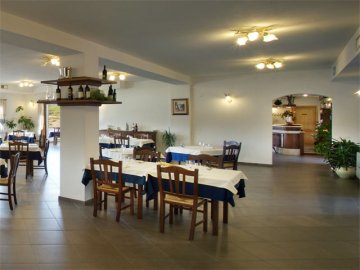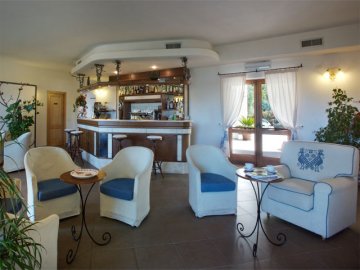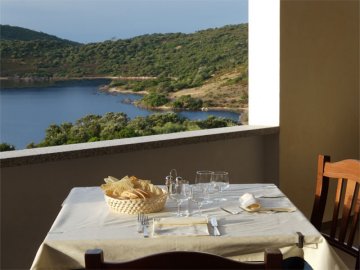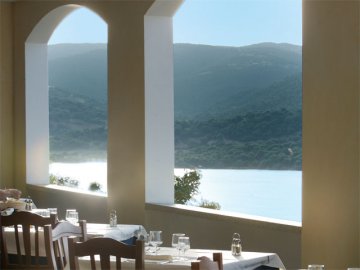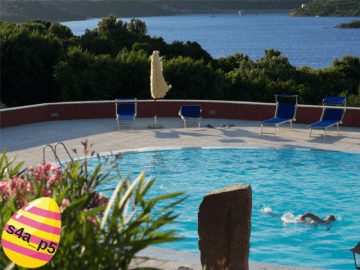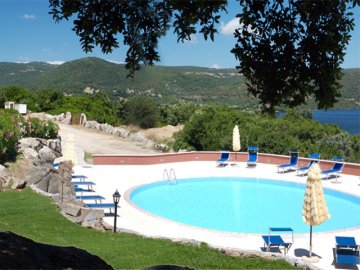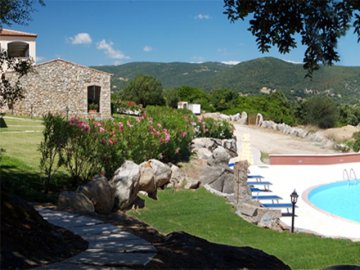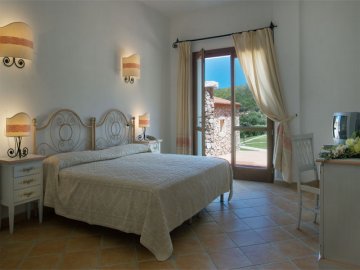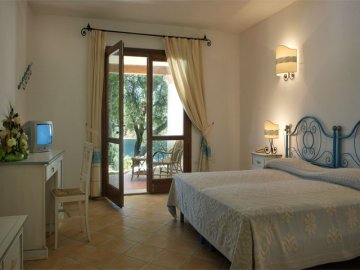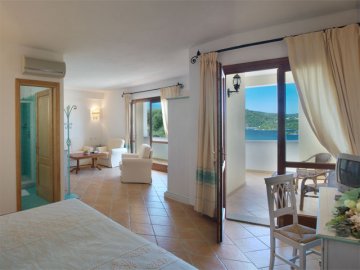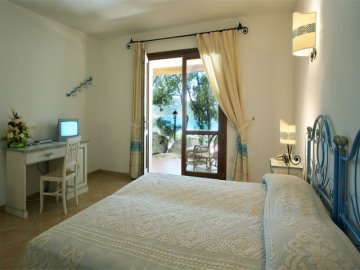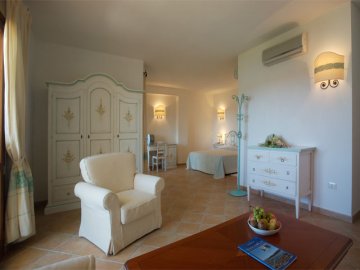 Hotel Valkarana
Sant'Antonio di Gallura
The mountain village of Sant'Antonio di Gallura is located in the heart of the Gallura area at an altitude of 357 metres, not too far from the sandy beaches of the Costa Smeralda. The hilly landscape is filled with cork oaks and olive trees. The rivers Rio di Piatu and Fiume Liscia both lead to the Liscia lake. With a bit of luck you can spot wild boars, foxes, hares and falcons during a hike through the area.
Discover the province of Olbia-Tempio in north Sardinia
Olbia-Tempio is one of the most popular holiday destinations in Sardinia. It's the perfect province for a relaxing beach holiday because of the countless bays and broad sandy beaches here. Its landscape is furthermore characterized by a lush Mediterranean vegetation and impressive rocks. The province is an international crossroads for numerous visitors, thanks to the international Olbia-Costa Smeralda Airport and Olbia's marina, where ferries from Genoa, Livorno, Piombino and Civitavecchia arrive daily.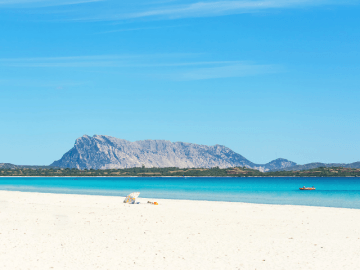 Lees meer
Prices
Rates are per person per night, breakfast included
Arrival: daily
Minimum stay: 3 nights, excl. period 01.08 - 21.08 min. 5 nights

Book your holiday at Hotel Valkarana with a discount now!
• Book before 30.03.2022 and benefit from a 20% discount
• From 01.05.2022: Book at least 45 days before arrival and receive a 10% discount
• Book 4 nights = 15% discount when staying in the period 09.04 - 24.06 and 17.09 - 26.11.2022
• Book 3 nights = 10% discount when staying in the period 09.04 - 24.06 and 17.09 - 26.11.2022

Options
• Cot (0-3 years): € 12 per night
• Half board: € 32.50 per night
Magnifieke ligging met zicht op meer. Gedienstig personeel, vriendelijk.
8.0
Dhr. Vangilbergen (BE)
Magnifieke ligging met zicht op meer. Gedienstig personeel, vriendelijk.
8.0
Dhr. Vangilbergen (BE)
Mooi hotel met mooie ligging, helaas ver overal vandaan.
7.0
Dhr. Jeukens (NL)
We kregen een upgrade naar een hele leuke kamer met uitzicht op het meer.
7.0
Mw. Reyneveld (NL)
Binnen een halve dag alles geregeld. Geweldige reis. Bedankt voor de snelle afwikkeling.
9.0
De heer Brunklaus (NL)
Mooie ligging, beetje afgelegen. Goede keuken. Lekker zwembad.
9.0
Dhr. Van de Wiel (NL)
Zeer fijn hotel, **** meer dan waard
9.0
Frank Sprangers (NL)