Hotel L' Ea Bianca Luxury Resort ***** Baja Sardinia - Sardinia
The stunning 5-star resort Ea Bianca, close to Baja Sardinia, is a dreamy destination with a breathtaking view across the sea. A stay at his intimate, modern accommodation with pool and private beach equals an elegant and luxurious holiday.
At just 4 kilometres from the lively seaside town of Baja Sardinia, filled with piazzas, shops, cafes and restaurants, the luxurious Ea Bianca Resort is located. This intimate and modern hotel in north Sardinia offers a 5-star service. The accommodation has a swimming pool and a solarium filled with lounge chairs and parasols. In the beautiful garden via various paths you'll reach cosy seating arrangements and the private beach of Cala dei Ginepri. At the beach, only 150 metres from the hotel, parasols and lounge chairs are reserved for the L' Ea Bianca guests.
Luxury Resort Ea Bianca has 31 spacious hotel rooms on the ground, first or second floor. Each room is comfortably decorated. Depending on the room, you can enjoy the view across the sea, park or swimming pool from your private balcony. The rooms on the ground floor have direct access to the pool.
To improve your stay at L' Ea Bianca even more, the hotel offers various facilities, such as a wellness centre. You can enjoy an aperitif at the "Lunaria" Lounge or enjoy the view from the panoramic terrace "The Roof". In the elegant salon with grand outdoor terrace and sea view the excellent restaurant is housed.
A perfect stay for those...
L' Ea Bianca is perfectly suited for travellers looking for a luxurious resort to enjoy the Sardinian sun and beach in style.
Accommodation & facilities:
• Parking space
• Air-conditioning
...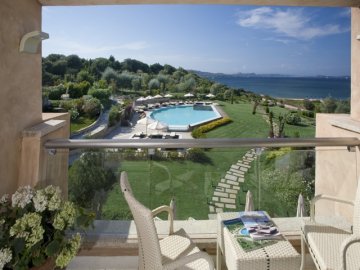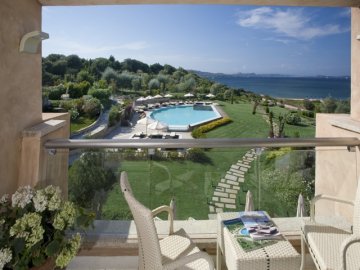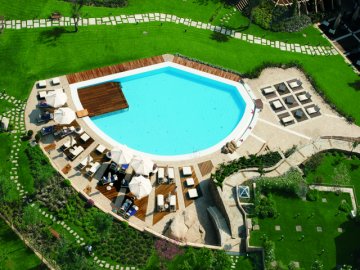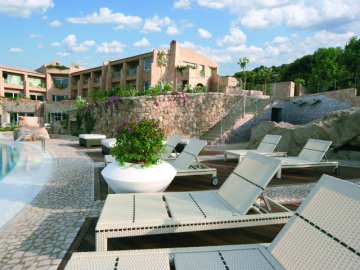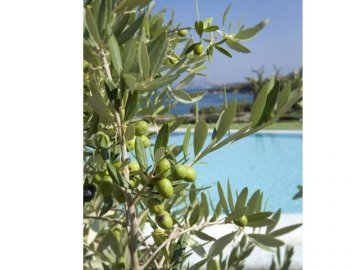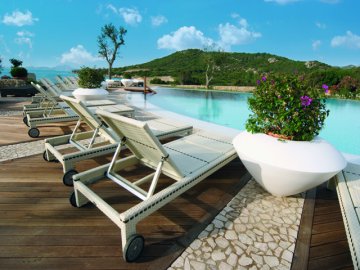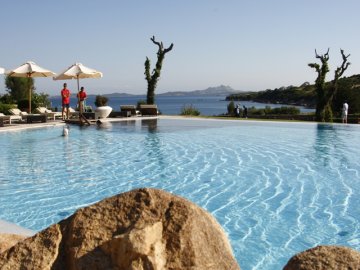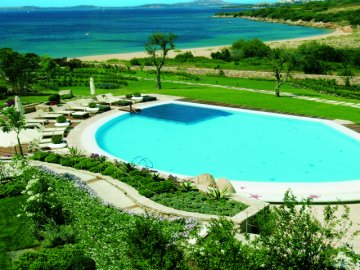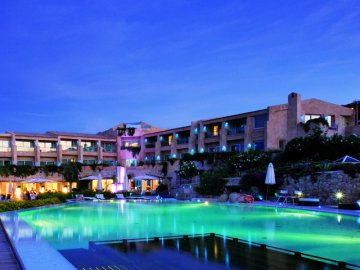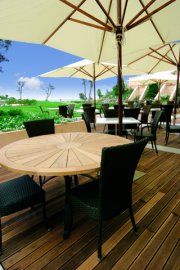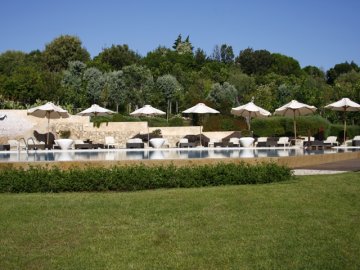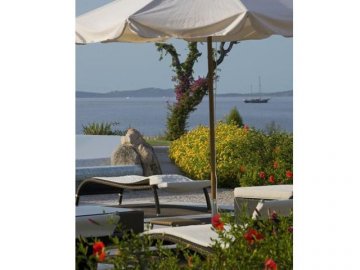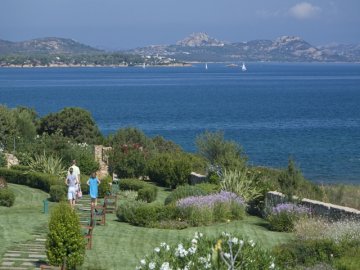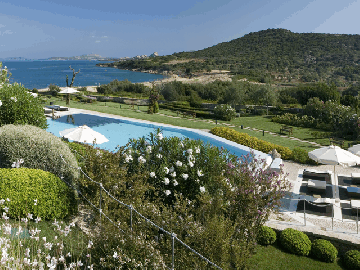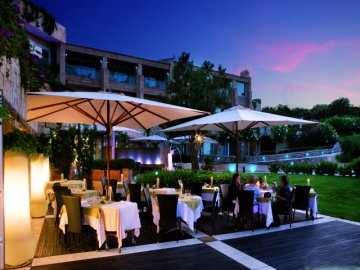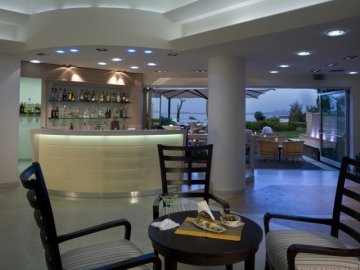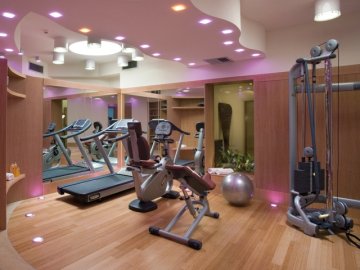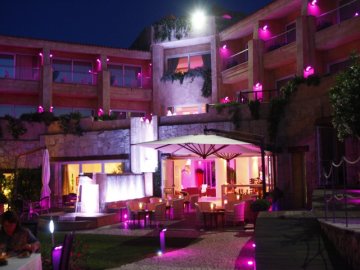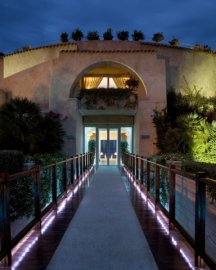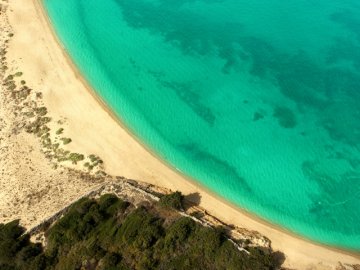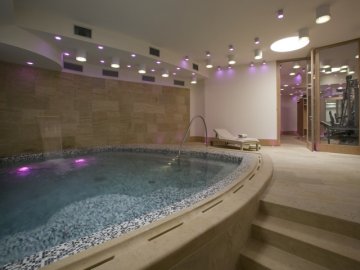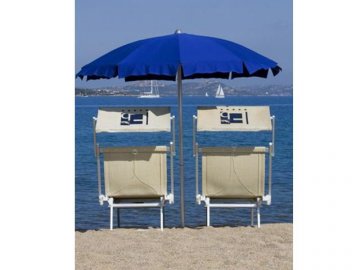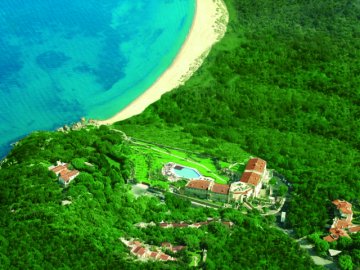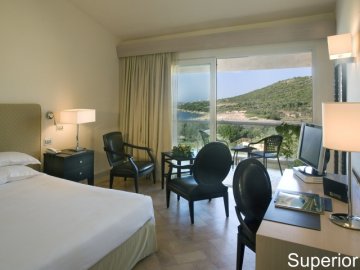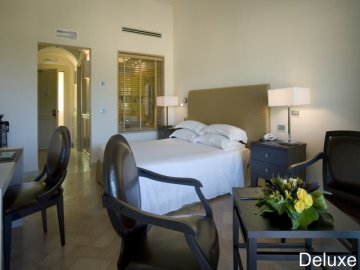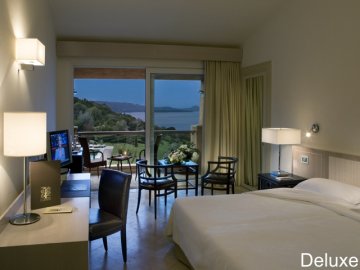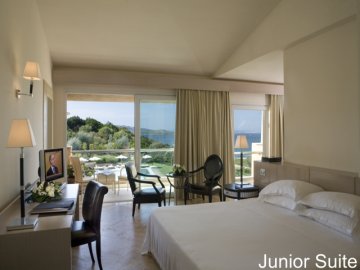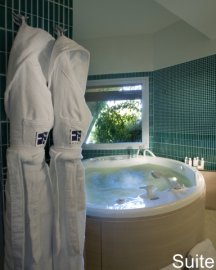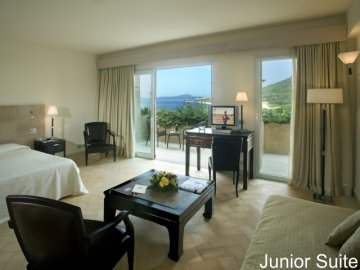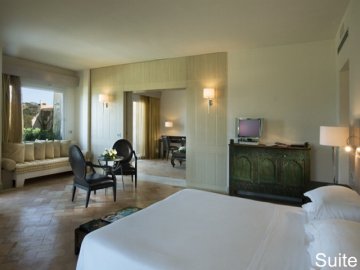 L' Ea Bianca Luxury Resort
Baja Sardinia
Baja Sardinia is a popular village in north Sardinia near the Costa Smeralda, known for its impressive pink granite formations and beautiful sandy beaches with clear blue waters, such as Cala Battistoni. Because of its strategic location you can easily visit both the jet set on the Costa Smeralda and the less touristy rugged area near Tempio Pausania.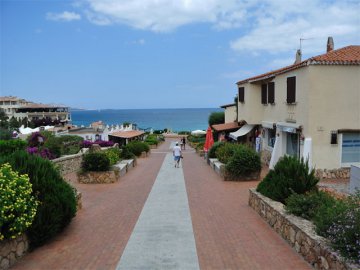 Discover the province of Olbia-Tempio in north Sardinia
Olbia-Tempio is one of the most popular holiday destinations in Sardinia. It's the perfect province for a relaxing beach holiday because of the countless bays and broad sandy beaches here. Its landscape is furthermore characterized by a lush Mediterranean vegetation and impressive rocks. The province is an international crossroads for numerous visitors, thanks to the international Olbia-Costa Smeralda Airport and Olbia's marina, where ferries from Genoa, Livorno, Piombino and Civitavecchia arrive daily.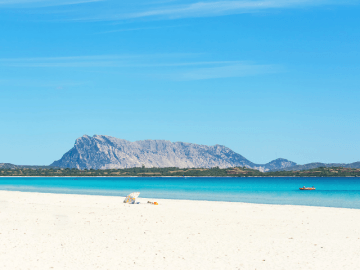 Lees meer
Prices
Rates are per person per night on a half board basis
Arrival: daily
Minimum stay: 1 night; except for period 24.07 - 20.08: 5 nights

Book your holiday now and get a discount!
• When booking prior to 15.02.2017: 30% early bird discount
• Up to 90 days before arrival: 25% early bird discount
• Up to 45 days before arrival: 20% early bird discount
• Up to 30 days before arrival: 10% early bird discount

• Stay 7 = pay 5: for stays from 28.04 – 02.07.2017 or 18.09 – 15.10.2017
• Stay 14 = 10 pay: for stays from 28.04 – 02.07.2017 or 18.09 – 15.10.2017
• Stay 7 = pay 6: for stays from 02.07 – 31.07.2017 or 21.08 – 18.09.2017
• Stay 14 = pay 12: for stays from 02.07 – 31.07.2017 or 21.08 – 18.09.2017
• Honeymoon: 5% extra discount with a minimum stay of 5 nights (valid in combination with 1 other offer)

Discounts for children:
• Extra bed for children 4 - 12 years: 50% discount; except for period 03.07 - 10.09: 40% discount
• Extra bed 13+ years: 30% discount; except for period 03.07 - 10.09: 20% discount

Supplements:
• Baby cot: € 15 per night (meals excluded)
• Full board: € 55 per person; except for period 24.04 - 20.08: € 65 per person
L' Ea Bianca Luxury Resort
Beautiful hotel with many facilities
9.0
Claudia R. (BE)