Agriturismo I Mandorli, Lotzorai - Sardinia
I Mandorli is an idyllic agriturismo located on a tranquil estate near the sea in east Sardinia. The agriturismo features a pool and its kitchen serves delicious dishes made with the farm's own products. You should definitely try their homemade mirto or limoncello.
The beautiful agriturismo I Mandorli is located in the area near Lotzorai. The company, run by the welcoming Susanna, her husband Carlo and their three children Carla Maria Giulia, Pier Filippo en Giacomo Paolo, is housed in several small country houses dating back to the 1800s, which have been renovated completely without having lost their original, authentic style. The farm offers the unique experience of a comfortable and relaxed stay. The agriturismo's products are used in its authentic kitchen serving traditional dishes and its pool is sure to cool you down on hot summer days!
The rooms are housed in the cottages of I Mandorli, surrounded by the fragrant Mediterranean vegetation. The farm offers comfortable rooms in rural style which feature a private bathroom, air-conditioning, Wi-Fi and a private balcony or terrace overlooking the grounds. Apart from the standard rooms, I Mandorli has several superior rooms and a grand suite accommodating up to four guests.
Near I Mandorli there are numerous activities to undertake; archaeological sites, the high peaks of the Supramonte and hidden groves. At a mere 7 kilometres from the agriturismo, along the stunning coastline we highly recommend visiting the sandy beaches of Is Orrosas and Iscrexedda.
A perfect stay for those...
We recommend a stay at I Mandorli to travellers looking for an agriturismo with pool and excellent kitchen located in an area which offers numerous activities such as kayaking, climbing, trekking and cultural trips alternated with relaxing days at the beach. I Mandorli is suited to travellers looking for an agriturismo to spend just a few nights during a round trip as well. 
Accommodation & facilities:
• Parking space
• Reception (closed from 15...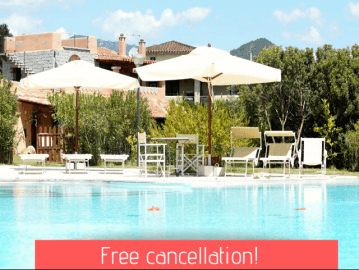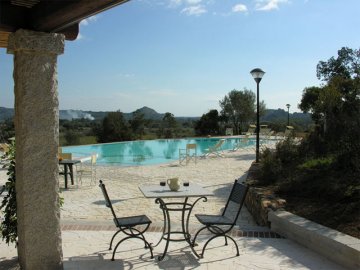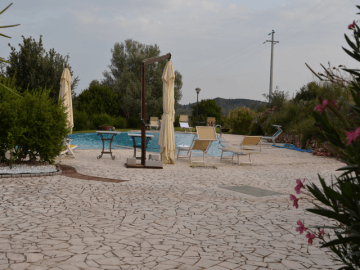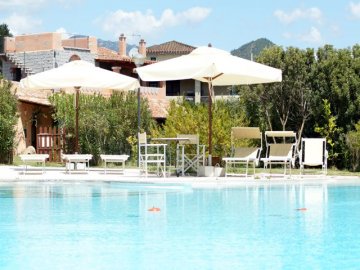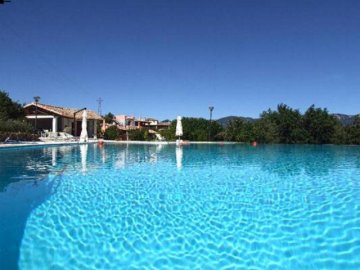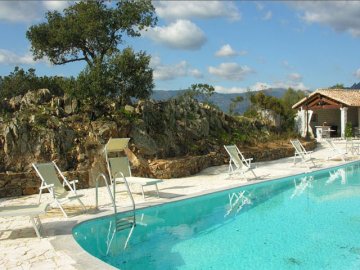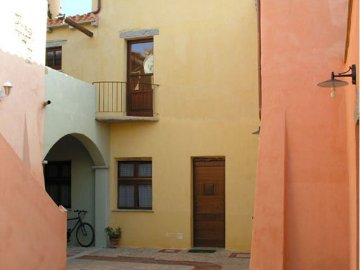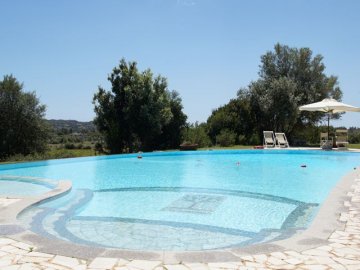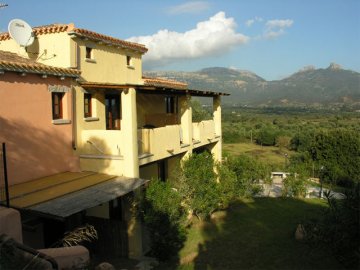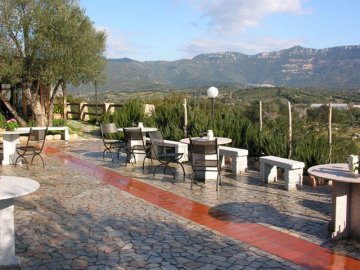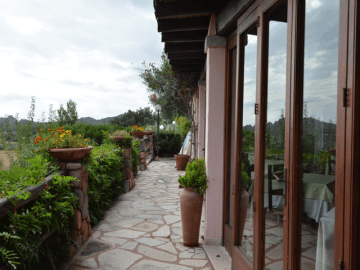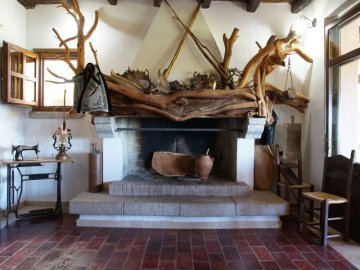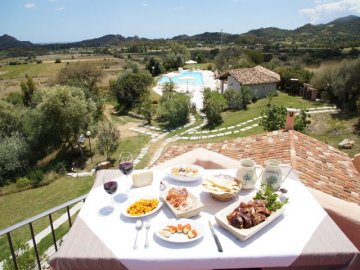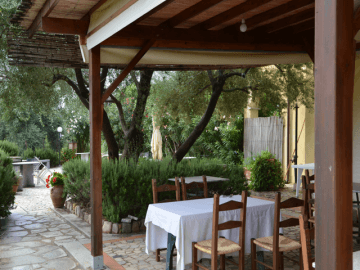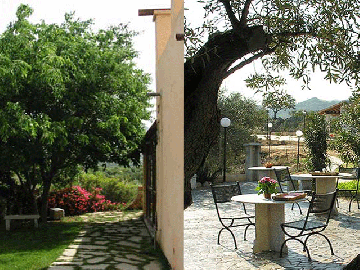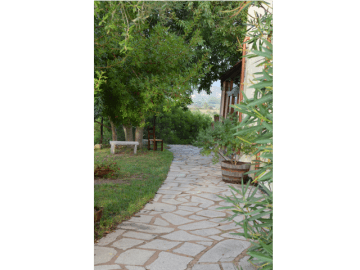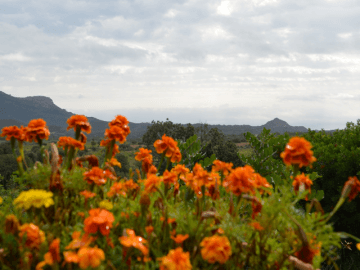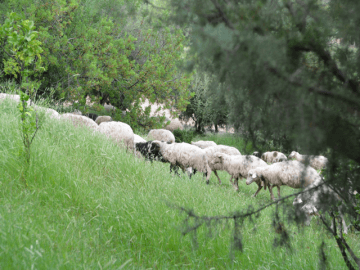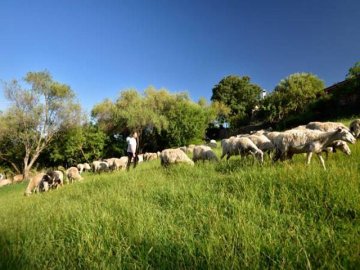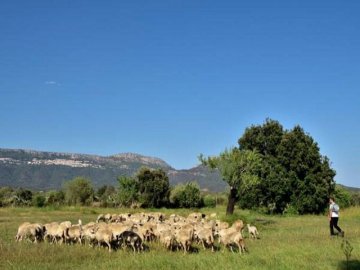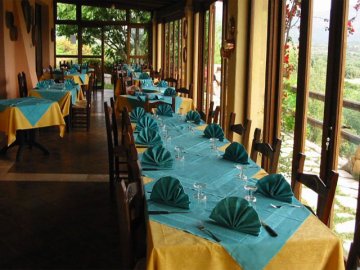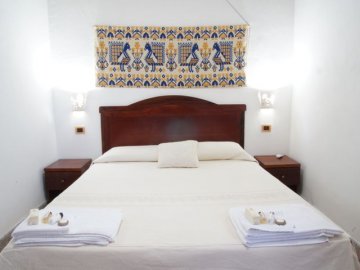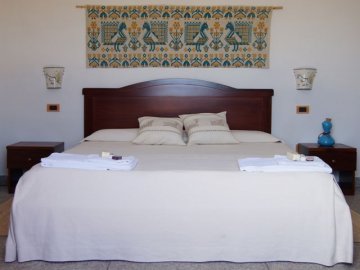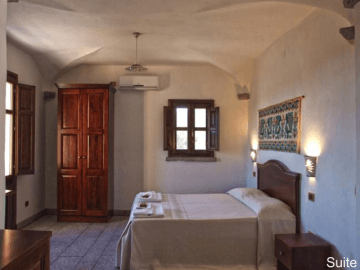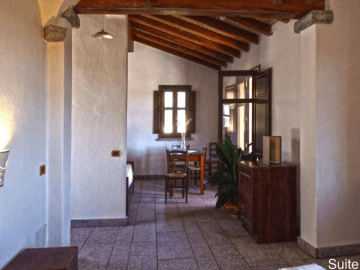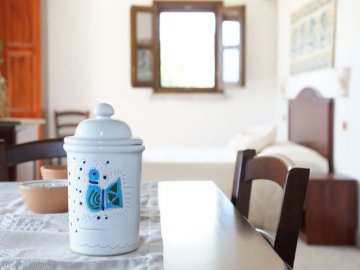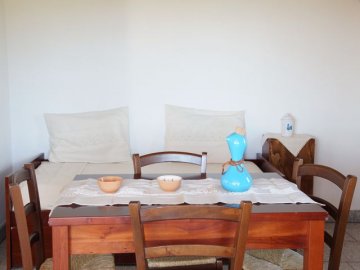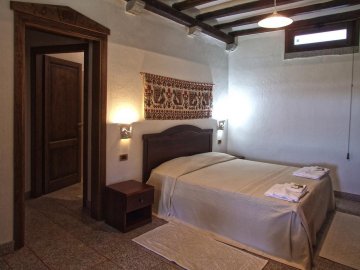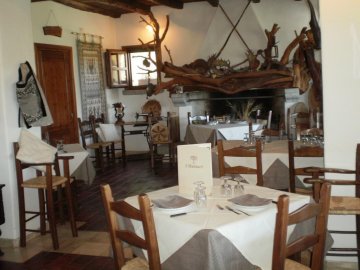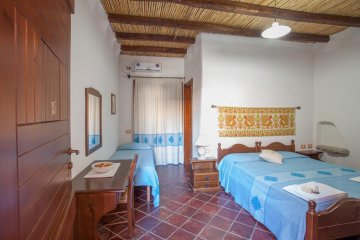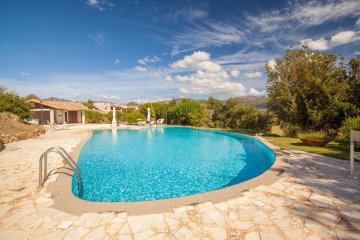 Agriturismo I Mandorli
Lotzorai
Lotzorai is located in the Ogliastra area on the east coast of Sardinia. Its sea, beaches and pine forests are spectacular; this pristine area is enveloped by both the mountains and the sea.
The city was founded in between 2 rivers, Il Pramaera and Il Rio Girosole. The Gennargentu mountain range offers stunning panoramas and a favourable climate. A wide range of animals resides in this beautiful area.
We recommend visiting the Domus de Janas (a type of pre-Nuragic chamber tomes, meaning "house of fairies") Medusa and the remains of the 8th-century Medusa Castle.
Lotzorai is the perfect base for excursions to Arbatax and Santa Maria Navarrese.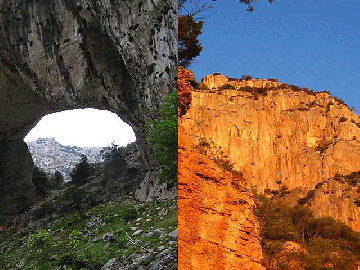 Discover the province of Ogliastra in east Sardinia
In east Sardinia Ogliastra, a province established in 2001 when the number of Sardinian provinces was doubled, stretches from the peaks of the Gennargentu mountain range to the Tyrrhenian sea. Its landscape is varied; the coastline is known for the impressive red cliffs and hidden bays while the inland consists of high rugged mountains. The area is therefore popular among both beach lovers and active travellers alike.
Driving upwards via Baunei, you'll arrive at the high plateau Altopiano di Golgo, where you can explore the spectacular hiking trails. With a bit of luck you get to spot donkeys, horses, cows, wild boars and goats along the way. If a bit of climbing doesn't scare you, we highly recommend descending to the "pearl of Baunei"; the stunning bay of Cala Goloritzè.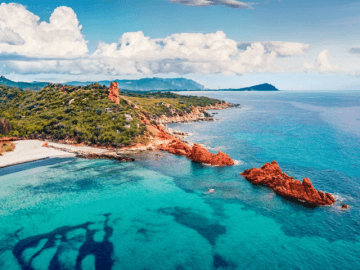 Lees meer
Prices
Rates are per person per night, breakfast included
Arrival: daily
Minimum stay: 2 nights

Supplements:
• Half board: € 26 per person (drinks included)
• Cot: € 5 per night
Fijne superior kamer met gezellig terrasje en bijzonder uitzicht op de bergen. Het eten was matig en wisselend van kwaliteit.
7,0
Karma
Too bad that room was above the kitchen, we were at the back of the complex. Small and simple.
7,0
Jacqueline
De accommodatie was prima
9,0
Roland
Wat een prachtige lokatie, lekker terrasje en een heel goed restaurant
9,0
Anoniem
Mooie agriturismo met prachtig terras en heerlijk zwembad
8,0
Christa
Douchen tegen een douchegordijn aan is niet meer van deze tijd
7,0
Familie Minderhoud
Geweldig uitzicht en heerlijke ruimte
9,0
Gerrie
Suite fantastisch, Wifi niet werkend op kamer
9,0
Thecla
Mooiste plek, wel een erg kleine kamer. Hier konden we wel elke avond dineren.
8,0
Anoniem
Die Unterkunft ist in guter ruhiger Lage
8.0
Anonym
Een geweldige vakantie op een prachtig eiland
8,0
Rene en Pascalle
Erg sfeervol. Keurige kamer met terras en goede bedden. Heerlijk eten!
9.0
Anoniem
Mooi gelegen, vriendelijke mensen, goed ontbijt en veel kinderen
7,0
Yolan
Ga niet naar I Mandorli als je op zoek bent naar gastvrijheid
5,0
Bart
Wij hebben een prima vakantie gehad. Goed geregeld. Dank daarvoor!
7.0
Yolan
Heerlijk zwembad, mooi uitzicht
9,0
Vella Narayen
Prima agriturismo
8,0
Anoniem
Vanwege bedden (zeer spartaans) Fijne mensen en lekker eten met prachtig uitzicht!
7,0
Marike
Verblijf goed maar niet echt gastvrij. Koffie kun je alleen krijgen tijdens inchecken. Niet veel te doen in de omgeving, of je moet een eind rijden.
5,0
Arja, Ria en Marian
Geweldig Agriturismo!!
9,0
anoniem
Mooie locatie, schone kamer en heerlijk eten.
8.0
Gerben Hellinga
De bergroute SS125 tussen Tortoli en Dorgali is een absolute aanrader voor degene die niet veel last van hoogtevrees heeft
9,0
Dirk van Greuningen
More of a resort than an agriturismo.
9,0
Agnes en Piet Janssen
More of a resort than an agriturismo.
7,0
Anoniem
This tour is an excellent way to discover the island. A must for those who have not been in Sardinia before.
9,0
Piet Hemminga
This tour is an excellent way to discover the island. A must for those who have not been in Sardinia before.
4,0
Lien de Kruiff
Was more a hotel than Agriturismo, no family atmosphere
6,0
Anoniem
Zo mogelijk nog mooiere kamer en hier hebben we echt heerlijk gegeten.
9,0
Willeke en Leo Kayser
Bevindingen van een senior echtpaar dat een rondreis maakte door Sardinië
7,5
Een 7 waard
7,0
Hans, Deurne
Erg mooie omgeving
9.0
Jaap en Trees Sijtsma
Breakfast simple and limited. Dinner fine, nice that they offer a special/cheaper menu for the guests including wine and water.
7.0
Anoniem
Jacomo vertelde ook over het bedrijf en de omgeving
8.0
Fred en Francis
Rustige plek met een mooi terras
9,0
Eric Hulman
Zeker een aanrader
9.0
Hans Bosch
Here we would like to come back again
9,0
Angela van Dongen
Echt lekker eten, onze favoriet!
9.0
Stan Pinkaarts
Good location but bad beds
6.0
Romana and Wessel
Extremely pleasant holiday, very beautiful nature and beaches and snorkeling is wonderful
8.0
Broere
Everything was possible, communication went well and smoothly. I recommend you to friends and family!
9.0
Irene
Unfriendly reception and bad room
5.0
Wim
Sardinia was great!
8.0
Family Zirkzee
We have had a wonderful holiday!
8.0
Henk C. (NL)
Not child-friendly
6.0
S. Verheijen
Lovely island for a holiday.
8.0
Apotheker (NL)
We have greatly enjoyed the nature
9.0
Mevr. Vermeulen (BE)
Well-organised holiday, beautiful island, plenty to see!
8.0
Mevr. Vijn (NL)
Ruimtelijk gelegen agriturismo
9.0
Dhr. Hoekstra (NL)
A family business where you suspect that really all comes from the own garden
7.0
J. van Oosten (NL)
Great farm house!
10.0
Dhr. Stevens (NL)
Beautiful location
7.0
Familie Spoek (NL)
Nice
8.0
Dhr. Engelmeers (NL)
Lovely pool, Tasty food
8.0
Mw. van den Broek (NL)
Own products
8.0
Dhr. Bilstra (NL)
Very sympathetic
8.0
Vanhimbeeck (BE)
Goed restaurant en prima zwembad
9.0
A. van der Pluijm (NL)
Beautiful island, great weather
9.0
L. Kuijken (NL)
Also for the more active tourists there is plenty to do
10.0
Dhr. den Dulk (NL)
Een authentieke manier
8.0
Dhr. C. Mulder (NL)
Great place to stay
8.0
Ellen van der Drift (NL)
Nice farm holiday!
8.0
Mw. De Keijzer (NL)
Alleen Italiaans
7.0
Ria (NL)
The staff was very friendly
8.5
Dhr. Vallebella (NL)
Excellent farmhouse!
10.0
Dhr. de Jong (NL)
One of the lesser accommodations
7.0
A. van der Wijst (NL)
We hebben een prachtige vakantie gehad!
10.0
Jan-Paul & Wilma (NL)
Our holiday in Sardinia was what we wanted - Relaxing
8.0
Dhr. Nas (NL)
Nice place, great food, but some points of criticism
7.0
Mw. Bouman (NL)
Wij hebben een onvergetelijke reis gehad
9.0
R. Germanus (NL)
A family that spoils its guests
8.0
Dhr. Koenen (NL)
Enkel het avondeten sloeg tegen
7.0
Mw. Lyssens (BE)
Wat afgelegen maar verder prachtig
9.0
P. van Cuijk (NL)
Varied landscape
6.0
Dhr. De Ridder (BE)
Nice location but the staff doesn't speak English
9.0
B. De Vries (BE)
Five days is a perfect duration
8.0
Anoniem (NL)
Ver weg van bewoonde wereld
8.0
Hans (NL)
Prima accommodatie
8.0
B. Heilen (NL)
Beautiful agriturismo with a nice swimming pool
8.0
Dhr. Motmans (BE)
Leuke ligging en genoeg te doen in de omgeving
9.0
Familie Levendig (NL)
Goed maar wat afgelegen
7.0
M. Nieuwenhuizen (NL)
Prachtige locatie
9.0
Dhr. Happee (NL)
Many Dutch people
8.0
Familie Vintges (NL)
Good place for rest seekers
7.0
Mevr. Wyffels (BE)
Weinig variatie
6.0
Van Puymbroeck (BE)
Het was heel mooi gelegen
8.0
Mw. Heij (NL)
Bad luck with the weather
8.0
Mw. Breithaupt (NL)
Alles naar wens
8.0
Ronald (NL)
Jammer, zeker op een mooie plek gelegen
5.0
Dhr. Hoogenboezem (NL)
Well suited for families with small children
6.0
K. Bloem (NL)
Mooi gelegen en lekker eten
8.0
A. van der Hoorn (NL)
Goede prijs-kwaliteit verhouding
8.0
Familie Ziengs (NL)
Goed
7.0
Mw. van Lisdonk (NL)