Hotel Orlando Resort****, Villagrande Strisaili - Sardinia
Orlando Resort is located in the beautiful Ogliastra area, in the woods of Santa Barbara near the village of Villagrande Strisaili. This accommodation is a lovely tranquil destination in the middle of nature near Sardinia's spectacular east coast.
The intimate Hotel Orlando Resort is immersed in the lush forest of Santa Barbara at the base of the Gennargentu. Via the village of Villagrande Strisaili Arbatax' coast is easily reached by car in just 30 minutes.
Orlando Resort's hotel rooms are decorated in a modern style with warm colours. The rooms overlook the courtyard filled with bright red flowers, the forest or the pool. All rooms feature air-conditioning, a TV and a bathroom. It's possible to place a cot or extra bed in the double rooms to create a Family room. Guests staying in the deluxe rooms, junior suites and suites may enjoy the spa's wellness parkour free of charge.
The colourful Hotel Orlando, decorated in a Sardinian style, has a spacious garden and a swimming pool with Jacuzzi and paddle pool. The bar next to the pool serves refreshing drinks and snacks. The wellness centre offers various facilities, among which a whirlpool, sauna, Turkish bath and various massages. When staying on a half board basis there's a table waiting for you at the restaurant, where various local and Sardinian dishes are served at night.
In Ogliastra you'll find everything to enjoy a versatile stay in Sardinia; vast nature reserves waiting to be explored by bike, the high Gennargentu mountain area with endless hiking trails, winding roads popular among motorcyclists and a diverse and unique coastline.
A perfect stay for those...
Orlando Hotel Resort is a perfect accommodation for groups, couples and families looking for a comfortable stay in a quiet area. This hotel is easily integrated as a stopover during your roundtrip by car or motor across Sardinia as well.
Accommodation & facilities:
• Parking space
• Reception
• Garden
• Br...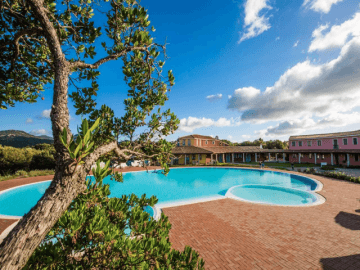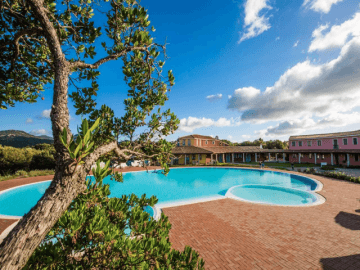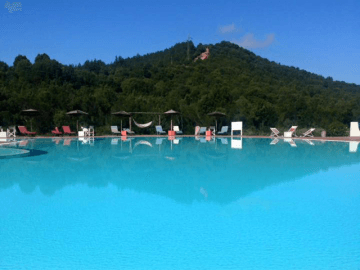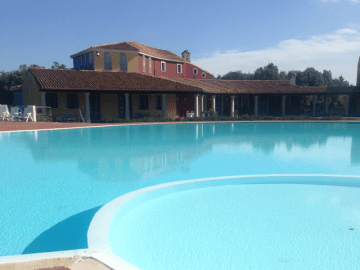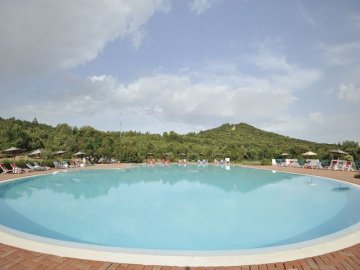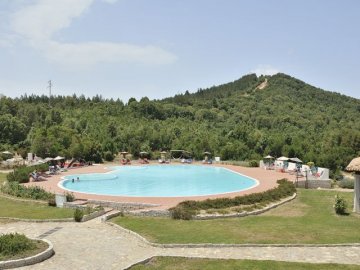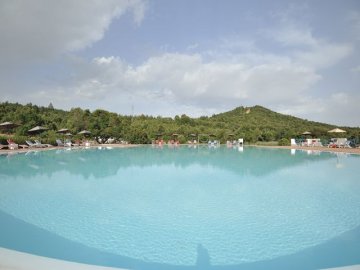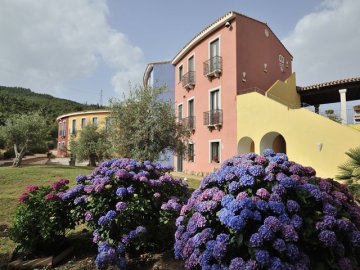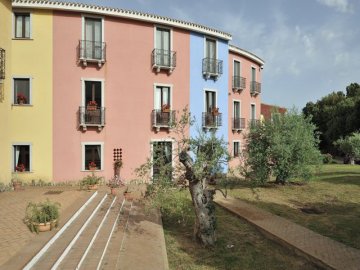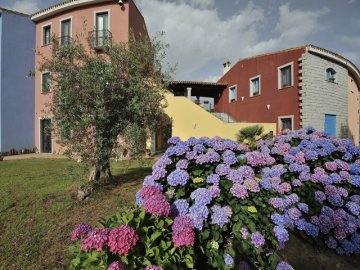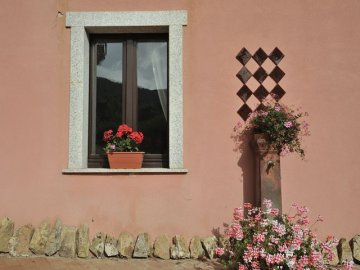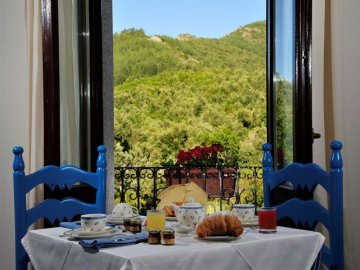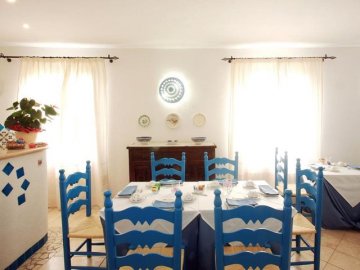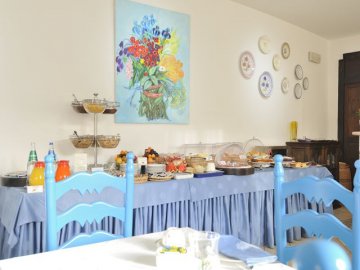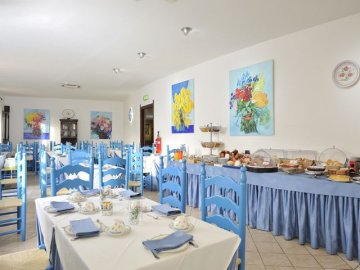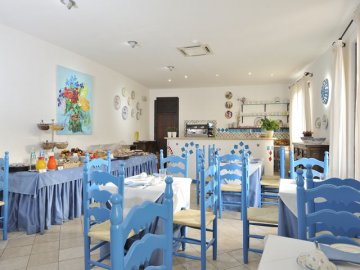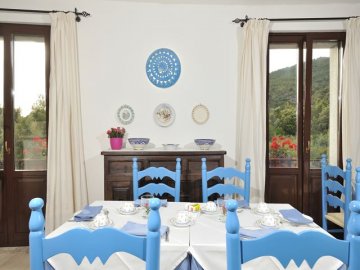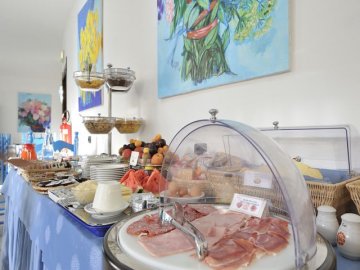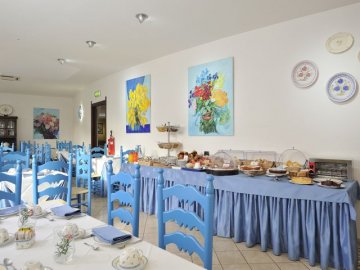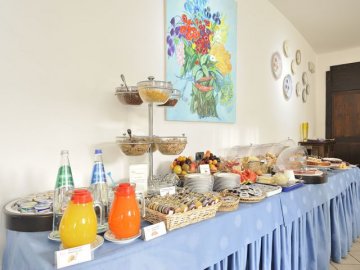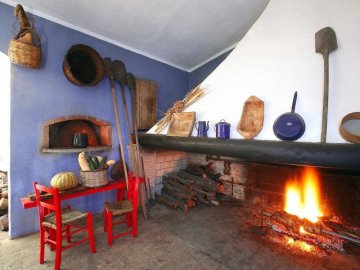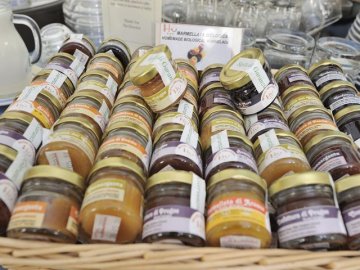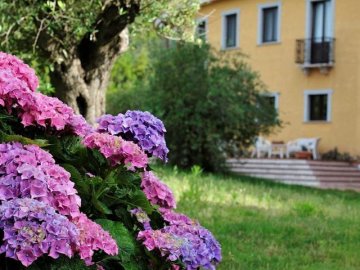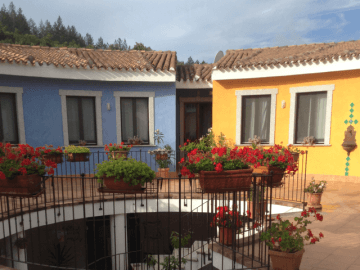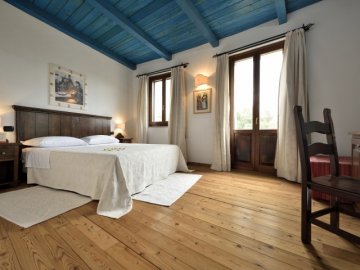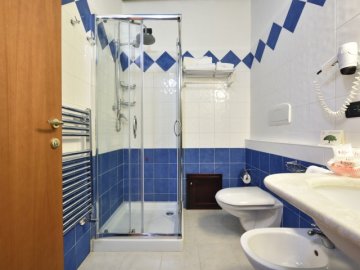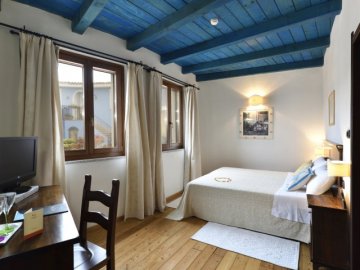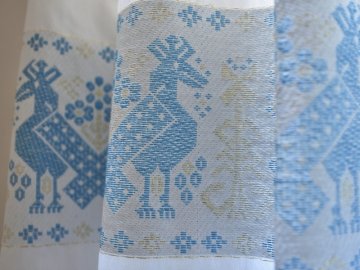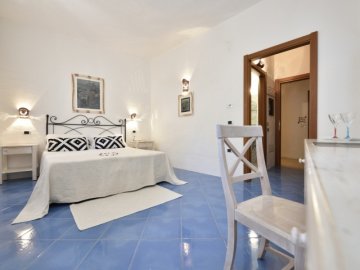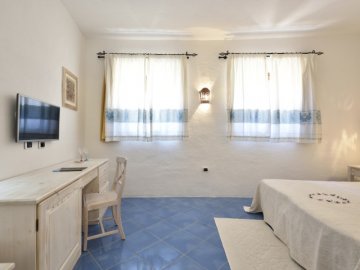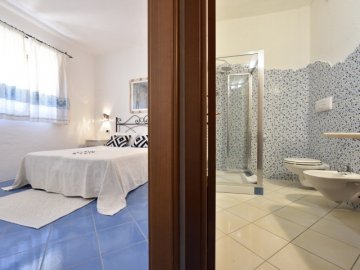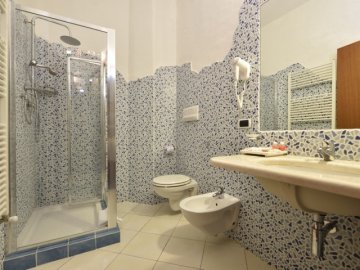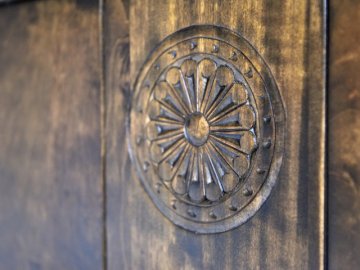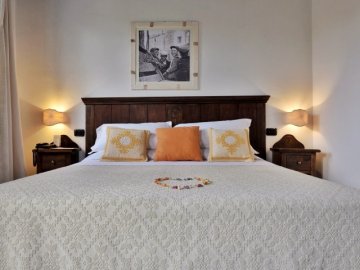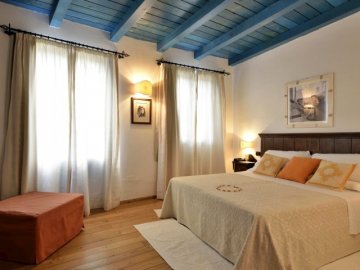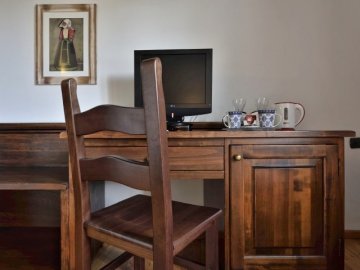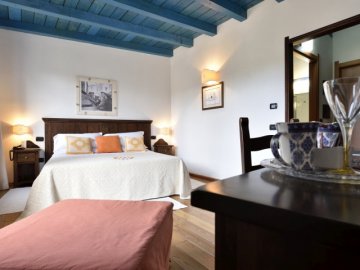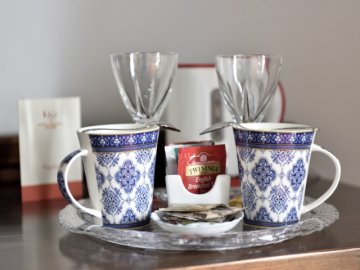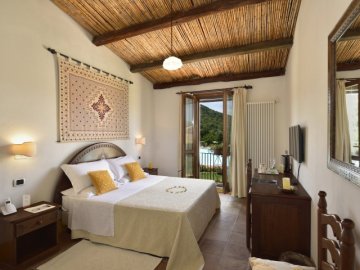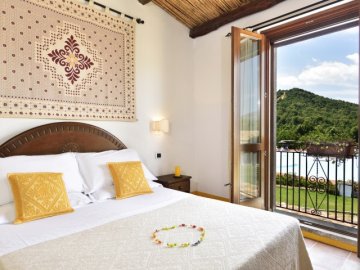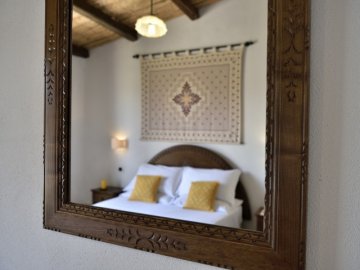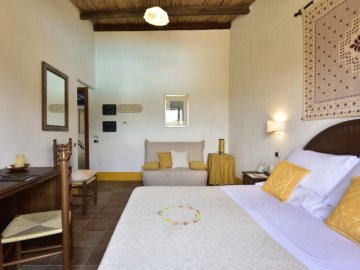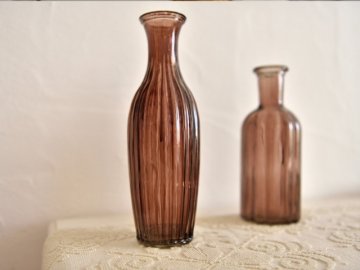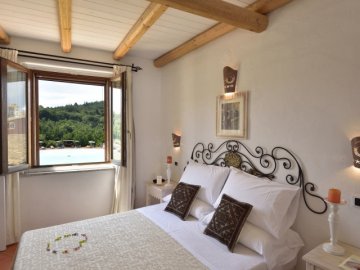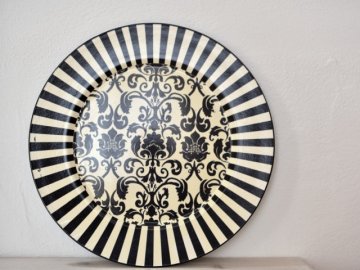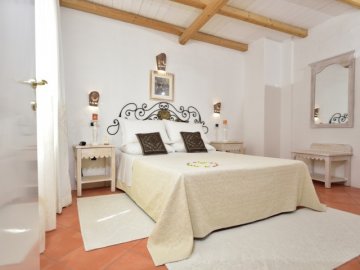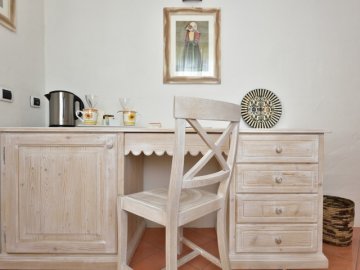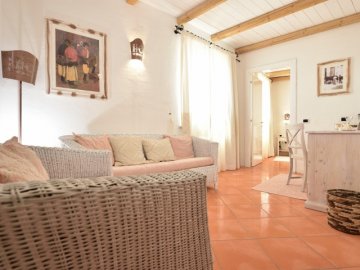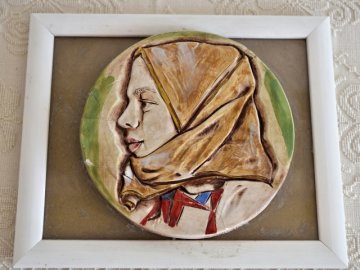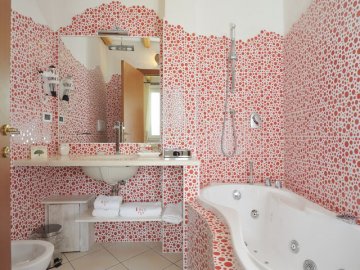 Hotel Orlando Resort
Discover the province of Ogliastra in east Sardinia
In east Sardinia Ogliastra, a province established in 2001 when the number of Sardinian provinces was doubled, stretches from the peaks of the Gennargentu mountain range to the Tyrrhenian sea. Its landscape is varied; the coastline is known for the impressive red cliffs and hidden bays while the inland consists of high rugged mountains. The area is therefore popular among both beach lovers and active travellers alike.
Driving upwards via Baunei, you'll arrive at the high plateau Altopiano di Golgo, where you can explore the spectacular hiking trails. With a bit of luck you get to spot donkeys, horses, cows, wild boars and goats along the way. If a bit of climbing doesn't scare you, we highly recommend descending to the "pearl of Baunei"; the stunning bay of Cala Goloritzè.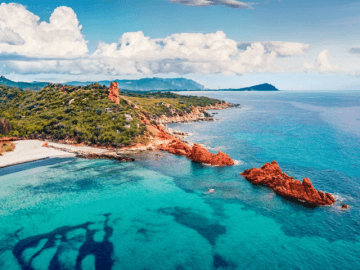 Lees meer
Prices
Rates are per person per night, breakfast included
Arrival: daily
Minimum stay: 3 nights (excluding low season: 2 nights and mid-August: 7 nights)

Book your holiday now and get a early bird discount!
• Book a holiday in the period 20.08 - 31.10 with discounts up to € 143 per night
• Until 31/03/2019: 25% discount
• Until 31/05/2019: 15% discount
• Until 30/06/2019: 15% discount on stays in the period 18/08 - 05/11
• Until 31/08/2019: 25% discount on stays in the period 01/09 - 31/10


Special offer
• Stay 5 = pay 4: Book 5 nights and pay only 4 nights on stays in the period 18/04 - 20/06 and 29/09 - 05/11
• Stay 7 = pay 6: Book 7 nights and pay only 6 nights
• Stay 14 = pay 12: Book 14 nights and pay only 12 nights

Spa offer
• Deluxe: for stays of 7 nights 1 spa access per person
• Junior suite: 1 spa access per person for stays of 5 nights
• Suite: for stays 3 nights 1 spa access per person

Supplements:
• Half board: € 18 per person, children (5 - 11) € 9, children (0 - 4) free
• Extra bed: € 30 (in the period 02/08 - 17/08: € 42)
Schöne Anlage - schönes Zimmer mit Balkon, gut geeignet für Wandern oder Mountainbike
9,0
Anonym
Van de vier verblijven het minst luxe
7,0
Anoniem
Mooi zwembad, kamer oké, minder uitgebreid ontbijt.
8,0
Anoniem
This accommodation is very well located and quiet. There were hardly any other guests.
8,0
Rinke
Prachtige rustige ligging en mooi zwembad met bar
9,0
Hajo Zaaiman
Good location, friendly staff
8.0
Aernout
Ontvangst was toch wel ondermaats
5.0
Van Gorp Leo
De locatie op zich is waanzinnig mooi, 1 van de 3 managers die het runnen was een groot minpunt
8.0
Anoniem
Prima uitvalsbasis voor het maken van mooie wandelingen
9.0
Familie de Wit (NL)