Hotel Alma di Alghero****, Alghero - Sardinia
The elegant 4-star hotel Alma di Alghero is located close to both the vibrant city centre and the versatile coastline of north-west Sardinia.
The well-cared for hotel Alma di Alghero is located within walking distance of the old city centre of Alghero and close to the sea. The comfortable rooms are provided with the necessary facilities such as air-conditioning and Wi-Fi. There's a pool with hydro massage and a Turkish bath on the hotel's rooftop terrace.
Hotel Alma di Alghero has 43 rooms, divided into various types (Deluxe, Superior, Comfort). All rooms are spacious and bright, decorated with frescos and hand carved Sardinian accessories. Except for the Comfort Rooms, all rooms have their own balcony.
From Hotel Alma di Alghero you'll reach the historic city centre of Alghero in just 15 minutes by foot. A road separates the hotel from the long lido beach, known for its fine sand and crystal clear waters. You can buy a drink or simple snack at one of the many kiosks. It's often possible to rent a lounge chair and parasol.
The 4-star hotel offers various activities to its guests to improve their stay. Apart from a day at the beach, you can get to know Alghero's history and traditions during a tour by bike or scooter. If you prefer pre-organised tours, there are various excursions or trips possible.

A perfect stay for those...
Alma di Alghero is perfectly suited for travellers wanting to spend their holiday at the beach with family or friends during the day while taking a stroll through a lively town at night. This hotel is easily integrated in a round trip across the island as well.
Accommodation & facilities:
• Reception (24/7)
• Internet corner / Wi-F...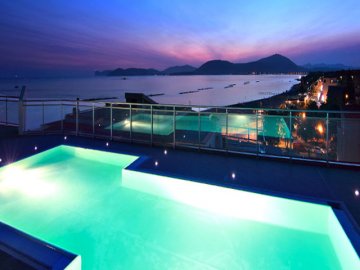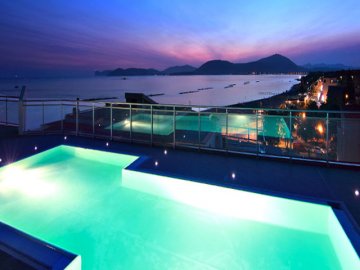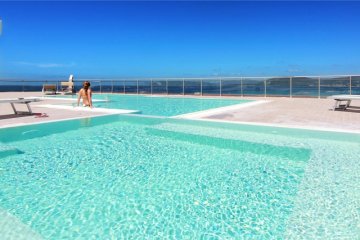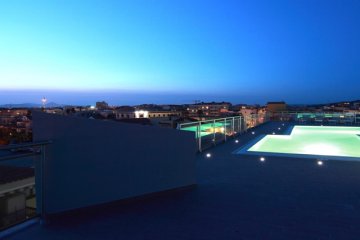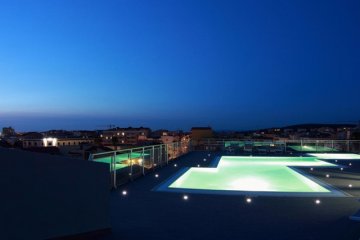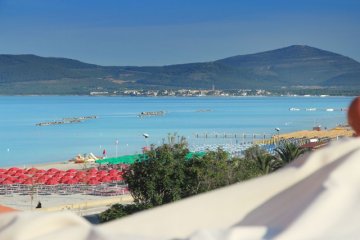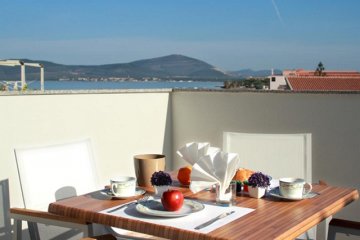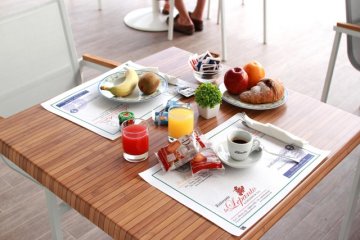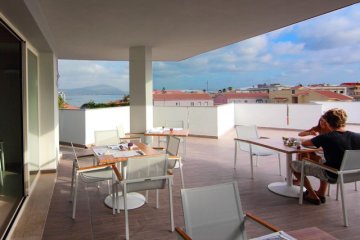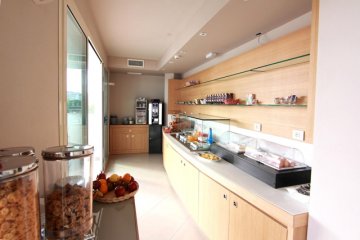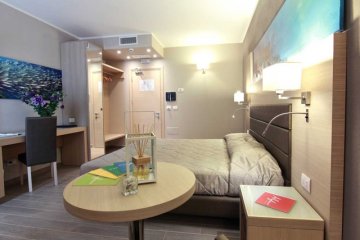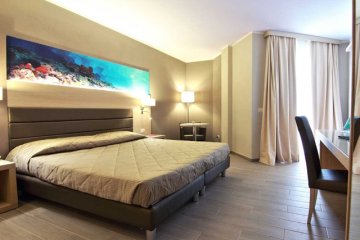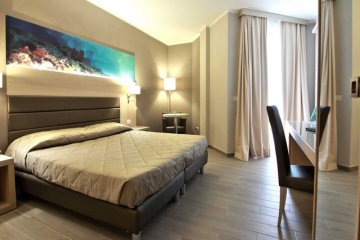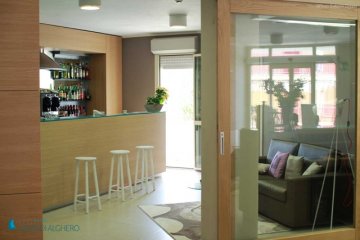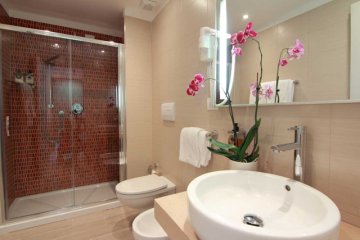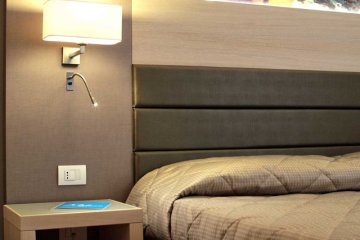 Hotel Alma di Alghero
Alghero
The medieval Sardinian-Catalan coastal town Alghero, located in the north-west of Sardinia, dates back to 1102, when the nobel Doria family built a castle there. In the same period, this family also built a castle in
Castelsardo
. In the year 1353 the Spaniards seized power in Alghero, leaving many traces behind which are still visible today. The palazzos, city walls and defence towers are built in a Spanish style. The bilingual street names in both Catalan and Italian still reflect the proud heritage after more than 300 years of domination.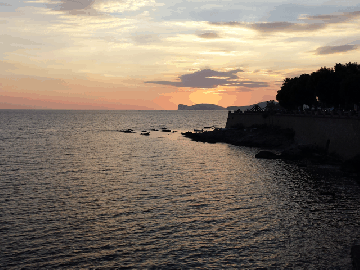 A cosy town on the northwest coast of Sardinia
The city is popular among tourists all year round. Its ideal location near the sea and within a 15-minute drive from Fertilia, Alghero's airport, makes for a perfect holiday destination. The old town consists of a maze of narrow cobbled alleys, decorated with laundry hanging out to dry on drying racks and makeshift clothes lines tied from balcony to balcony. In the city centre you can enjoy a stroll along the various piazzas with restaurants, bars, cafes and ice cream parlours or relax on the shaded terraces cooled by a fresh sea breeze. Don't forget to visit the well-known Neptune caves during your holiday in Alghero!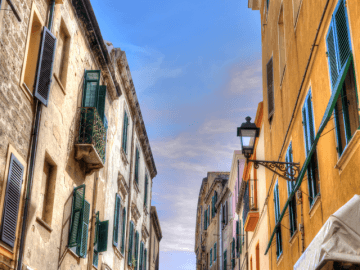 Capo Caccia, Grotte di Nettuno and Aragosta
Since Alghero is located on the "Riviera del Corallo", the "Coral Coast", most boutiques have various coral ornaments for sale. At night, as the sun sets behind cape Capo Caccia, the city is bathed in a beautiful orange light. At this time of night we recommend taking a walk along the boulevard and the harbour to one of Alghero's restaurants to enjoy the delicious seafood dishes. Don't forget to try the local specialty, "Aragosta alla Catalana" (lobster). Don't even forget to visit the well-known Neptune caves during your holiday in Alghero!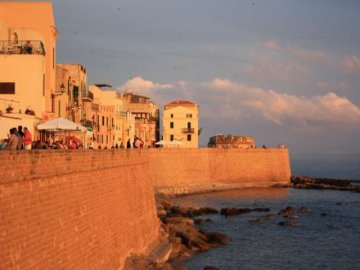 Discover the north-western province of Sassari
The province of Sassari is a fairly well-known province, due to the presence of the Fertilia Airport near Alghero which draws in many a tourist. Its eponymous capital, whose city centre consists of numerous narrow alleys, has a rich history. Villages such as Alghero, Stintino and the picturesque seaside town Castelsardo are the main highlights in the area, although the capital Sassari, which has been extensively renovated over the past years, is definitely worth a visit too.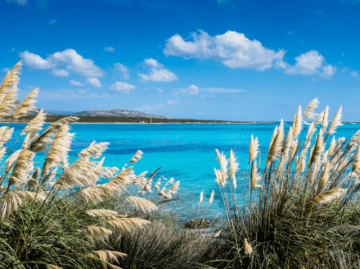 Lees meer
Prices
Rates are per person per night, breakfast included
Arrival: daily
Minimum stay: 1 night

Supplement:
• Cot 0 - 1 years: €10 per night (to be paid on spot)

Die Zimmer waren sehr hellhörig. Aussicht aus dem Fenster kaum möglich
6,0
Anoniem
Meer een business hotel dan een familie hotel
5,0
Serena Grinwis
In Hotel Alma komen we graag nog eens terug
Anoniem
Prima en efficient hotel op 15 tot 20 minuten lopen van oude stad
8,0
Anoniem
Op wandelafstand van centrum, maar helaas wel niet onmiddellijk aan wandelboulevard
8,0
Anoniem
Prima hotel voor als je naar het strand wil, wel ongezellig ingericht
7,0
Klerk
Prima locatie, Dakterras met zwembad is super, Bedden en kussens veel te hard
6.0
Anoniem
Alma di Alghero ligt mooi in het centrum
9,0
Eric Hulman
Erg mooi eiland, een hele fijne plek om vakantie te vieren.
7.0
Mevr. Kroeze (NL)
Bijzonder "roof-top"-zwembad.
9.0
Dhr. Bilstra (NL)
Geen schaduw bij het zwembad
7.0
Fam. Maris (NL)
Netjes
8.0
Mw. Lemmens (NL)
Vriendelijk
7.0
Mw. Coenen (BE)
Mooie locatie op loopafstand naar centrum
8.0
Mw. Stroeken (NL)
Mooi modern hotel
9.0
Mw. Pouwels (NL)
Boek bij Sardinie 4 all en absoluut doen!
7.0
Dhr. Keij (NL)
Heel mooi eiland met heerlijk eten
6.0
Dhr. van der Zee (NL)