Residence Palau Green Village, Palau - Sardinia
The strategically located Palau Green Village is an intimate residence with apartments accommodating 2 to 5 guests. This accommodation with pool is located within 150 metres from the sea, near the lively city centre of Palau.
Residence Palau Green Village is built according to Sardinian tradition and local architecture. All facades, painted in light, pink colours, are decorated with Sardinian stone. The well-cared for gardens are filled with lush Mediterranean vegetation and impressive granite rocks that are shaped by the wind. The small paths winding through the residence's garden connect the apartments and the pool.
Palau Green Village is strategically located, just 150 metres from the beach. The pine forest provides the necessary shade in summer. The beach overlooks Santo Stefano and La Maddalena.
The lively centre of Palau, where you'll find various supermarkets, bars and restaurants, is just 1000 metres from the accommodation. From here you can easily cross over to La Maddalena by ferry. The worldly towns on the famous Costa Smeralda are just 30 minutes from the accommodation by car.

The apartments of Palau Green Village are housed in several villas. The ones on the ground floor have a private patio, while the ones on the first floor are provided with a private porch. Each apartment features air-conditioning, Wi-Fi, a TV, hairdryer, iron, ironing board and microwave.
A perfect stay for those...
Palau Green Village is perfectly suited for couples and families wanting to spend their holiday in north Sardinia, close to the Costa Smeralda and within walking distance of the beach and a lively village.

Accommodation & facilities:
• Parking space
• Reception (9.00-13.00h an...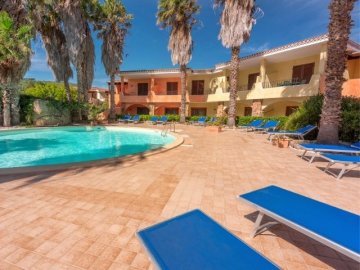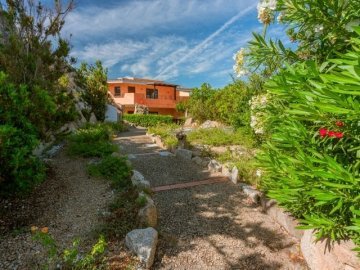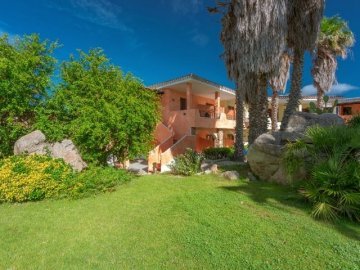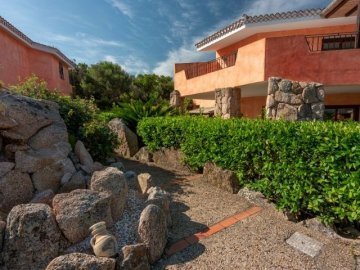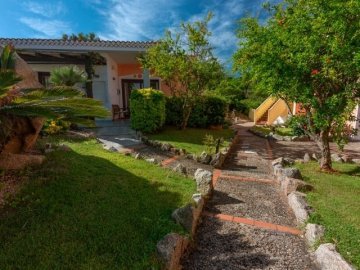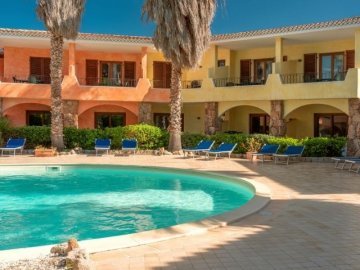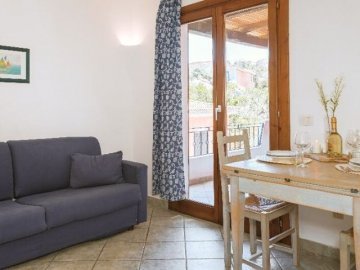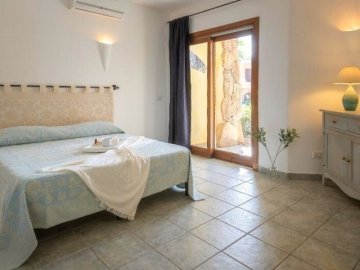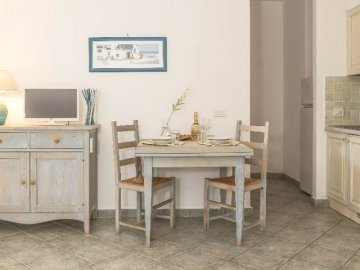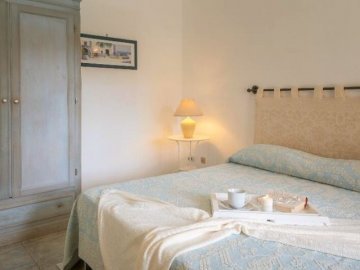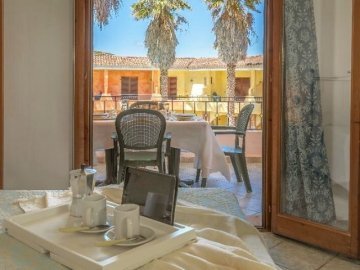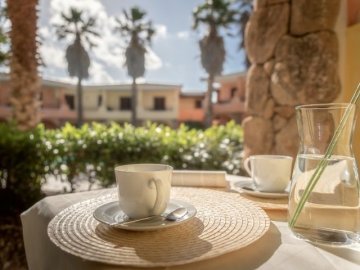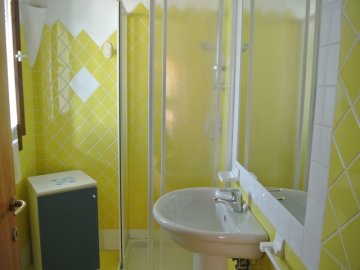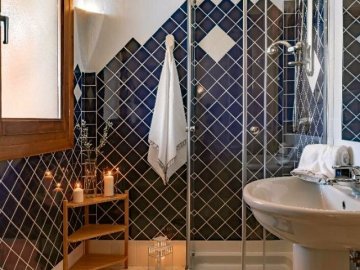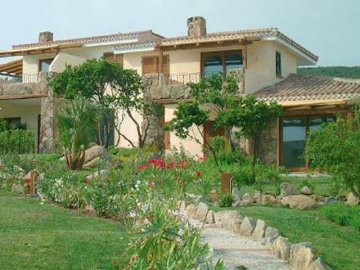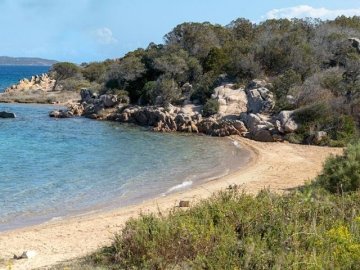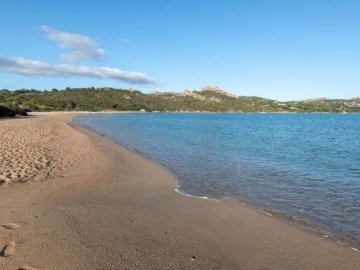 Residence Palau Green Village
Palau
In the north of Sardinia, opposite the archipelago of La Maddalena, the harbor town of Palau is located. The name sounds like you are in Micronesia, but the place is in Sardinia - with beautiful, sometimes wonderfully sheltered beaches and bays. The cape of Palau and the entire Maddalena Archipelago were already considered a safe travel destination for the Greeks, who even mentioned the Greek geographer Ptolemaeus in his "Geographia". He saw the landmark of Palau - the famous bear cape, a granite stone that had grown through all kinds of weather, the size of an apartment building - and with a little imagination you can see the shape of a bear in the "Roccia dell'Orso". Palau was founded in the mid 1870's and there are several daily boat connections to the island of La Maddalena with its beautiful beaches. Also countless
boat trips to the Maddalena Archipelago
between Sardinia and Corsica can be organized here. In the 1970s when Palau was not wellknown an famous guest was also present: in 1976 in Palau harbor, James Bond received an award for his spy film "The Spy Who Loved Me". But what would Palau be without its beaches! Palau's small city beach is called Palau Vecchio and is well worth a short walk along the coast! The mini bays at the old lighthouse, called Porto del Faro, are wonderfully romantic. The beaches of Cala di Trana, Porto Pollo and Isola dei Gabbiani are also well worth a visit. Porto Pollo is best known as the surf hotspot in Sardinia.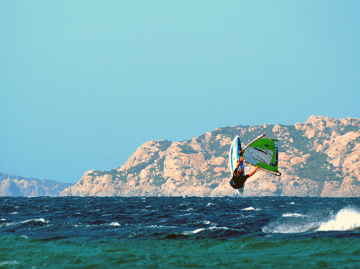 Discover the province of Olbia-Tempio in north Sardinia
Olbia-Tempio is one of the most popular holiday destinations in Sardinia. It's the perfect province for a relaxing beach holiday because of the countless bays and broad sandy beaches here. Its landscape is furthermore characterized by a lush Mediterranean vegetation and impressive rocks. The province is an international crossroads for numerous visitors, thanks to the international Olbia-Costa Smeralda Airport and Olbia's marina, where ferries from Genoa, Livorno, Piombino and Civitavecchia arrive daily.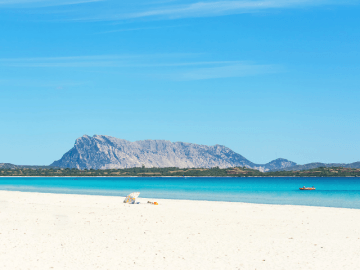 Lees meer
Prices
Rates are per apartment per week
Arrival: Saturday / Sunday / Tuesday / Wednesday
Minimum stay: 5 nights in period 02.07 – 02.09; other periods: 3 nights

Early Bird offers for 2022:
• Book an apartment now for the period 02.04 - 20.05 with a 10% discount
• Until 31.05.2022: 15% discount on all holidays in the period 17.09 - 28.10.2022

Mandatory additional costs (to be paid on arrival):
• Use of gas, water, electricity, bed linen and air-conditioning: € 35 per person per week (children 3 - 11 yr.: € 17,50) *
• Final cleaning (kitchen excl.): Mono € 60, Bilo € 70
• Deposit: € 200 per apartment
*This supplement will not be applied on stays before 03.06 and after 09.09

Supplements (optional):
• Bath towels: € 10 per person
• Extra change of bed linen: € 10 per person
• Italian breakfast in the bar: € 3,50 per person
• Beach towel: € 5
• Extra cleaning (kitchen excl.): Mono € 20, Bilo € 30
• Cot: € 35 per week
• Stroller: € 10 per week
• Family Kit: € 50.00 per week (cot, baby bath, hot water bottle, stroller, high chair)
• Small pets: € 30 per stay
• Coffee maker (American coffee): € 10 per week
• Electric Bike: € 35 per day including insurance and helmet

Arrival and departure
• Check-in: 5:00 PM - 8:00 PM - Check-out: 10:00 AM
Residence Palau Green Village
Beautiful appartement with swimming pool. Walking distance to the beach. Beautiful area and a really nice centre.
10,0
Nelleke
Beautiful apartment
7.0
Mw. Zundert (NL)
Prachtige natuur, vriendelijke mensen
8.0
Dhr. van Dun (NL)