Important information about the corona measures (COVID-19) and traveling to Sardinia
Travel safely to Sardinia - here we inform you about the rules currently, last year's experiences and what awaits you in Sardinia in 2022.
This currently applies in 20200
Entry into Italy from EU countries and Switzerland is possible. Forthermore, the presentation of a digital vaccination certificate or a negative test certificate - not older than 48 hours - is mandatory. If no vaccination or test certificate is presented, 5 days of home quarantine are mandatory.

There is no compulsory vaccination.

When returning to your home country, please inform yourself about the Corona entry regulations.

The following regulations currently apply from April 1 to May 31, 2022:

• No proof of corona test results for local public transport, shops and banks

• Mask requirement FFP2 on flights and ferries

• Persons who recovered from COVID, fully vaccinated persons or tested persons "Green Pass base" in Italian are admitted for travel for long-distance travel, in company canteens, for public competitions, for further education and for attending outdoor sporting events.

• persons who recovered from COVID or fully vaccinated persons, in Italian "Green Pass rafforzato" are admitted to visit inside restaurants and bars, swimming pools, wellness facilities, gyms, contact sports, congresses, cultural and Recreational facilities, ceremonial events, amusement arcades, discotheques and dance halls, for indoor sporting events.

We are convinced that you can spend a holiday in Sardinia in complete safety. These are our reasons:
1. Safe transport and hygiene in the accommodations
Due to the corona crisis, safety and hygiene concepts have been developed for airplanes and ferries and our accommodations, hotels, agriturismos and holiday homes, as well as apartment complexes, must also comply with European and national conditions. The Sarden do everything to ensure a safe holiday in Sardinia for holidaymakers, islanders and the staff in the service companies. This includes a 1 meter distance rule whereby you are obliged to wear a mouth mask in rooms inside - for example shops and supermarkets. Wearing a mouth mask outside is recommended but not compulsory if you keep a distance of 1 meter. Many of our partners offer online check-in options and this year will serve everything at the table instead of a (breakfast) buffet. All rooms are cleaned and disinfected regularly and disinfection gels are provided free of charge. The swimming pools are open and - in accordance with corona measures - sunbeds must also be disinfected regularly.
2. Experience Sardinia, without risks
Spending a holiday in Sardinia in pandemic times is different from normal but this actually applies to all holiday destinations around the world. All attractions on the island will reopen and public transport will continue as usual. Restaurants and beach bars have already opened. For these last two activities, the distance rule of 1 meter applies, whereby you do not have to wear a mouth mask on the terrace. It is not yet clear whether, and under what conditions, discos, public events and concerts will be possible. Public transport just runs o - in accordance with safety measures. Of course, extra attention is also paid to compliance with the distance rules at the car rental stations and if the 1 meter distance cannot be guaranteed, you must wear a mouth mask. If you have booked a Sunny Car with express service, do not forget to fill in your details online before departure, this will save you waiting on arrival.
3. Be free - and sure!
If you have booked a tour, you can travel around the island in complete freedom, taking into account the aforementioned corona measures. A team of experts will of course monitor the progress of any corona infections on the island together with the various health authorities.
The beaches on the island are all accessible, only on very popular and small beaches the number of visitors can be limited by the authorities in order to guarantee the distance rule. As has been the case in recent years, a few euros entrance fee may be charged on a small number of beaches. Of course we expect far fewer tourists in the coming season due to the crisis compared to other years. There is a good chance that you will not find overcrowded beaches in high season.
4. Because we are on site, we have the most up-to-date information for you
Do you have any questions about the situation on site? Would you like more information about the state of affairs in the accommodations, sights, excursions, hygiene concepts and any other matters that need to be taken into account locally? We are ready for you!
Sardinia, sun, safety - Ask us all your questions about a holiday in Sardinia
Our hide-away tips: Real gems, for every budget
Far from the crowd, a holiday in your own realm? Especially in corona times, where keeping your distance is mandatory, you are in the right place at these places with plenty of space! Discover some of our beautiful hide-aways in Sardinia!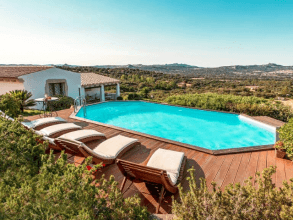 Small bed and breakfast with swimming pool near Arzachena
A nice retreat amid the rolling countryside of Arzachena is this small B&B with only three guest rooms. A nice place if you want to enjoy a quiet stay in the mountains during your holiday at an acceptable distance from the well-known beaches on the Costa Smeralda. Peace, complete freedom and a view over the picturesque Arzachena in the mountains of San Pantaleo, accompanied by a gentle sea breeze, are central here. Are you looking for complete relaxation for body and mind? You will find various relaxation corners spread over the terrain that are also very suitable for performing yoga exercises.
B&B Dolce Luna, Arzachena - Northeast Sardinia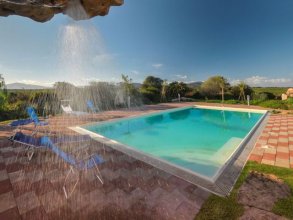 My house, my pool, my olive grove!
A dream villa in Sardinia! Villa Santa Barbara is located on a huge estate, not far from Alghero and Porto Torres. Around the detached house, nothing but olives! Relax by the pool, on the terrace, comfortably in the large kitchen diner: Villa Santa Barbara offers the right ingredients for a holiday far away from the crowds with the whole family.
Villa Santa Barbara in northwestern Sardinia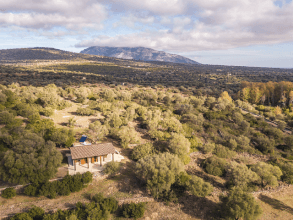 ... and around just nothing at all
A house consisting of two apartments, surrounded by only olive trees and a Mediterranean vegetation, outside the hustle and bustle of the town of Cala Gonone. If you rent both apartments, up to ten people can enjoy a wonderfully peaceful holiday here - unless you meet on the terrace for an aperitivo!
Casa Pedra, Cala Gonone - Eastern Sardinia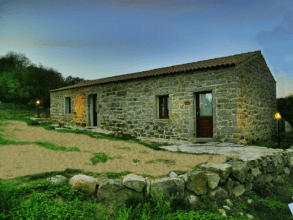 Finca-style accommodation in the lonely north
In the north of the island we offer three former shepherd's houses, where only seven apartments are housed, which together share a large swimming pool. You can compare it with a finca-style accommodation, only these are called Stazzo Gallurese in Sardinia. The Stazzo La Cugara is a wonderful holiday destination for those who want to stay inland but not too far from the endless beaches like Vignola Mare, Badesi and Valledoria, where it is not overcrowded even in high season.
Stazzo La Cugara, Vignola - Northern Sardinia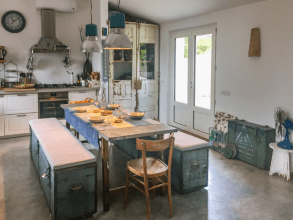 Hideaway lodge in the middle of the mountains of San Pantaleo
From this amazing house experience the lush nature of Sardinia, the enchanting scent of Mediterranean herbs, a gentle breeze blowing from the sea and shimmering rays of the sun coming through the leaves of the gnarled holm oak ... Isn't this exactly what you are looking for?
Lodge Sogno Sperduto, San Pantaleo in the north-east of Sardinia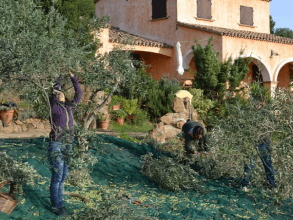 Remotely in the countryside of Villaputzu
You have plenty of space on this estate. Besides the house of the owner and his family, you will find only four holiday apartments on the site. Don't feel like stocking up on groceries for breakfast? No problem, Graziella regularly replenishes your fridge with her own farm products! In the area you will find the beaches of Porto Corallo, Villaputzu and Muravera that are hardly visited even during the summer holidays!
Agriturismo Nurazzolas in Villaputzu in the southeast of Sardinia

Traveling to Sardinia in the Covid-19 world